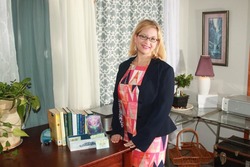 Lisa Mann

Rogers, Arkansas
Life Coach, Life Coach, Health and Fitness Coach
MSN, BSN, RN, IWLC
Are you living the kind of life you dreamed of? I help you get clarity to figure out a life map and teach techniques, & create a propelling Action Plan that will improve your health & mindset.
About Me
Natural State Life Coaching was created for people to find direction & balance for their health, career and personal growth.
Feeling like you need clear path to feel healthier?
People want to find a purpose for their life and improve health and wellness but still have a fulfilling career---especially moms!
Have you struggled with a plan?
- I teach over 20 techniques that will remove roadblocks in life and address core issues.
I work with women, men & students!
Overcome fears and beliefs that limit you from moving forward to YOUR real path and how to get what you desire!
Achieve physical health: weight, diet, motivation, issues
body energy/memory/ focus
Career/job goals
Family transitions
Spiritual awareness/direction.
As a Coach, RN and mentor, teaching & coaching is my PASSION!
Certified by the Integrative Wellness Academy, I teach people how to find themselves using powerful techniques. I build these into your action plan to bring real change that will last.
I coach holistically-which means we reveal the 4 aspects of your health together- for total body wellness- and I can work with your medical team to map out a plan to feel better- using advanced techniques in communication, expanding mind and body wellness.
I am able to use/teach many different modalities such as:
Emotional Clearing Method
Rewriting strategies
Mind Mapping
SMART goal action planning
Neuro-Linguistic Programming (NLP)
Emotional Release/Clearing
Mind-Body Medicine
These methods work with the brains neural pathways to RELEASE negative psychological patterns that stop you from achieving your goals. You will learn HOW to remove negative emotions that block you from moving forward.
I have experience coordinating with health providers, therapists, and holistic practitioners. I can help people access Integrative Medicine to improve their lives consistently.
Call or book directly on my website right now!
Your life is ready for change-and return to your natural state of joy!
Lisa
Reviews
Lisa doesn't have any reviews yet.