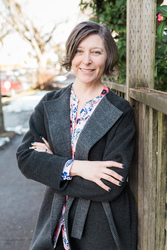 Lisa Moffatt

Vancouver, British Columbia
Leadership Coach, Life Coach, Executive Coach
Certified Executive Coach, Project Management Professional
I work with women and feminist leaders who are looking to get unstuck and step into their power to see success in their lives and careers.
About Me
Are you a women or feminist experiencing difficulties with achievements in your career or personal life? Do you want to have more clarity about the barriers to your success? Do you want to feel more motivated and energized about what you do for work?
You don't have to spend your days stressing about feeling like there is no hope or that there isn't a way forward. I work with you to understand your needs and to articulate what will work for you. I create a brave and caring space to support you and to dismantle barriers you identify to using your power. I support you to achieve your success through action plans you articulate. I believe you know yourself better than anyone and I will help guide you to your solution. You will leave my sessions with clarity and feeling motivated and energized to move forward.
I am a Certified Executive Coach and a member of the International Coaching Federation. I am trained under the Excelerator model which supports you to Excel! With over 10 years of inspirational leadership and mentorship, I bring my lived experience as a single parent and professional to my coaching to help you. I am a Project Management Professional and bring lessons from my 15+ year career as a professional urban planner to my coaching. I also currently run my own successful community planning consulting business.
I am here to serve you. I am on this journey with you and there will be a lot of high-fives!
Reviews
4 reviews (5.0)
Lisa is a force. Anyone can tell that in meeting her. And when she's on your side as a coach/mentor/team member, that formidable force is behind you the whole way, working with you and beside you to reach your goals. Lisa knows how to balance encouragement and empathy with tough love and no nonsense feedback — so don't go to her wanting a sympathetic sounding board. She's going to hold you capable and accountable and keep you on task; which is so much more powerful for your progression and success.

Rebecca, Community Planner, Coquitlam, BC
Lisa has a wonderfully calm but direct style. She knows just what to ask to help get to the root of the issue and finds the perfect balance between reflection and action. Her thought-provoking questions (and homework) really helped me to clarify the direction I want to go in and, importantly, also identified the steps to help get there. She has a knack for drawing out key patterns from our conversations and digging deeper into important questions for self-reflection. She helped me to explore my core values and how to use them to guide decisions that align with what I truly want. Most importantly, Lisa kept me accountable and empowered to take action! This is critical to anyone looking to make meaningful change and one of the most beneficial parts of having a coach. I would strongly recommend Lisa for anyone looking to move forward toward their goals, even if they don't quite know what they are yet!

Laurel, Housing Planner, Vancouver, BC
Lisa has an instinctive ability as a coach. She is very passionate about helping others and she has brought that energy into her coaching. She asks very thought provoking questions which has strengthened my confidence and helped me deal with some issues that I have been struggling with at work. Lisa's deep listening skills, her insightfulness and encouragement are all part of what makes her such an amazing coach. Having someone that I can trust so completely has been invaluable for me.

Darlene, Innovator, Ottawa, ON
fEMPOWER coaching has enabled me to articulate and attain achievable goals that have helped me to progress my career, while navigating the murky waters of a large corporation. Lisa was great at listening to my needs and providing me with the right tools to meet my objectives. Having worked with many executive coaches in the past, I would highly recommend fEMPOWER and Lisa Moffatt over any others!

Doretta, Marketing Manager, Vancouver, BC