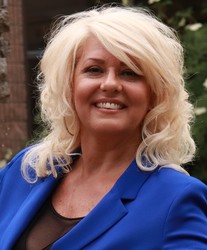 Lise Da Silva

Montreal, Quebec
Life Coach, Spirituality Coach, Relationship Coach
Mindset Coach, Theta Healing Practitioner
CLARITY.CHOICE.CREATION. I am a personal trainer for your mindset. The clients I coach want to live their future NOW. Their value and perceptions need an upgrade NOW. Are you ready NOW?
About Me
There is NO REASON why you should not be living the life you WANT and DESIRE. No reason at all. But, you are. The confusion, lack of clarity, choice, direction and still, NO results. You are defining yourself with the incorrect mindset that is keeping you stuck. Why is that? Complete overwhelm and stagnation set in. Day after day. It doesn't have to be this way. Don't stay this way...not even for a minute longer!
What if you could feel 100% CLARITY. CHOICE. CREATION right NOW? Well you CAN.
Those are the 3 levels of everything we do and experience in life. So, you are asking, "what is the ROI (return on investment) of doing the work with me as your coach?" Simple, living the life you imagine and desire without delay. A PARADIGM SHIFT is key. I'm not one for beating around the bush. The structure and strategies I use with clients are direct, effective and succinct. My certifications, my training and my life experiences allow me to dive in quickly and get to the source of the issue(s). My process also identifies opportunities to tap into and re-align your intentions into quick results. It's time to upgrade you.
YOU MUST SHIFT.
Go ahead & request your FREE consultation above or visit my website and let's get this started NOW.
Reviews
Before I started my life coaching sessions with Lise, I had major communication issues in my relationship. I was feeling tired, defeated and overall overwhelmed because of it. I felt as though throughout the relationship I had lost my identity and every disagreement turned into an argument. The sessions I had with Lise revealed to me a deeper self reflection and I started to understand why exactly these arguments were happening so frequently. I discovered what my communication style was and what my partners style was. I then realized, I noticed that positive communication with my partner began to happen. Lises guidance, support and process, made me realize that I had the confidence in myself to be able to find who I was and how to communicate more effectively. It was exciting to feel as though my partner and I could connect again. I feel more energized, positive and confident than I have felt in long time. I will most definitely be using her services again!

Bianca