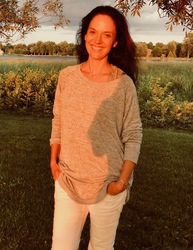 Liz Green

New York, New York
Business Coach, Life Coach, Health and Fitness Coach
IFS certificate of completion, Psychodrama COC
I coach individuals who are ready to embrace the process of creating goals towards a fulfilling life, relationship, and business. Do you have a doubting part? A critical part? Let's get to know them!
About Me
I started my small business on a hope and a dream. I was spinning my wheels and didn't realize that I had a small voice inside letting me know that I didn't deserve a creative business, a fulfilling relationship, and a healthy body. I invested in coaching and IFS, and was able to soften my inner critic, set goals, and achieve them. I now have a thriving product based business, and a successful coaching business.
By setting goals and digging deep, I was able to become the confident leader of my life, and reach the goals that once felt were impossible!
I am credentialed through ICF, and have worked extensively in the Psychodrama model & group facilitation, (3000 hours), CBT, EMDR, and have a certificate of completion in the Internal Family Systems model (IFS). I run groups and serve individuals in helping them get specific, and soften that doubting voice inside. You know the one!
Together we will create a road map to get you to the place you want go!
I will help you to create more space inside to allow your true creative, confident self shine. Become the compassionate leader of your life and learn how to connect with ease to your true courageous, connected, and grounded self!
Reviews
7 reviews (5.0)
I began working with Liz as a health coach towards a goal of being able to create a more healthful lifestyle and more conscious eating. The experience turned out to be extremely effective. She was always prompt, well-prepared, professional and enthusiastically ready to follow up on the thoughts and ideas from the previous session. She was deeply thoughtful with her questions and ready to gently challenge any ideas that were not helpful. She encouraged me to do the research needed to create the changes that I sought while bringing her own suggestions and information to supplement what I had learned, reflecting a broad knowledge of the subject matter and flexibility in her approaches. She seemed genuinely interested in my struggles as well as my progress and provided much needed accountability in helping me to meet my goals by incorporating the small but significant changes into my daily life. At this point, I have been able to succeed in committing to exercising 3 days a week and have lost a total of 20 pounds. I have 30 more pounds to go and am confident that with continued support, I will be able to make the significant changes needed to maintain my health. I would highly and enthusiastically recommend Liz Green as a coach.

Beverly Gould
Being coached by Liz has really been a blessing. She started coaching me spring 2019. Liz came highly recommended by a colleague who had nothing but good things to say about her. Prior to meeting Liz, I was struggling to get my business going for years. I have been working on it periodically. I always find it hard to stay motivated and not lose interest. I often felt discouraged and overwhelmed by the daunting tasks. But once Liz and I started working together she helped me break down my tasks into smaller weekly goals. Having her support and encouragement helped me stay motivated and get my business up and running in only a few months. I went from a business idea to now having a registered business with a website and marketing materials.  Now I am finally ready to have my official opening. Liz is very professional, and knowledgeable and helpful. She gave me good advice or pointed me in the direction of where to go for help.  I love working with Liz I look forward to our weekly coaching sessions. She is very easy to talk to and Im excited to share my progress.  She always supports my ideas and helps me figure out how to achieve them. I am always telling my friends and family about how much working with her has helped me. Liz is awesome, and I would highly recommend her as a coach!  

Jennifer Hohn
Liz Green has been great to work with. I can go deep in sessions with her consistently and honestly express what is truly going on inside of me and it doesn't phase her. I highly recommend her if you want to get to know yourself much better and be more integrated.

Larry Venaska
Ive been working with Liz for over 12 months and in that time I have experienced marked changes and growth in many areas of my life from health and managing new habits to living better with auto immune disease, to advocating for myself at work and investing in my side hustle. She has helped me set and reach goals by helping me to clarify my vision and stay accountable and consistent. Her approach is rooted in compassion and grace. Traits important for me when choosing someone to be vulnerable with about areas I need help with in my personal life. I felt supported, inspired and encouraged. The coaching that Liz provided was uplifting and encouraging, and it was work. She challenged me to explore and to dig deep into feelings and attitudes underlying my desires and decisions. She guided me through each obstacle and kept me on track. I am so grateful for Liz Green. I look forward to our weekly sessions. Ive heard people talk about how coaching has helped them and now I understand first hand. Liz has helped me level up in so many ways.

Nicole
I have personally achieved long term goals easily with Lizs help.Her coaching technique has transformed my ability to focus and take action. Liz has step by step worked with me to set realistic goals and has challenged my limiting beliefs. (As a result, I have lost 10 pounds in 2 months, and I feel great! We are now starting to work on my career path)! Liz has an uncanny sense of how to focus me and establish goals. I have had at least 15 coaching sessions with Liz and I am still amazed how easily Ive achieved long term goals with her coaching style. I am very grateful to move beyond the patterns I have been repeating for years.

Kelly Moore
I cannot express how grateful I am for getting the opportunity to work with Liz. After coming into a challenging time of my life with so much uncertainty and change, Liz helped me sort through the tangle of emotions and dilemmas that life began presenting me with. Together we were able to journey back to the roots of the problem and find resolve. We did some very deep work and Liz was always a supportive guide and holder of space. I was astonished by the depth and scope of the work. She has a very strong self-energy that made the most vulnerable parts of me feel held. I was able to unburden many parts of my being, that I had not even been aware of, but who had been contributing to disruptions in my life. She also seamlessly incorporated elements of her other specializations into her process and found a way to navigate even the most complex issues presented in the sessions. Throughout the work I felt safe and assured and often found relief and resolution. Unexplainably I found myself being so excited about the sessions even though it is some of the deepest work I have done.

Joanna Anderson
I have been doing sessions with Liz Green for about 14 months now and it surprises me how much nourishment each of these sessions provides. Sometimes, being a therapist you tend to let the parts of you that are self- aware or so acclimatized to psychological jargon you know that you dont have too many expectations of becoming any more aware. However, Liz, with her generosity and kind, nourishing guiding light has gifted me a state of awareness with the tiniest details of myself, drawing me closer and closer to the genuine energy within myself that I have always been capable of, but never explored.The true beauty lies in how Liz continues to hold space, week after week which makes me feel so safe, enabling a deep dive and self-disclosure. I have often signed in thinking I have nothing deep alive in me right now but as soon as Liz lays down the path, Voila I am already there, a new journey each time. Like a magician who has tools to maneuver me every time, especially when I am stuck in the gutted space of Where do I go from here? The cherry on the icing is her sense of humor and her laughter which is infectious and puts you at ease instantly. When Liz, reminds me it is time to wind up I often wonder where the time flew by, each time coming away with far more than I intended for the session. Not to mention, but perhaps especially to, Liz is extremely professional and seriously passionate about her work which elevates the experience to a whole new space, making you want to believe in the upcoming transformations and the infinite possibilities.

Dimpy Bhardwaj