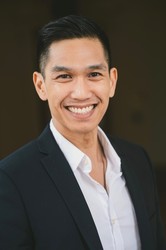 Lloyd Sarte

Los Angeles, California
Life Coach, Health and Fitness Coach, Relationship Coach
Certified Life Coach, Certified Behavior Change Specialist, Certified Personal Trainer, Certified Mastery Learning Specialist
Feeling stuck, unhappy, and chained to your fears? I coach individuals to emotional clarity—transforming their lives through better habits, healthier relationships, and achieving daily actions plans.
About Me
MY WORK
I've had the honor of working with thousands of teens and adults within my 12+ years as an educator and worked with hundreds of clients within my 15+ years as a fitness coach.
I've coached people from all walks of life including CEOs, entrepreneurs, doctors, lawyers, musicians, teachers, artists, and students.
What I've gained through my experience is the knowledge and understanding of the process of how we transform mentally through self-awareness, mindfulness, and thoughtful choices. It's through these three areas that we become a happier, healthier, and stronger version of ourselves every day.
MY LIFE TRANSFORMATION
I've been there.
I have suffered from anxiety, depression, and a handful of behavior disorders including suicidal thoughts, eating disorders, self-harm, substance abuse, co-dependency, and trust issues.
I've been through therapy.
I've been through counseling.
I've been through coaching.
Through my own life transformation, I've learned that most paths to transforming ourselves into a happier and stronger version didn't provide a well-processed reframing of thought that can be understood and written out.
I've created a simple and more understandable process to help you find clarity of where your thoughts and emotions are rooted, then re-framing them to create a happier, healthier, and stronger life through mindful choices.
Mental strength and life transformation is a never-ending process. I'm here to help guide you through that daily journey.
I believe it's my life mission to help you always have a strong day.
HOMETOWN
LOS ANGELES, CA
BACKGROUND
Private Life Coach
Founder and owner of HAVE A STRONG DAY.
Educator of Sports Medicine and Medical Terminology
Private Personal Trainer
CERTIFICATIONS
Certified Behavior Change Specialist
Certified Life Coach
Certified Relationship Workshop Facilitator
Certified Corrective Exercise Specialist
Certified Personal Trainer
Certified Mastery Learning Specialist
Reviews
6 reviews (5.0)
I have worked with Lloyd and have known him for over a decade. I'd like to first point out his relentlessly positive attitude. Even during my worst days, Lloyd was positive, encouraging and patient as we found ways to push my boundaries. Second, Lloyd is a great listener. We talked a lot about my goals -- and my own perceived limitations -- and he found a way to communicate with me that was highly motivating and inspired me to strive beyond my natural abilities. Finally, Lloyd is compassionate. He has an extraordinarily deep understanding of the human condition, and it shows in every aspect of his work. Lloyd is a "people magnet" and brings a tangible humanity to every one of his relationships.

Adam Norris
Lloyd's coaching helped me to review and change certain perceptions and mindsets I was carrying with me for most of my life. With those changes, hardships within work, relationships with others, and with my own concept of self-worth, I can say my entire approach to my life has significantly changed for the better. I feel that Lloyd is genuinely transparent and highly interested in supporting me, so I can find answers and ideas on how I can change and improve my situation. His questions are often challenging and very powerful, but it is necessary for my growth. I strongly recommend Lloyd as a coach as you instantly start questioning the past choices you've made and start creating better questions for your forward movement.

Derek Dominguez
Lloyd is an authentic, engaging, and love-centered life coach. With his perception and ability to pinpoint areas that need to be addressed, he helps to guide me to explore my thoughts and my abilities. Each time I work with him, I leave with a sense of accomplishment and know I am being led towards a better purpose than I have right now. Lloyd helps me understand that being comfortable being uncomfortable is how we grow. I am becoming more confident each day with his guidance, support, and accountability.

Leolyn Opoku
I started with Lloyd about 3 months ago and since then, I have noticed a considerable difference in my life. He provides lenses and paths that work like a road map laying out my short-term and long-term goals. It was easy to follow the paths with Lloyd guiding me through each step. I find myself handling situations and decisions better than I normally would in the past. I have gained an immense amount of confidence and self-awareness. Having the ability to re-frame my thoughts has been so beneficial to our weekly sessions. Working with Lloyd has allowed me to focus on what I truly want and deserve in life. Its true that you can always become a better version of yourself daily if you choose to. Lloyd has helped me see that.

Brianna G
Before I started working with Lloyd, I was lost and had no vision of what I wanted to do in life. I was depressed and anxious thinking that I couldnt change the way I am. Lloyd first connected me through an app that he sent me assessments to answer and reflect on. From these questions and answers, he helped target the deeper issues of why I felt lost, anxious, depressed, and fearful of my future. Lloyd helped me see what I could do in the present moment to move forward. He helped me set simple and realistic goals that I could obtain daily. He helped me change my mindset on life and my purpose. Today, I now have a clearer vision of what I want to do in life. Lloyd helped me realize that Ive always had control over my choices. I just had to choose the paths that would help me grow and learn. From this growth, I found my purpose in helping and serving others by going into the medical field. Ron D, Medical Student, Los Angeles

Ron D.
As a life coach, Lloyd has provided me with resources and exercises to help alleviate anxiety, build confidence, accept myself more, and most importantly stand up straight (something even my mother was never able to do). In working with Lloyd, I always feel that I am in expert hands: uncovering new possibilities, designing better options, nurtured by an encouraging belief in my ability to make the changes I want. Lloyd has passion, empathy, a holistic view of wellness, and practices what he preaches. I would also add that he is thoughtful and encouraging as an empowering sounding board who asks questions that moves you into action: hallmarks of a great coach. If you want to improve both mental and physical aspects of your life, you deserve to give Lloyd a try. He has sure made a positive difference in mine.

David Sikes