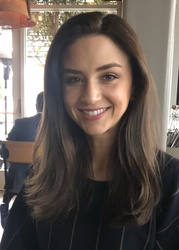 Logan Bacon

New York, New York
Life Coach, Health and Fitness Coach
IIN Health Coach
Are you overwhelmed by choices, dissatisfied with life, or physically unhealthy? I'll show you that change is easier than you think through a series of baby steps that lead to profound change.
About Me
If you're unsatisfied in your life and health and feel like you've tried every fad diet or personal mantra, only to have it work temporarily before going back to the same old same old, then a good coach is just what you've been missing.
If you thought that getting a new job, meeting a new spouse or fitting into a new dress size was the key to your happiness, only to discover once you achieved those goals you were still just as unsatisfied, then a good coach is just what you've been missing.
If you are spiraling into overwhelm by a big life transition, a sudden flood of choices, a quarter- or mid-life crisis, or recent health concerns, then a good coach is just what you've been missing.
I coach men and women who understand that personal wellness and satisfaction is a long-term, holistic goal that incorporates every aspect of our human experience - self-confidence, healthy relationships, satisfaction in our work, and physical health to name a few. A trendy diet or new hobby will work for a while, but true whole-body satisfaction comes from full commitment to a different way of being, not from temporary distractions.
Luckily a different way of being is a lot easier than you think. As a dual certified life coach and health coach, I help clients look at the big picture, and help them to incorporate easy, incremental changes into their daily lives that together make for some profound differences.
I have been a full-time coach for over 3 years, and previously worked in corporate America in product innovation and branding. I have a BA in Communications from Northwestern University, received life coaching training from Erickson Coaching International and health coach training from the Institute for Integrative Nutrition, and I am an active certified member of the International Coaching Federation (ICF). I grew up in the Bay Area, and am now proudly raising my 3 kids in New York City.
Reviews
My telephone conversations with Logan Bacon have been extremely fruitful. She has helped me understand how I can improve my daily behaviors to gain more vitality and energy. And she's very funny as well. Our coaching time together has been productive and enjoyable!

Susan Haas