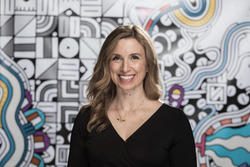 Loree Draude

Palo Alto, California
Leadership Coach, Executive Coach, Life Coach
BA, MBA, CPCC
I work w/ military veterans, entrepreneurs & startup founders who are feeling stuck in their work or personal life. I help them identify what's most important to them and how to live a fulfilled life.
About Me
I grew up in the military as the daughter of a career Marine and then I served for 10 years as one of the first women to fly combat jets in the Navy. When I completed my service, I was afraid of what the future held and nervous about whether or not I'd be successful in the business world. Transitioning out of the military was stressful, and there were several times as a civilian where I'd feel that fear creep up and stop me from going after opportunities.
Fortunately, I found a great coach. I've spent the past 20 years in Silicon Valley in a variety of leadership roles, including founding two startups and leading teams at Google and Facebook.
After leading and coaching teams for 30+ years, I'm now a Co-Active Certified Coach who supports military veterans in achieving their goals and finding fulfillment in their lives. I create strong and productive relationships with my clients through warmth, humor and accountability.
My educational background leans business and technical (MBA at the Wharton School of the University of Pennsylvania and a BA in Mathematics from the University of San Diego) but I am also an artist and writer. I believe in busting self-limiting beliefs about who we are or could be. I am also a certified yoga teacher and a mom of two teenagers and two cats.
If you're feeling stuck and want someone who can stand beside you, guiding you to explore new possibilities and to get back in touch with who you really are, then let's talk.
Reviews
Loree doesn't have any reviews yet.