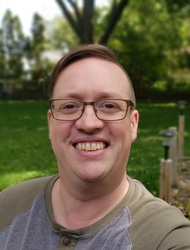 Louis Morrissette

Waterford, Michigan
Life Coach, Leadership Coach, Spirituality Coach
Certified Professional Coach (CPC), Energy Leadership Index Master Practitioner (ELI-MP)
Do you have an all or nothing mindset? Whether you're living behind a mask or suffering from perfectionism, we'll rebuild confidence in yourself so you can unleash your full money-making potential!
About Me
I help high vibe entrepreneurs break free from perfectionism and unleash their full money-making potential.
Do you struggle with over-committing or over-delivering and still feel like it wasn't enough? Do you have an all or nothing mentality?
It's agonizing and frustrating to be living behind that mask day in day out. Whatever you do is never enough. You're working way too much and bringing all that home too! No wonder you're tired all the time! You're putting yourself up to impossible standards.
Past "mistakes" in your head and the fears of "What if it happened again?" gets replayed in your head. It doesn't have to be like this. We'll team up and get you focused on what will revolutionize your life both at work and at home, and start bringing home the money you deserve!
We'll team up and get your confidence back up so you can be excited about your life, not stressed the F out! There are three parts to my coaching:
Perfectionism coaching where we find ways for you to start releasing the tight grip you have so you can enjoy your life. We'll have an action plan in every session to get you moving and accountable.
Nature coaching where we use the power of nature to support you throughout the process.
Spiritual coaching where we dive deep into law of attraction and access to the quantum field. This means letting go of the pressure you're feeling and having help from GUS (God, Universe, Source, or whatever you prefer calling it.)
I'm a Canadian expat living in Michigan for the last 11 years. I have a huge passion for nature, cooking, gardening. My wife and I have two big fluffy cats, Piggy and Little Face.
I left a 20 year career as a chef to start my coaching business. My revelation to change my life came from nature almost 3 years ago. I've been coaching for a year and a half.
Let's chat and see how you can start shifting your mindset to thrive mode!
"The best time to plant a tree was 20 years ago. The second best time is right now." - Chinese proverb
Reviews
Louis has a direct and supportive coaching style, which I LOVE! He keeps me focused, accountable to myself, and motivated by reminding me why I set a particular goal in not only my business but my life! I would HIGHLY recommend Louis for anyone, but especially if you've ever struggled with perfectionism or self-worth issues. His expertise and his calming energy make it incredibly easy to open up to him and explore and implement long lasting transformation!

Piper Watson