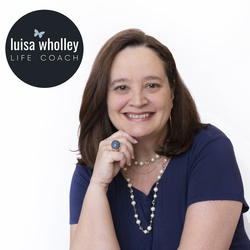 Luisa Wholley

Tampa, Florida
Life Coach
CTA Certified Coach
I help people communicate and build confidence in their strengths to achieve personal and professional goals.
About Me
I help lifelong learners communicate and build confidence in their strengths to achieve personal and professional goals.
What's Coaching?
. a co-creative dynamic
. a neutral place for conversations focused on you
. discovering your own solutions
. an accountability partner
. a motivation source
How many times have you felt "frozen," lost, or overwhelmed, and only after talking to someone, you were able to pinpoint solutions that lead to a positive change? Voicing our thoughts and feelings can have a significant impact on transformation. A professionally trained coach can help you be more aware and set action plans, making this process more powerful.​
And What's NOT Coaching?
. therapy or counseling
. consulting
Coaching should not be equated to mental health help. If you know or suspect you may be struggling with mental health issues such as anxiety, depression, PTSD, addictions, or any other mental illness, do not look for a coach to address them, but seek a doctor, psychiatrist, psychologist, counselor, therapist - healthcare professionals. And please discuss with them if working with a coach would be beneficial to you. I am not a mental health care provider, nor will I present myself as such.
In the same manner, if you are looking for someone to provide you guidance and answers to your questions in a consulting capacity, such as "what marketing strategies will work for my business?" or "what should I say when my wife and I disagree?", a consultant is the pro you most likely need. My job is to empower YOU to find your answers.
How can I help you?
Request to book a free Sample Session and let's see if we are a good fit.
Reviews
6 reviews (5.0)
Luisa, with her active and welcoming listening helps us with shaping our projects. She explained very clearly how a coach works and, with her pragmatic questions, she guides us on building the pieces of what we want to accomplish. What really touched me is that I felt her great sensibility in respecting the client's rhythm and, in my perception, that is crucial for making progress in a solid and tranquil way.

Celina Bernardes
I didn't know what to expect when I booked my coaching session. What a pleasant surprise! Luisa Wolley knows how to manage time, expectations and get the best out of you. She helped me look at the situation with magnifying glasses and sparkling eyes of joy. Yes, that's how I ended my session: light and happy! I totally recommend that everyone try this amazing and enriching experience.

Adriana Pagliano
I can't say enough about my coaching session with Luisa. Luisa combines professionalism and warmth - a very rare and unique combination. Her careful listening helped me figure out the exact strategy I needed to plan for the next chapter of my life. I left our session feeling encouraged, re-energized, and confident in my own ability to take the next steps. Thank you!

A.N.
It was an incredible and very valuable experience that definitely helped me rethink a behavior, Luisa has high communication skills and is extremely sweet. I loved my coaching experience."

Bianca Villar
It was excellent! It's so important to have an exchange with someone who truly listens in an attentive and impartial way, and helps you organize your ideas and objectives in a simple and clear manner!

Ilana Nina de Oliveira
Luisa Wholley is a professional hard to find! Her work is assertive and her empathy beyond measure. Luisa asks just the right questions that help you identify what you really need to focus on. She shows some very practical and useful tools you can apply to both personal and professional life. You can reach the balance you need to achieve your goals and reduce stress. I'm still more confident now. You have made a difference.

Claudia Brandão