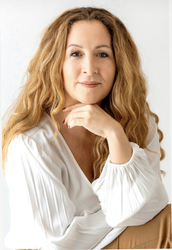 Lynette Tipper

Abu Dhabi, Abu Dhabi
Family Coach, Relationship Coach, Life Coach
CCE, COMENSA, Federation of NLPC
A licensed NLP Coaching Practice for women, young people & families to overcome anxiety, low self-esteem, divorce, stress, confidence issues, bullying, school transition, exam pressure, grief etc..
About Me
Lynette Tipper is the founder of COCOON COACHING SOLUTIONS, Master Coach, NLP Master Practitioner, NLP Kids Practitioner and proud Mummy. With a background in H.R, recruitment & training, and working within the UK charity sector, she established COCOON as a platform of support for women, young people and families to overcome life's challenges - not to just survive, but to bloom & THRIVE! 
Lynette is incredibly passionate about building confident and resilient young 'Leaders of the Future' and using active listening, she delivers pro-active, practical and age appropriate coaching tools and techniques. Lynette was guest speaker at the MEFIT TEEN SUMMIT 2018 reaching over 500+ teens, delivered the DOVE SELF-ESTEEM PROJECT 2019 across several Dubai schools, and a corporate workshop for Mubadala on 'The Power of Mindset'. Having ran several workshops for young people, teacher trainings, parent support workshops and corporates, Lynette thrives on guiding clients and small to large groups towards a happier, healthier and more purposeful life.

Become more consciously connected today and find the very best, most powerful version of YOU!
​Call Lynette Tipper now to schedule a free 30mins ZOOM consultation.
Reviews
7 reviews (5.0)
"Well, to start with I would like to thank you on behalf of the kids and frankly speaking I thank God for getting to know you. Both your amazing presence and your way of coaching helped the kids a lot.. Your magic touch of coaching made the kids accept you easily... (Though I struggled to convince them as they were refusing completely the idea at first) Now they feel better and they are looking for more coaching with Lynette in the near future depends on her schedule... Thank you so much dear. We will stay connected hopefully.."

Samira, Abu Dhabi
"Before I have a coaching session, I struggled with many things such as phobia, self-confidence, self-sabotaging and I was not feeling ready for my future dream work! I had many memories in my past that was dragging me back from doing and achieving my goals and dreams. When I started having the sessions I discovered some of my talents, and I developed new habits such as reading books, and meditating every day. I gained wisdom about how the mind soul and body work together, it is such a blessing to have a coach to be guided to the right path. Honestly, I had coaching sessions before and I can see the difference in the personality, Lynette is kind-hearted, she does everything that it takes to get you all the way to the next level, she is very educated wise women. She encouraged me to start my new Instagram account to post my recipes that I enjoy making. Starting new things will enhance in the future new creative ideas."

Shamma, Abu Dhabi
"I saw Lynette at a time when there were some big changes afoot in several areas of my life, yet I felt stuck, anxious as to how I would possibly navigate and cope with the coming months, and that I would somehow end up just losing myself in the process as I had already done several times before. Lynette made me feel completely at ease right from the start — she is a fantastic and intuitive listener, and has a variety of tools and techniques at her fingertips to help uncover and release anything that is holding you back. For me, that included a number of things that weren't even remotely on my radar, but I have come to realise were essential for me to acknowledge to be able to move forward. I'd done quite a lot of work with psychologists before, which has been very helpful, but my work with Lynette helped me to explore and uncover areas that I had hitherto not directly addressed and for that I am very grateful. She has helped me to help myself and that is a great gift!"

Elizabeth, Abu Dhabi
"This was the very first time that I tried any sort of Coaching/Therapy and I will highly recommend it. Lynette's calm persona, attention to small details in making her clients comfortable and the actual sessions themselves are remarkable. In our busy and stressed lives, issues and pain we are dealing with can find a release in these sessions. Lynette offered lots of helpful tips as well and two days after the sessions, I feel revitalized and in control. I will certainly try this again as I know what an effective tool it is."

Sarah, Abu Dhabi
"Lynette's kind and calm manner made me feel at ease straight away. She also made sure I felt comfortable in my surroundings. Lynette gave me some great tools to cope with how I'm feeling and help manage my situation better. Lynette also helped me see things more positively which in return made me much less anxious. "

Liz Naddeo, Abu Dhabi
"I never had any Coaching/Therapy before and always dealt with things by myself. My Mother passed away a year ago and I thought I'd dealt with my grief. When I first met Lynette she was very warm, open and welcoming and when my session started it was quite obvious I hadn't dealt with my Mothers loss. Lynette showed me various techniques to revisit these situations and helped me amend how I felt. It was amazing how at ease I felt with her and how accepting I was to her methods. I can't thank you enough for helping me."

Bethan Ashton, Abu Dhabi
"I am happy to have met Lynette and through her getting to know what NLP coaching is. My first session was a very positive experience. I enjoyed the open talk with the coach. She was very receptive and open to any topic with the most professional and confidential approach. She helped me focus on some problems and encouraged me to set some goals. We worked together on how to get through some problems by using some exercises and techniques. In just one time we met she was able to restore a new balance around me and put things in a different perspective. I am glad I did this. It has been a small boost in a period in which I was feeling stuck. I am looking forward to experience more about coaching as I think it could help enhancing personal and professional life."

Claudia Filippini, Engineer, Abu Dhabi