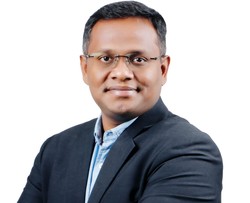 Madhu Kanna

Bangalore, Karnataka
Executive Coach, Leadership Coach, Life Coach
Certified TAM Practitioner, Marshall Goldsmith SCC Certified Executive & Team Coach, Certified Belbin Team Roles Practitioner
I work with executives aspiring to be effective & aligned, to be great at work relationships & soar through crisis. I enable you to play at your full potential in an empowering & sustainable manner.
About Me
I coach executives & leaders who are determined to evolve from within so that can be more effective, inspiring, impactful and resilient in their professional and personal life. I am passionate about supporting leaders in developing their executive presence and in their journey towards greater impact and results.
Prior to being a full-time coach, I had an enriching 15+ years in the corporate space, across all levels of management, working with multicultural and multinational teams. My curiosity about executives and leaders throughout my corporate life, helps me empathise and connect with my coaching clients better.
I have clocked over 1000+ hours of coaching. I also co-facilitate a Leadership development program: "Leaders as Coaches", where we enable leaders to adopt a coaching mindset.
Besides coaching, Yoga and biking are close to my heart.
----------------------------------------------------------------------------------------------
Are you feeling any of the below?
• Hollow inside, despite achieving a lot
• Stuck and unclear about the way forward
• Struggling with work relationships
• Unable to draw ownership and accountability from team members
• Fear of delegation and trusting team members
• Fear of conflicts and the impact they leave on you
• Unable to communicate effectively
• Not clear about your derailing behaviours
• Need to have alignment, clarity on your purpose and life's goals
If your answer for any of the above is yes, then it is time that I invite you to embark on an empowering coaching journey with me. We will partner to
1. Heighten your self-awareness and identify blind spots
2. Identify interferences and co-create clear goals
3. Explore and gain insights
4. Come up with a SMART Action plan
5. Be accountable and champion change
At the end of our coaching engagement, You will be in a more resourceful state and will be playing at your full potential.
Change Starts with you! Change Starts Here!!
Reviews
4 reviews (5.0)
I have experienced interactions with Madhu as a Coach and can definitely vouch for his ability to give us the comfort, reflect upon ourselves...In the last 1-2 years , i could sense the transformation by travelling with him as a committed client

Murali
I have been fortunate to get in connection with Mr.Madhu for leadership coaching. I was struggling in a couple of leadership areas, like communication, empathy, and most importantly my anger. Within few weeks of engaging in a coaching session with Madhu, I started working on each of my objectives, the assessment tools he used, gave me an insight into who I am as a person and what changes need to happen within me to be a better leader. Today, after a few months of engagement with him, I feel I am on track on where I have to be. I find remarkable changes in my behaviors. He holds me accountable and has been a great partner in the change process!!

Prakash Muthudoss MPharm, MSc, PhD, MRSC, MAPS, PGP-BABI, (PGP-AIML), (CSSBB) Oncogen Pharma Sdn. Bhd., Selangor, Malaysia. M: +60 10 4322 101
As I was moving up the ladder, I knew I had to make some critical changes within me. I was struggling in aligning with people working with me and also being more open to conflicts and confrontations . I must say that my coaching journey with Madhu has been enriching , right after 3 sessions I was more aware about myself, he helped me identify my blind spots, what drives me and what holds me back. The most valuable part was the stakeholder 360 interview, I could see how my stakeholders experienced me. He endured that I stayed on track and whenever I hit a roadblock, he was there for me. Today, I have moved a long way..

Sasikumar Murugesan
It was an insightful experience with Mr. Madhu. At times we loose track of our larger goals when we run around to solve transactional problems and these sessions helped in regaining that focus.

Lipjo Joseph