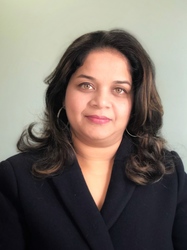 Career Coach, Performance Coach, Relationship Coach
BComm, MBA, Cultural Educator, Certified Storyteller & Puppeteer
I inspire & empower women & entrepreneurs to achieve their dreams, career & life goals with a Results-based approach. I'll help discover skills, passion & create successful fulfilling pathways of happ
About Me
I am an ACC from ICF, Creativity Coach, Storyteller & Puppeteer. Cultural Educator, Cofounder Magical Whispers
Certified Results Mastery, HerBreakthrough, Health & Fitness Mindset, a Relationships & High-Performance Team Coach.
Across my work experience, I have always believed in creating an impact by partnering with women to achieve breakthroughs that help them to grow and get better at what they do.
Unlike counseling or therapy, my coaching offers you answers to all your life questions in a methodological way! I mentor women to challenge themselves and improve at all levels, whether in their ongoing careers or as upcoming entrepreneurs.
My unique frameworks help clients meet their objectives.
• Restarting their career after a break
• Monetizing Creative skills
• Manage smooth Relocation
• Face adversity Fearlessly
• Become a Results-Oriented Entrepreneur
• Achieve Personal Life goals
My coaching interventions, can bring about a positive change in your perspective, broaden your thoughts, and eliminate your limiting beliefs that are detrimental to your advancement.
Fearless by nature and eager to take on new challenges, I am motivated to help others and build meaningful relationships. Some accomplishments include:
• Success in executive search – Led practice for emerging markets in Singapore and bridged cultural gaps across India, Singapore, and Southeast Asia.
• Co-founded a platform to inspire women to explore corporate careers & creative fields.
• Starting my own performance group - Magical Whispers and performing in New York, Singapore, & Mumbai at prestigious venues.
• Co-authored the book "The Shakti Awakening" -24 Stories of courage & inspiration.
I have myself experienced that being Fearless is an art & trying relentlessly requires a great deal of patience. I partner with my clients to Discover their Magic.
Talk to me - 30 mins session:
What's important for you NOW!
Strategies for a positive outcome
Identify the plan that will work for you
Reviews
Madhuri Kale is a coach par excellence. Her coaching has given me the clarity and helped me realign my personal and professional goals in a much better way. She has the ability to understand and identify the problem areas and offer apt solutions. I have been really fortunate to have been coached by her and would highly recommend her.

Chaitali Chaudhari