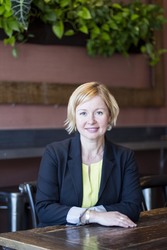 Magdalena Blasiak

Vancouver, British Columbia
Leadership Coach, Career Coach, Life Coach
PMP, CLC
I coach people who want to align their values, strengths to elevate their professional performance. I specialize in life and career transition, leadership business development and project management.
About Me
I'm so pleased to meet you. Thank you for stopping by. I'm Magdalena. I am a project management professional and leadership coach that works with people who are stuck in their careers and life and are ready to take a leap into growth and transition. As a mom and small business owner, I know first hand what a juggle it is to be living in a "modern family". The strain of feeling stuck in the rat race, only to pay for daycare; of the feeling of "playing small" in the office; of not being respected as a team leader. I get it, because I have been there and I have overcome it.
My background is in organizational development, working both in non-profit and corporate. I'm an alumnus from the University of British Columbia and I have also studied at Royal Roads University, where I obtained a graduate certificate in Project Management. I hold a Project Management Professional (PMP) designation from the Project Management Institute.
Recently I successfully completed coaching training from Essential Impact where I obtained Certifed Leadership Coach (CLC) certification. I practice the ICF framework of coaching and am in the process of obtaining my ACC certification.
I work with primarily women in areas of personal and professional development, career transition, leadership development, project management, and team performance.
The clients that I work with are working through career transitions, building a business or becoming an entrepreneur and are ultimately trying to align who they are with what they do as they journey into the next chapter of their lives.
As we partner together, I see women (and some men too!) gain clarity in what they want, rediscover their values, recognize their strengths and unique talents and ultimately map out a plan to excel in their career and life. I see them shed the skin of their old selves and transform into spectacular people.
I look forward to meeting you and see how we can journey together through this chapter in your career and life.
Reviews
3 reviews (5.0)
Magdalena has been my coach for almost 2 years now. She has a great way of holding me accountable and asking great questions that force me to really think about the reasons behind what I am doing. During the time that I have been working with Magdalena I have started a new business and have been promoted in my current job. Magdalena has been a huge part of these successes in my life.

Graham Elger
Working alongside Magdalena over the past year has been an incredibly rewarding experience. Whether I need coaching on personal or business matters, she is ready to engage with me and help me move forward. Magdalena's ability to ask the right questions, to delve into the uncomfortable, and to propel me into further action have had significant positive changes in all aspects of my life. Her coaching style, while non-directive, is highly personalized; she is 100% invested in your journey and it shows in every aspect of our conversations. I look forward to continue working with Magdalena.

Nicolas Tellez-Espana
Magdalena thoughtfully guided me through 4 coaching sessions that helped me clarify my immediate career goals. Together, we framed my current position so that I can better tap into my talents and strengths and be more creatively fulfilled where I am right now.

Harriet Fancott