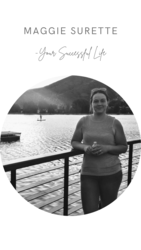 Maggie Surette

Mason, New Hampshire
Life Coach, Money and Finance Coach, Christian Coach
Franklyn Covey All Access Pass, Dale Carnegie, David Allen
I mentor women like you & teach 4 practical and powerful tools that will propel you to a place where you have the autonomy to spend your time doing what's most important to you!
Details

Mason, New Hampshire 02101
339-224-4349
Send Message
Visit Website
Hourly Rate: $100 to $200 US Dollars
Gender: Female
About Me
My name is Maggie, and I mentor people like you who want to change their life, but don't know how. I'm driven and energized to support you in becoming more than you ever imagined possible, because I know what it's like to be stuck beyond belief, wandering through life without purpose, and convinced there is nothing better than this life we ended up in...
But I found a way to overcome those challenges that hold us back, and now I've learned how to live an abundant life, full of joy, contentment, determination, peace, freedom, and so much more, despite the challenges we come across... And I want to help you experience that too!
There is hope for a future, that you may not believe is possible for you now, but with commitment, the proper action, and mentor-ship you can become all you are capable of being.
Over the last decade I spent endless time trying everything you can imagine to improve my life, and do you know what I've learned? There is absolutely no easy way out. Nothing is perfect. There are no quick fixes. Hard work is necessary. This life is a journey, and we can only take one moment at a time. You will fail, cry, yell, and most definitely want to give up at times.
But if you truly want to change... if you have made the difficult yet exciting choice to get unstuck, no matter what that may take... then I encourage you to come talk with me.
I will be your mentor, I will be your friend, and I will hold you accountable. I care about you, and I know how truly valuable, and unique you are. I don't want you to waste another moment of this precious life, because there is so much good that you could be doing for yourself and others right now... today.
I won't keep all that I have learned to myself, because I know how much more abundant this life can be for each and every one of us. No one knows what they haven't learned yet... so make the choice. Learn from someone who has been where you are
Reviews
2 reviews (5.0)
I was ready to make a change in my life, but I wasn't sure what to do. The tools Maggie taught me really built a solid foundation for me to build off of. Taking action is something she encouraged me to do, and when I listened to her guidance on not allowing fear to hold me back, I began developing skills I never thought I could, and I am enjoying life even through the struggles. Which is most important to me. I am accomplishing goals, and seeing results in my finances, my relationships, and my mental health. It's just awesome to know that I have someone I can reach out to who actually has my best interest in mind. I am so grateful.

Kathleen
Maggie is awesome! She took the time to get to know me, and build my trust. This has allowed me to confide in her, so that I make real progress and overcome the challenges that I face. She is a mentor who has patience and helps me come up with my own answers, which has built up my self confidence.

Elizabeth