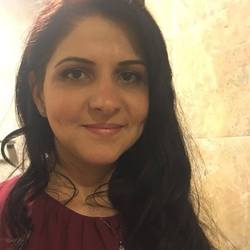 Mais Malkawi 'Amman
Life Coach, Relationship Coach, Spirituality Coach
BA, MA, Federation of NLPC Professionals, RSCI Life Coach, Neuro-linguistice Programming Coach
I work with each person who is welling to get out of their struggles&grow in life,stop feeling lost&find out their purpose,get rid of their fears,saddness&stop being stuck in life,discover joy&success
About Me
Mais is a certified Coach in Neuro-linguistique Programming (NLP), Persona Development trainer, Life Coach and hypnotist, who believes that her mission is to support and guide her clients to overcome their challenges, and all what irritates them from living a peaceful life, to increase their self-confidence, to create and set new goals and strategies that empower them to live a joyful, meaningful and purposeful life.
Mais has a long experience working with people (specially women) from different cultures and back grounds on overcoming their struggling and changing them into opportunities, getting rid of their fears, sadness and confusion in life and finding clarity, reprogramming their minds to reach their goals and realize an emotional and financial freedom. She is specialized as well in personal relationships,abundance,in bio-energy and law of attraction. she believes that self acceptance is the key.
Mais holds a Masters' Degree in Language Sciences/Teaching French as a Foreign Language, from the University of Toulouse II in France. She is a very passionate and experienced teacher who believes in the power of education and who participated in many teaching courses and human development trainings to empower herself.
Mais was cured from Cancer at the age of 20, overcame the death of her father with whom she had a unique relationship which took her into depression and overcame relationships struggles,and succeeded in creating money freedom after a long journey of shortage. she is a mother for a lovely young boy. Her eagerness to get up and rise pushed her to use all her life experiences to reach as money people as possible and help them live a happy life. Seeking knowledge and getting more educated, she acquired the needed power and tools. Today Mais believes that this education should be reachable to everyone.
For her it's not a Career, it is a mission for why she is her
Reviews
Mais has 4 reviews.
You gave me a lot of hope despite all my feelings of grief towards my country Syria, my school, my house and my friends
Life has no meaning I don't know what happiness means but I will do it for you.

Karmen
Since I was 12 years old, I used to tell myself in the mirror: I hate you, you are a looser, worthless
You gave me a gift of knowing my self, I feel free and full of love

Sarah
Mais,
I wish I can thank you enough for being so patient, I can't believe that troubles are finally over, you helped me in saving my marriage and getting back my husband, the love of my family and mostly I feel that I got back myself, I feel strong :)

Farah
Whenever I talk to Mais I feel stronger and more optimistic. She taught me how to organise my thoughts and choose what serves me, she helped in understanding my problem and fixing my relationship with my family. She believed in me. You can't talk with her without letting you feel how special and talented you are. Everyday she is adding more happiness to my life by helping me enjoying it to the max. Thank you for your great knowledge and kind heart.

Maha