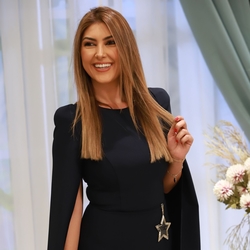 Mais Mohammed

Dubai, Dubai
Life Coach, Relationship Coach, Career Coach
NLP, Hypnosis, Life Coach, Timeline Paradigm
I coach male and females seeking to change and enhance their wellbeing. I can help with: 1. Phobias 2. Relationships 3. Finding your true passion or purpose 4.Release stress 5. Traumas 6. Conflict
About Me
From Styling Homes to Styling Souls
Hi I am Mais and I once was a lost young girl thriving to find my passion. From an Interior Designer to a TV Presenter and still my life felt empty. That is when i realized money does not buy happiness! And so my Life Coaching Journey began to find the truth about life.
After a many trainings and learnings here i am today, a new and improved person thriving to grow and share this knowledge, so YOU too can change your life
Being a professional at public speaking and using my voice to help people all around the world, I took leverage in my media career path to spread the tools to make the world a better place.
I live by the idea that you can never give back enough and took interest in becoming a certified Master Life Coach, by one of the top institutes in the world.
Today i proudly say i am touching many lives all over the world. Coaching with me is an experience my clients called aMAISing
When you change the way you look at things, the things you look at change. Through the power of your mind I will teach you to excel and shine in your life. Today is the day you make your Dreams Reality!
Its your turn to be aMAISing and live an aMAISing life of your dreams
Reviews
Mais doesn't have any reviews yet.