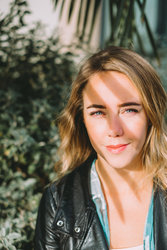 Makenzie Chilton Vancouver, British Columbia
Career Coach, Business Coach, Executive Coach
BA, MA
If you are sick of the mundane & want more out of your career, I'm your coach! With a background in business and a masters in psychology, I've developed a unique program to help you Love Your Mondays.
About Me
DO THIS, NOT THAT
Sometimes life feels like a crazy mashup of hard choices and tough options, doesn't it?
I help people with career-related problems and help them reach their goals:
- figuring out if you should quit your current job
- creating a plan for what next steps are
- developing philosophies on why YOU work, adjusting how you operate in your career
- making decisions (and how to turn them into habits)
- discovering the cross-section of skills and interests
- asking for a raise + value propositions
- creating effective systems for entrepreneurs and small businesses
- management training
- aligning your career with the three pillars of success
- finding the balance between the mundane routines and chaotic freedom
- emphasising strength work (as opposed to working on elevating weaknesses)
- developing a focus and a plan to create a career you don't want a vacation from
You spend 1/3 of your life at work, you deserve to be spending that time doing something you love.
What I am here to do is give you a really gorgeous compass (hint: it's within you already) that will help you answer that frustrated question you've been shouting at the mirror. I'm here to help you figure out what to do with your talents; your career and then gently nudge you out of the nest like a fierce little Mama bird so you actually do it.
WAIT A SECOND, Who is this girl?
Glad you asked! I'm Makenzie. And people have described me as a lot of things. Like calm, unstoppable, loyal, candid, soulful, intuitive, practical, a teddy bear in a Harley Davidson jacket (yes, really.)
 
Working with me is like getting access to a tough-love hippie, a counsellor (I have a Masters in Forensic Psychology) and a strategic, analytical, problem-solving coach all in one. Except it's not like that, it is that. Because I am all of those things, and if you'll let me, I'd like to help you change the entire course of your life. I'd like to give you the direction and tools to go and do something that matters.
Reviews
Makenzie has 12 reviews.
I didn't know where to start before I met Makenzie. I felt a little lost, and very frustrated. I got some big aha! moments from the first emails we exchanged. Makenzie taught me to get out of my own way and gave me a lot of self-confidence and clarity in my work.

Elodie Kongasiou - Bondi NSW, Australia
An immediate sense of comfort is felt whenever you talk with Makenzie. She understands your needs while the WTF am I doing?! Sessions provide you with the tools to discover what you truly want to do. Her guidance has helped me believe in myself and pushed me to discover and act on new opportunities.

Makenzie is invested in your life from day one and she sincerely wants to see you succeed. She inspired me to become the best versions of myself. If you are wondering what to do with your life, or which steps to take next, Makenzie can help you rediscover the meaning in your life and bring you closer to your dreams!

Shannon Blanchfeild - Toronto, Canada
Given my past experience with this type of work, the fact that in addition to being a career coach Makenzie having a Masters in Psychology was a major asset to me. Other career counsellors usually serve to assist someone who already has a career goal to find out how to get there, whereas the WTF am I doing?! Sessions really helped me figure out what that goal even was! Before I started working with Makenzie I detected somewhat of a tone of a tough love approach, which is what I feel I needed. I was right!

The WTF am I doing?! Sessions are a great way to start the process of figuring out what you really want to do for a living: a super helpful program for identifying your core values & how you want your work and life to relate to them.

Ethan Minuk - Vancouver, Canada
The WTF?! am I doing Sessions are sort of like therapy, but fun! You learn a lot about yourself and what's important to you, and you get a lot of tricks to overcome your fears and learn to have confidence. It's about more than just work and finding a career path: it's about what you want from life and how to change your mindset to achieve it. Also, you know, Makenzie is an amazing person and coach!

Makenzie helped me figure out what is important to me. I had done some similar work on my own before, but the WTF am I doing?! Sessions had a unique approach that made it stick. And let's face it; I needed someone to "force" me to go deeper! Without her constant support and feedback, I probably would have given up.

I also totally loved her strategy regarding value work, what I had previously done was very boring and impersonal. Makenzie's approach was the total opposite!
I cannot find the words to thank her for all the support when I sent "panicky" emails. She responded super quickly and just reading her words made me feel calmer. It was life-saving!

Mélissa Bouchard - Montreal, Canada
When it comes to making decisions I used to get really overwhelmed, but not anymore!

I like the no-frills, straightforward approach and hyper-focused layout of The Decider.

I'm the mulling Queen and The Decider didn't let me mull a single second longer.

Sophia Chang - Los Angelas, USA
Makenzie is one of the most talented coaches I have worked with! I do not have enough kind words to say about how amazing she is. She inspired to pursue my dream of being a full-time photographer and to move forward with my business while constantly reminding me of what I can achieve if I just believe in myself. I would not be where I am with my business or even with my personal life without her! I highly recommend Makenzie if you are feeling stuck or even if you just feel like having a great mentor.

Elyse Cornish - Vancouver, Canada
If you feel like you're stuck in a hot room with a suffocating crowd, Makenzie will open a window for you—-and help you boot your own butt toward it. Maybe one that you didn't see before. Maybe even one that she helped make for you because her extensive background and caring drive give her insights into your world you might not have considered. Caring, direct, honest and organized! Makenzie helped me find windows when I saw walls, and make important decisions that shaped huge life turns for the better.

Kate Mada - Montreal, Canada
I'd say that the work we did was a brain dump of my rambly thoughts and opinions, likes and dislikes and just a ton of information about me. Makenzie takes that information and organizes it in a way that makes sense and is more tangible. More importantly, Makenzie comes up with an action plan with clear next steps. Basically, she takes something messy and shapes it into a plan of action.

Carolina H - Vancouver, Canada
Every other career counsellor seemed a bit too stuffy for me. Before the WTF am I doing?! Sessions I felt frustrated and dissatisfied. The biggest thing I took out of our sessions together was that it was ok for me to be sick of one thing and start over in a new career.

Scot W - Vancouver, Canada
I love Makenzie's genuine and playful style! For me it all came together in module 2 of the WTF am I doing?! Sessions. The connections exercise helped me group my skills and interests into some key areas of focus. I also really appreciated the personalized resources and guidance I got from Makenzie.

Iris Cai - Vancouver, Canada
After working with Makenzie I felt totally clear and felt like it just made so much sense. It was a DUH moment, but Makenzie made if very simple and just a no-turning-back, no regrets decision.

Just get over the humming and hawing, and do something.

Get off your ass, stop feeling sorry for yourself and let here help you get past this hurdle. You'll lose like 20 lbs, seriously. At least it feels that way.

Laura Courrau - Miami, USA
If you aren't coming up with a solution with ease on your own Makenzie can help you see your options from a different angle, making the decision really clear.

I kept flip-flopping between options with no clear answer or commitment to either one. In 30 minutes I was able to zero in on what decision best reflected my heart's desire and my values instead of making my decision out of fear.

The day before I was 95% certain I was going with option A. Yet after working with Makenzie I walked away with clarity that there was another option I actually wanted more and changed it.

Crystal Di Domizio - Bowen Island, Canada