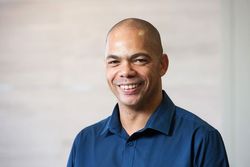 Malcolm Fiellies Cape Town, Western Cape
Entrepreneurship Coach, Business Coach, Career Coach
BComm, Coaching Practitioner -SA College of Applied Psychology, Enneagram Practitioner
I coach individuals who are entrepreneurs or transitioning from a corporate to entrepreneurial career. Also those in career transitions, moving perhaps from specialist to leader role.
Details

Cape Town, Western Cape
Hourly Rate: $100 to $150 US Dollars
Gender: Male
About Me
I am a Registered Coach with COMENSA and an accredited Integrative Enneagram Practitioner. I help individuals and teams unlock their full potential and reach their self determined goals. I have a wide range of industry experience including, Manufacturing, Time Share, Property and Financial Services. My experience also includes various roles in these organizations from production, to accounting, human resource management, as well as change and project management. This enables me to assist you to achieve your self-determined goals regardless of your background or the industry.
My coaching experience covers clients pursuing alternative career options, as well as personal life goals, and business owners wanting to work more optimally to craft their strategy.
The enneagram has helped my clients gain a much better awareness of themselves as well as their strengths, development and growth areas. This allows the client to work on specific areas that could unlock the areas needed to achieve success in their personal and business goals.
Coaching can be done face to face or online via Skype or Zoom.
Reviews
Malcolm has 6 reviews.
The reason I approached Malcolm in a coaching capacity, having been through a similar process before, is that he is passionate about seeing others reach their potential.

This passion armed with the ability to organise my sometimes chaotic ramblings into a focused plan using techniques where you are pushed to identify your ideal end state; whilst staying true to your unique self.

In this year I made a job change which came with many feelings of excitement but also feelings of self-doubt. The coaching process helped me reinforce my value set and focus. This has helped me tremendously, particularly in the initial transition phases when getting to grips with new processes and personalities.

Thank you for the tools and skills imparted Malcolm, the journey continues.

- Loren, Finance Manager, Cape Town
At the time I started working with Malcolm I was frustrated in my job because I felt as though my professional development had stagnated. I believed that my options were very black and white, and that limited me in creating other opportunities for myself. After a few sessions with Malcolm, my perceptions of myself started to change. He helped me to become aware of my strengths and weaknesses, so that I was able to form clear goals which are congruent with my personal values. Forming these goals and a strategy to work on achieving them removed that initial anxiety and frustration of not knowing where my career was heading. I feel that through coaching I have gone from a state of inaction to feeling like I have a more purpose driven work day. I now understand myself so much better, and it has shown in my recent decisions and the outcomes achieved. As a coach, Malcolm was, and still is, extremely committed to my journey. He has a wonderful, unassuming manner of giving you the tools you need to realise the solutions to your problems. I felt very comfortable talking to him, and always walked away from every session feeling uplifted and confident. I still continue to look to Malcolm for support as I progress in my career.

- Ulika, Physiotherapist, Cape Town
I was looking for a coach that would help boost my confidence in both my business and personal life.
Having been through several sessions with Malcolm, his sure minded approach guided me to draw strength from what was there all along.

His positive outlook and way of framing things have helped me tremendously and I highly recommend his service to anyone looking for a needed boost.

- Richard, Business Owner, California USA
Coaching has allowed me to express my feelings, and have them played back to me, and given me a new insight into myself. It's forced me to confront things I buried, but also consider things I never thought to consider before. But it has also shown me that I know myself a lot better than I thought.

The Enneagram has definitely helped here. I found myself considering my behaviours after meetings with people, and even wondering about my interactions with people before I met with them. Knowing what my typical responses are to certain situations, made me be proactive, instead of reactive. Also, being aware of my weak spots, allowed me to step up my confidence without even really trying to. I know that I'm not really an assertive person, and so will let others speak while I sit back and listen. Knowing this beforehand, made me ask myself if I was just going to stay silent, or speak up. I chose the latter, and recognised that I had done so only after the meeting. This showed me that an awareness of myself, has helped me to make decisions which could potentially be more beneficial that my usual response to situations.

I appreciate that Malcolm is always candid. I feel comfortable discussing sensitive issues because I know that he knows how to play it back to me. I also feel comfortable because he is knowledgeable about topics I struggle with. He is open enough to relay his own experiences and provide a feeling of comfort when issues are really tough to talk about. I appreciate that he is kind, even when feedback he provides may not always be easy for me to hear.

- Michelle, Compliance Officer, Cape Town
This was my first time being formally coached and I've wondered why I haven't started this sooner. Coaching has helped me tremendously on my personal journey of self-discovery and introspection; some things may have been tough to admit to myself but the way coaching allows an open space free of judgement made it easier for me to get to terms with. Due to understanding myself better, and more importantly accepting things about myself, I was able to do introspection from a professional perspective as well. My approach to certain situations and interactions with clients changed.

Within a coaching session I found that I would admit out loud thoughts that I may have had for a while. Once I was able to give voice to these thoughts it gave rise to reflection – not necessarily within the coaching session, however if not for the coaching I don't believe it would have been possible. Being able to talk to someone who is genuinely interested in what you have to say and asking good questions allowing you to explore your thoughts more and finding the answers within self is one of the best things. Coaching has a way of making me feel overwhelmed initially, but then further than that I get a sense of what I am thinking or wanting to achieve is attainable and possible – coaching then goes a step further and helps in attaining what I before thought was unattainable.

The enneagram taught me a lot about myself – wow! It also reaffirmed a few things that I've pondered on but wasn't really sure about. I must admit, there were a few things I was quite surprised about when initially reading it, but upon discussion with my coach on what it means in general and then bringing it home for what it means for me, it made sense. I've been able to take the bad with the good; and some of the 'bad' things I was able to adopt or alter for it to work in my favour and no longer see it as a negative. Enneagram has assisted me a lot in understanding myself, and why I do things a certain way as opposed to another; and then from that my coach was able to assist me in being 100% okay with this and accepting of myself in all my perfect imperfections in being a human.

I appreciate the 100% attention I get in our sessions. The attention is not only looking at me while I am explaining or exploring thoughts, his attention includes really listening to what I have to say and I know he is listening because he is able to reiterate what I've just said to gain a better understanding. The fact that he tries to fully understand what I am saying/sharing means so much to me as he is not taking it under his own interpretation, instead he wants to know what I am saying means to me and he takes it from there. Malcolm asks me really good, tough questions and I think this brings the most out of the session and helps me a lot with certain thoughts I struggle with. In our sessions I don't ever feel insecure or judged, even when I say what I think is silly Malcolm has a reassuring presence and makes sure I am feeling comfortable. I appreciate his presence and interest with me very much!

- Aaminah, Human Resources Business Partner, Cape Town South Africa
The Coaching sessions have provided the following to me in my daily working life (and spilled over into my private life), and hopefully, with practice, will become a natural way of moving forward:
i.     Clarity – clarity in thinking and organising, helping me to be able to step back and see the trees from the woods
ii.     Organisation– they have given me the ability to organise my days, improving my time-management and thereby reducing stress and missed business opportunities, by working through what is most important to the business to achieve long and medium term goals, and not only focus on immediate needs.
iii.      Strategic Thinking – The ability to clear my head in what I perceive as stressful or high emotion situations and think strategically and in the best interest of the business.
iv.     Focus – They have taught me how to focus on outcomes and methods of getting there through clear and uncluttered thinking
v.     Emotion – They have taught me not to fear my emotional reaction, but to control it and again, act in the best interest of the business, without letting my emotions control my decisions or interactions.
vi.     Fear – Although the fear is still there, I have been able to control it and face potential confrontational situations in a business-like and calm manner, whereas before I would have avoided them.  I do worry that this is the one area I may need to keep practicing, and facing my fear to overcome it.  It is an uncomfortable space for me to be in, but I now have the tools, and logical thought patterns to try and overcome this.
vii.     So far I think I have learnt most importantly, that I have within me the ability to be the best me I can be, and will be able to work through cluttered thoughts and past experience expectations, to understand that I can say what is true to me, and in the best interest of the business, without being fearful of offending or causing a confrontational situation.

- Amanda Solomon, Business Owner, Cape Town
The Smart Way To Find A Coach
Only Noomii has thousands of life coaches and business coaches in hundreds of cities

1 Describe Your Goals
Tell us what you want to achieve through coaching

2 Get Matched
We send you 1 to 3 compatible coaches

3 Free Consultations
Consult with your matches and find the best fit for you
4 Hire Your Coach
Start coaching and making progress on your goals!
Find My Ideal Coach Now