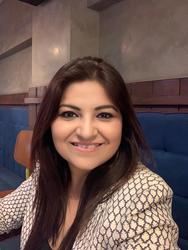 Mamta Sharma

New Delhi, Delhi
Performance Coach, Life Coach, Relationship Coach
Motivation and Performance Coach, NLP Master Practitioner, Cognitive Hypnotic Coach and Psychotherapist
I coach women who want to find clarity, overcome limiting beliefs, and reclaim lost confidence and motivation, in order to achieve professional goals, naturally and effortlessly.
About Me
When it comes to achieving goals, most of us have some idea of what we want to do. The problem usually is the automatic thoughts, emotions, habits, behaviours, beliefs etc that stop us from taking action to move towards our goals consistently. (Think of how an inner voice tells you, "5 more minutes!" when you want to wake up early.)
This is what sets my coaching process apart from other coaches.
I can not only help you define a crystal clear vision and develop an actionable plan but also help you resolve both conscious and unconscious hindrances that stop you from taking consistent action towards you goals. This helps you achieve your goals naturally and effortlessly, without an internal conflict.
I am a firm believer in the transformative power of collaboration. My work ranges from personal breakthrough sessions to coaching in groups. I have now been coaching people for more than a decade, through personal breakthrough sessions, workshops, seminars, and social media.
I believe we are all 'a work in progress'. In the same spirit, I have spent about 10 years diligently training with exceptional master mentors and coaches, along with tons of real life practice. It transformed me as I conquered self-imposed limitations and expanded my vision to create new possibilities.
And what I do today became the obvious next step on my journey.
In the right environment, everyone can discover that 'brilliance' that sets us apart from everyone else. Watching the transformation occur is what keeps me going!
CREDENTIALS
Honours Degree in Anthropology (Gold Medalist, University of Delhi); Masters Degree in Psychology (IGNOU); Certified Cognitive Hypnotic Coach and Psychotherapist (ICHARS); Certified Cognitive Hypnotic Coaching Trainer (ICHARS); NLP Master Practitioner & Advanced Life Coach (ANLP, India); Certification in Positive Psychology (University of North Carolina-Chapel Hill), Certifications in Psychological First Aid (The Johns Hopkins University and American Red Cross)
Reviews
Working with Mamta was a life changing journey of transformation . She helped me to reach new heights in my career and to finally succeed at long-standing personal goals. She is extremely personable and has the ability to connect with her clients quickly and to begin work with them at whatever stage they're in at the time. She is a calming force in a wild that can be hectic and chaotic. Mamta is trustworthy, empowering, and an insightful guide through life experiences. She also offers good value and high integrity. I cant say enough good things about my experience with her.

Markisha