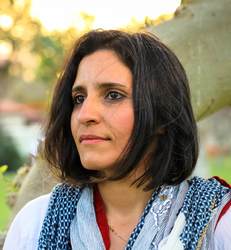 Manal Aldabbagh

Az Zahran, Ash Sharqiyah
Leadership Coach, Executive Coach, Team Coach
Embodied Facilitator, Leadership Embodiment, Dancing Mindfulness Facilitator
I coach individuals who are interested in mindfulness, want to have a mind/body approach to coaching, raise their self-awareness, and are not looking for quick, one size fits all approach.
Details

Az Zahran, Ash Sharqiyah
+966500107979
Send Message
Visit Website
Hourly Rate: $100 to $150 US Dollars
Gender: Female
About Me
I have been practicing several movements and dance practices for the last 10 years. Now I was to bring the wisdom of the body to my coaching practice. I've worked as a health coach and a movement coach for some time and now embodied coaching.
What is Embodied Coaching?
There is a false idea that the mind and body are two separate entities and should be treated as such. Through my work in embodied coaching, I focus on integrating those processes or systems. I believe that what we feel in our bodies is closely linked to what is in our minds and hearts. In fact, these emotions are constantly manifesting as sensations in our bodies and giving us hints and clues about how we truly feel, even when we are not aware of it.

By using the whole body as our compass, not only the mind, we are able to delve deeper into our emotional states and to uncover truths in our subconscious that could aid us in making decisions and in living in a state of alignment. When we experience distortion and difficulty in identifying what we want and how we feel, it becomes impossible to make a decision.

Going through an embodied coaching exercise can help us understand ourselves more deeply and become more attuned with our bodies and emotions. It also allows us to expand our way of being, strengthen our personal power and our ability to make choices that we feel good about. Being more self-aware also helps us become more aligned with our values, decide how we want to relate to others, and what impact we want to have on the world.
My Coaching Values:

Confidentiality: I will not reveal anything shared from the session
Agency: I give you a choice in what you want to do during our meetings
Understand my Scope of Practice: I will not claim to know something I don't and will refer you to the right person if I have that information
Ethics/Integrity: I stay within my space of expertise.
Reviews
Manal doesn't have any reviews yet.