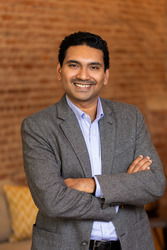 MANOJ RAMANAN VISWANATHAN

Pleasanton, California
Career Coach, Leadership Coach, Executive Coach
MBA, Indian Institute of Management, Calcutta | Certified Co-Active Professional Coach
I coach driven professionals who feel stuck in their career to have them identify & transition to meaningful work. I help my clients to strategize and have them express their leadership powerfully.
About Me
I have 10+ years of experience in Consulting and Business Development and have worked closely with executive leaders and decision makers. I dived into Coaching once I realized that my true calling lay in facilitating others to embrace following their dreams and visions. In service of my calling, I decided to pursue Coaching and graduated as a Certified Coach from the Co-Active Training Institute (CTI).
I care deeply about every individual embrace their inner leader, lead with confidence and make a difference to their teams and organization.
Coaching Specialties:
Career Clarity Coaching
Interview Coaching
Leadership Coaching
Communication Skills Coaching
Presentation Skills Coaching
Here is a recommendation from a client:
'Manoj is someone who has always had a natural empathy for human beings. He is very open which makes him a great listener. He naturally loves to encourage people to become their best selves. He is very dedicated, authentic and keeps to his word. In my experience working with him, I have not seen him get stuck at any point. You can trust him very easily. As I shifted career directions a couple of times after I turned 30, I am very thankful for the inputs which Manoj has been giving me. It is helping me a lot in getting closer to a good definition of where I want to be with respect to my career'
Education/Credentials
* Associate certified coach (ACC) with ICF (International Coaching Federation)
* Certified Professional Co-Active Coach (CPCC) with CTI (Co-Active Training Institute)
* MBA degree from Indian Institute of Management, Calcutta
* Co-Active Leadership Experience with CTI (Co-Active Training Institute)
* Foundations of Generative Leadership with Institute of Generative Leadership
Reviews
Manoj is someone who has always had a natural empathy for human beings. He is very open which makes him a great listener. He naturally loves to encourage people to become their best selves. He is very dedicated, authentic and keeps to his word. In my experience working with him, I have not seen him get stuck at any point. You can trust him very easily. As I shifted career directions a couple of times after I turned 30, I am very thankful for the inputs which Manoj has been giving me. It is helping me a lot in getting closer to a good definition of where I want to be with respect to my career.

Arun Maharajan