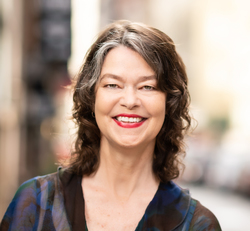 Manon Zinzell CPC ACC

New York, New York
Entrepreneurship Coach, Leadership Coach, Career Coach
I coach professionals and entrepreneurs who feel stuck and who are ready to take a big leap. I help you clarify what you want, and together we prepare an actionable roadmap to get your goals realized.
Details

New York, New York 10280
Send Message
Gender: Female
About Me
-Do you feel stuck and ready to take the next leap in your career/business/life/relationship?
-Are you at a point in your career where you are starting to think about growing into a C-level role and are not sure how to get there?
-Are you working so hard at your professional life, that your personal life is suffering and you want to change that?
-Are you living the life you ought to live, rather than the more inspired life you want to live?
-Do you feel a strong inner drive to live a more successful, positive and creative life?
-Does your work not line up with your values, your dreams your life's purpose?
If any of these statements rings true to you – then working with me will benefit you deeply.
My coaching is powerful and life changing.
You will:
• get crystal clear on what is most important to you
• discover where you are already strong, and what additional skills you may need to become even stronger
• take risks you never thought you could take
• feel more focused, more centered, more supported, more confident
How do we get there?
I ask lots of questions, and then we get creative and take action.
We will:
• explore what you really want to achieve, instead of following your default future
• discover and remove any obstacles that hold you back
• create a tailored roadmap outlining the steps you need to take to realize your vision: a plan that you can develop and sustain beyond the time we coach together
In addition to my coaching certification, I have 20+ years of professional experience in Creative Agencies in Branding, Marketing, Product Development, Recruiting and Project Management, and I bring this experience into my coaching. When I work with clients, I often include a branding exercise where we will uncover your personal core values, and with these values develop your unique, life, business or career statement. This statement will become your true north, and it will guide you in making important life, business or career decisions.
Reviews
4 reviews (5.0)
In a little under a year, Ive managed to make some pretty big career and life alterations all under Manons direction and care. Im talking working-at-my-dream-company kind of changes. Manon has an incredibly insightful way of helping you map out and clarify your goals and dreams before you even realize them yourself. A skill hard to come by. Her positivity, warmth, and pragmatic nature make her a truly indispensable life coach. I am very fortunate to have her in my life and highly recommend her services!

Ashley J
Manon is amazing! I instantly feel comfortable with her and can be open about my situation. She uses tools that helps me gain new insights and she leads me to an action plan. I highly recommend her!!!

Krupa
Manon was a truly wonderful coach. I found her to be open, accepting and thoughtful. Manon has a unique style, which is firmly ground in coaching principles. I found I was able to shift in places/situations in my life that I had thought unmovable. Our work together had a profound effect on me and I would very highly recommend her services to anyone.

Elaine Delsol
Manon is my coach and I fully recommend her as someone who is professional and easy to talk to. Although I am a skeptic therapy and coaching, I found Manon's process of coaching to be useful as a way to clarify my personal and professional goals, and she provided guidance and recommended pathways to achieve them.

Mitchell Cohen