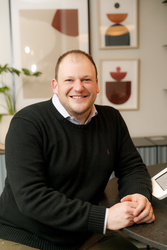 Marc Dickstein

Philadelphia, Pennsylvania
Career Coach, Leadership Coach, Executive Coach
I coach accomplished, mid-career professionals who are eager to clarify, and create paths toward personal and professional goals that align with who they are and what they care most about.
About Me
It's an unnerving realization: what got you here may not get you where you're trying to go—or perhaps it got you here, and that's great, but now what? At this crossroads, fear, anxiety, and overwhelm often materialize and fuel assumptions that chip away at confidence forged through years of education, experience, and accomplishments. These are some of the biggest barriers for people seeking support. Don't fool yourself: precise paths toward specific objectives are not prerequisites for the exploration of growth and positive change! Willingness to clarify what you really care about paves the way for meaningful goals and an effective, sustainable approach.
Personally, I spent over ten years leading people, operations, and marketing teams in retail, media, and startup technology. I was proud of my accomplishments and happy with my personal life, but I wasn't as engaged at work as I wanted to be. I was curious to explore something new, but overwhelmed and fearful of losing hard-earned comforts and benefits—especially without a guarantee that the grass would be greener elsewhere. Through partnership with a coach, I clarified values, defined goals, created a plan, and faced uncertainty. After exploring opportunities that aligned with not just my strengths and capabilities, but also what I truly wanted, coaching rose to the top of my list. Certification and years of experience have armed me with an inspiring network of fellow coaches, helpful tools, and frameworks—all of which are leveraged to help clients navigate change with confidence and feel great about their personal and professional lives.
Put most simply, I'll help you shift your personal and/or professional life from functional to optimal. A consult session will provide the best understanding of my approach and how partnership can help you to reach your goals. We'll explore where things stand now, what tends to get in the way, as well as paths toward what you're seeking.
Reviews
Marc's wholehearted approach to coaching left me feeling empowered to tackle anything! His genuine and warm demeanor coupled with his sense of humor make him easy to work with, which is particularly helpful when you're digging deep within yourself. I am still leveraging what I learned over a year later, as I navigate critical life decisions with more confidence, emotional insight, and overall just a better understanding of myself. I can't thank Marc enough for equipping me with the tools for long-term success in my personal and professional life journey.

Lia P.