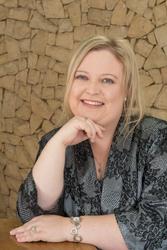 Marelize Bosch

Sydney, New South Wales
Team Coach, Relationship Coach, Leadership Coach
LLB(Law), Associate Certified Coach,Organisational Relationship Systems Certified Coach, Accredited Enneagram Practitioner
I work with couples, partnerships and teams who desire to connect better, communicate better, resolve conflict and deal with change. I also assist expats to integrate into their new societies.
About Me
I am passionate about people, their drivers and motivators and how we interact and interrelate to one another. I am formally trained and certified in Organisational Relationship Systems Coaching. I have been coaching for the last 8 years in various capacities.
I love helping people gain an understanding into themselves and the reasoning behind their behaviour, whatever it may be. I also love helping teams connect with one another and become high-performing, super-engaged, well-communicating forces of good, achieving targets and celebrating successes. Relationships (whether professional or personal) is also a passion of mine. I love helping people connect, resolve issues, figure out how they can improve their relationship or take it to a next level. Lastly, I help migrants integrate into their new societies by helping them process the huge change that comes with migration on literally all aspects of your life.
I have senior management experience in excess of 15 years on an executive level and I use this knowledge to value-add for my clients, especially small business owners, who may not always have the funding to splurge on strategic retreats and all the bells and whistles which can come with larger corporations.
My approach that I follow to coach is a combination of 3 approaches, all depending on what my client needs and what will add real and the most value. It includes elements of:
1. Concepts, models and principles;
2. Appreciative approach;
3. Organization and Relationship Systems coaching (ORSC) approach.
I coach using an online platform, alternatively face-to-face. We could also have a telephonic conversation. I always try to meet my clients wherever they may be at that point in time. It is not necessary to go at it alone. Make the Shift Happen.
Reviews
9 reviews (4 verified) (4.89)
She is very very good. She made me to a better person.

Allen
She's an attentive listen n asks key questions.

ATHESHAM MIRZA
Marelize is a powerful force in my life. Before we worked together I was in a rut - feeling hopeless, distrusting of my decision making abilities and anxiety ridden. Together we discovered the underlying issues in my work/personal life and found common themes. I now feel empowered to better manage my relationships and do what makes me happy and at ease, one interaction at a time. Like she says, the coaching really happens between sessions - the homework she provides is provocative and rich. I will continue to benefit for a long time as I start to practice what I learnt from her.

Anon
Alejandro Uy
Marelize is a great coach. She genuinely cares about your success. She is a super happy go lucky easy going kind of person, who would chat to you in an informal method without applying too many methods, she would make you realise important points out of your own conversation. And she generally leads you to the solution by asking smart questions. I met my goals within 6 weeks of coaching with her, I started dating a girl I would love to marry, and I made good shifts in my career to mould it more to the direction I would like to take it towards! Highly recommended!

Ankit C.
Marelize was our executive and business coach since early 2018. She is one of the most effective and innovative executive coaches Ive had the privilege of working with. During the years working with Marelize she has consistently brought valuable insights and techniques to assist with specific issues, both strategic and relational. Marelize coached and supported our leadership team through complicated organisational changes and navigated us through the challenges of diversity, the economic climate and vastly different management styles. Marelize helped our team develop our working relationships with each other. She helped us align, commit and stay focused on the right goals and ensured that we remained aligned with each other throughout our journey, which significantly helped optimise our ability to move the firm in the right direction. She has an outstanding ability to get you to really think about your goals, identify what you need to change to achieve those goals and guide you to execute the changes.On a personal level, Marelize guided me to develop a collaborative and transparent leadership style, since 2013. Through the coaching process, I learned how to create a sense of ownership and empowerment amongst my personnel and she taught me the value of effective communication.

Anel Burger
This process has been one of the most enlightening, influential and meaningful events in my life. The structured approach and intelligent way that she shaped our sessions helped me understand my business and self better. It was a great investment in more ways than one. Thanks Marelize.

Eben Human - Assignment 3 (pty) ltd
Marelize directly managed me for two years. Without realizing it the relationship moved from and employee employer to coach coachee. She never pushes nor pressures but ensures that you have explored both your conscious and subconscious during decision making processes. She inspires confidence by driving self awareness and self actualization. The biggest benefit gain or the most value gain was through coaching outside the working environment which has assisted me greatly in balancing my wheel of life and assigning priorities accordingly. Essentially I feel more well rounded through her efforts.

Prenesen
I initially didnt understand the need for a coach, but you don't know what you don't know. Marelize gave me a different point of view. With her help, I was able to recognize where I could improve myself but also I found balance in my work and home life. With her help, entering a new role as a CFO was the easiest transition I have ever had in my career. My only regret is, I wish I had found Marelize earlier in my career.

Ahmed Moolla