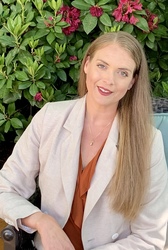 Margaux J Rathbun

Albany, Oregon
Business Coach, Leadership Coach
Influencer Coach and Marketing Mentor
How do you become an influencer? Need some help with social media marketing? With over 10+ years of experience, let me show you why my clients say, "your marketing should be Managed by Margaux!"
About Me
SPECIALIZES IN: Influencer Coaching, Marketing Mentorship for Entrepreneurs and Small Businesses
Hi there! My name is Margaux and I am excited for the opportunity to work with you. I am a retired social media influencer that now mentors aspiring influencers and entrepreneurs to the path of success. I have more than 10 years of experience in social media marketing and I work as a freelance marketing manager for many of my clients.
What you can expect from working with me: I assist my clients in a variety of ways, depending on their business needs and wants. Many of my clients are established entrepreneurs who are looking to increase their presence on social media. I also work with aspiring influencers who are in the early stages of getting started. No matter where my clients are at, I can provide them with the following services:
- Social media management and marketing strategy development
- Marketing and influencer mentorship
- Content creation (and guidance on this topic if my client wishes to create the content themselves)
- Mentorship on creating videos and going live on various social media platforms
- How to create products and services to offer your social media audience
- Mentorship on generating publicity around your business
So, who is my ideal client? I specialize in working with small businesses, entrepreneurs, and aspiring social media influencers. The bulk of my experience is helping those in the health, wellness, and coaching industries. It doesn't matter what stage of business you are in...I can meet you right where you are and help to get you on the path to success!
Please feel free to reach out to me and we can schedule a 15 minute phone consultation to determine if working together is a good fit. I would also be happy to send you my professional portfolio with samples of my work, client testimonials, media mentions I've received, and information about my work experience.
I look forward to hearing from you soon!
- Margaux J Rathbun
Reviews
6 reviews (5.0)
Margaux was excellent to work with and provided us with an in-depth marketing assessment with suggested executable actions to improve our marketing across all channels. She showed a complete understanding of our needs and was very enjoyable to work with.

Abigail, goEVO
I've followed and admired Margaux for about 6 years now… Her rise as a whole foods influencer was authentic and powerful. When I had the opportunity to work with her as I started to change directions in my life and career path I jumped on it. Since I've started working with her I've been able to brain dump all my ideas and she helps me sort them out, and put my ideas into an actionable plan. Another great bonus of working with Margaux is she creates amazing graphics and videos and she will show you how to do it for yourself, or you can have her do it. Having her do it saves me lots of time to work on turning my vision into reality. Aside from all of the above, she's fun, positive and full of inspiring ideas. If you're stuck on how to get your message out in the world she'll help you get unstuck and moving forward. Working with her is giving yourself and the world a gift. She's been there and done that. If you want to succeed as a thought leader and influencer, it's important to work with someone who has already done what you want to do, and Margaux is that person. Thanks so much for sharing your talents with the world Margaux!

Kim, Replenish Wellness
As a busy physician and entrepreneur, I don't have time to focus on social media. That's why I work with Margaux. She has the same kind of non-stop work ethic that I admire and appreciate in physicians and entrepreneurs, coupled with an understanding of what the market is hungry for. When I found Margaux, I was looking for someone I could trust with my social media - from infographics to tweets. Margaux is just what I was looking for.

Dr. Leland Stillman
If you are debating working with Margaux, don't. The best thing about working with Margaux is that she gets what it means to be an entrepreneur and she understands her clients from both having done it and now showing others how to. Her straight-forward real-life expertise is refreshing in a field where genuineness is hard to find. Hire her.

Steven J Pinto
From our first call I knew that Margaux was the right person to help me. I really felt that she understood my needs, and more importantly my brand and what I am trying to accomplish with my business. Working with Margaux has been a great experience! I really appreciate everything that Margaux has done for me and my business, and I highly recommend her services to anyone looking for help with social media marketing, and anyone looking to become an influencer!

Samantha, Sprouting Wholeness
A HUGE shout out to Margaux! I've seen an amazing shift in my business since hiring her for my branding, marketing, and social media content development. Most importantly I have a shift in my energy, as I have more time to focus on what I do best, be a Relationship Coach! If I'm ever challenged, she's available to help answer my questions...even while making meatballs lol. It feels so nice to have someone with her knowledge in my corner. If you're on the fence with marketing, I highly recommend you work with Margaux. Thank you lady for all that you do!

Amie the Dating Coach