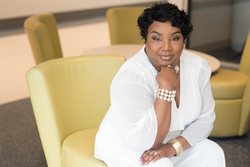 Margo Davis

Cleveland, Ohio
Relationship Coach, Spirituality Coach, Life Coach
Certified Professional Shadow Coach
Individuals who are ready to uncover self sabotaging behaviors that have kept them stuck, identify and create action steps to reverse limiting beliefs/behaviors, and set goals that lead to success.
Details

Cleveland, Ohio 44112
Gender: Female
About Me
I am the founder of Fate Into Destiny LLC. I truly believe that each of us have a gift and a purpose that we are meant to share with the world. It is my passion and my purpose to encourage others to embrace the process of divinely loving and honoring "all" of themselves, and to purposefully listen from within to reveal and awaken their own gift…their passion…their purpose!
As a child, and as an adult, I often remember fantasizing about the person I would be when I "grew up", and what my purpose was in life. I've always known that I was drawn to helping people…to making them feel better…to lifting them up, and to making them smile. And, I absolutely loved how these experiences made me feel inside! I had no idea the very thing that made me feel good inside…my passion…could actually be my purpose.
Today, I am honored to serve as a partner in transformation with women and men who are ready to identify, understand, and overcome the habits…the behaviors…and the thoughts that have kept them from fully experiencing the life they desire. I do this by applying the intense training I've received as a certified Blueprint Shadow Coach and a Reiki Practitioner to enhance the physical, mental, emotional, and spiritual well-being of others.
As your coach, I will stand with you as you shift your thoughts, habits, and behaviors from the self limiting/self-sabotaging messages that have kept you stuck; into life altering…uplifting thoughts, habits, and behaviors that will lead to actions that are in alignment with your life's desire. It is my intention to guide you to connect to your inspiration and dreams…to transform your thinking…and to transform your life.
All coaching experiences take place in a nurturing environment where you feel free to share your darkest fears and/or your deepest desires. I will support you through your process of change – tapping into your purpose, passions, and strengths – encouraging you to reach for your dreams. "Empower ~ Transform ~ Realize"
Reviews
8 reviews (5.0)
Margo offers a loving, supportive and safe presence to those that she works with. She is incredibly insightful and provides you with a vision of yourself so amazing and beautiful that you will have no choice but to reach it. I truly appreciated our call too and thank you again for your love and support. I really appreciate it immensely. I am so glad that I received the gift of you as my mentor, it made such a difference for me. I love the idea and vision that you have of me, I will hold that like a valuable gem or good luck charm, when I go on job interviews etc.

SANDRA HEDENBERG: 2013 NJ
Margo: I am glad to speak up about my experience with you. Your feedback for my weekly reflections were so insightful and supportive. Your patience and wisdom were all meaningful for what I was going through during this transformational process. I felt how lovingly were were supporting me and our group (even though I missed 2 of the group meetings). In some way, you got to be so present to me that I consider you a forever mentor. Thank you for all you gave of yourself to use. You were a light in the dark for me. God bless you many times over. You certainly deserve it. With love, Joseli

JOSELI: WA
Throughout this experience you've been a strong support system for our learning and development and I thank you deeply for your attention and time and focused energy in delivering feedback, reading and responding in insightful ways, and holding us in our highest. I appreciate all the love and care you've given me and our small group over the last few months. I wish you all the best in your own endeavors and hope we can stay in touch as colleagues. God bless and much love.

TRISTAN MONTOYA: VA
Dear Margo, I have wanted to give you a testimonial for months now. Love-Terell ---Margo believes in all the greatness that I am. With every encounter, she offers a generous, strong and heartfelt presence while she helps me to see all of me. I've never met Margo in person but I've felt her hugs.---

Terell K. CA
Margo is a wonderful life coach. She helped me to ask myself the important questions. I found her to be warm and generous of spirit. She held me in my highest, to which I am eternally grateful.

Eileen S., NJ
Margo exceeded all of my expectations as a mentor. Never in a training experience have I felt so supported and loved. She mentored me with great caring and deep wisdom. Because of her guidance I feel confident going forth into my work as a Breakthrough Shadow coach. My life has been enriched

Karla L: NJ
I found Margo to be an especially encouraging and supportive mentor. She provided the structure to hold me accountable to my goals and action steps while still allowing me to move forward at my own pace. Margo seemed to know when to nudge and when to simply 'hold the space', giving me the time to find my own answers. Her thought-provoking questions offered new perspectives on some of my old issues. I would definitely recommend Margo to anyone looking for a knowledgeable, conscientious and dedicated mentor who will provide them with the structure, tools and guidance needed to confidently move forward in their life, whatever their goals may be.

J. Schwanda, CT
I have done a lot of work on myself for many years through a variety of different programs, so I wasn't sure what the results this type of work would bring. I was pleasantly surprised to see many positive and helpful results. I felt very supported by my coach, Margo. I knew she was not just going through the motions but I felt she was right there with me as I processed through the steps of the program. I felt very safe working with her which is so vital with this type of work. I never felt judged or criticized but only supported and encouraged. She kept me on task and made sure I got as much out of the process as possible. I liked the format of the house being torn down and then re-built as we moved through the weeks of healing. I am a visual person so that was very helpful for me. As I look over the weeks of this process I feel the highlights of the program were: 1) I did a lot of work around "it's o.k. not to be perfect." This is something I have been working on for years but I feel I was able to take it the next step. 2) One of my favorite skills was the joint meditations. I have meditated for years but there was a feeling of deeper alignment when we meditated together in my sessions. I was amazed when thoughts or images just popped up in my mind. I now feel I have a deeper trust in my connection. 3) I have learned to work with my accomplishments and disappointments in a healthier way. I am allowing myself time to appreciate what I accomplish rather than just skim over them and then move on. It reminded me to take the time to appreciate and celebrate what I have done and the barriers I have crossed. When working with disappointments I have learned to be more gentle on myself. 4) It helped me to develop good habits of self-love. I give so freely to others but I sometimes forget to do the same for myself. Though I feel I am a self starter, I felt having someone to commit to and then having someone check on my progress with me helped me to move forward more quickly and it helped to keep my focus on a forward direction. When I made a commitment to myself then to my coach, I was more likely to accomplish it in the time frame. It gave me that little extra nudge to get it done now. I am always amazed, when working with the dark shadow, to see a long time hurt or difficulty can unravel like a string from a hem when the right connections are made. I love it when that happens! I feel the coaching program was very valuable and I have many tools I can carry with me as I move forward in life.

MARY ANNE B: OH
The Smart Way To Find A Coach

1 Describe Your Goals

2 Get Matched

3 Free Consultations
Find My Ideal Coach Now