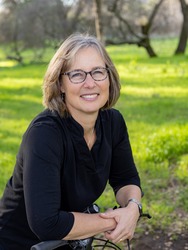 Margreet Adriani

Roseville, California
Career Coach, Life Coach, ADD ADHD Coach
Certified Personal Trainer, Nutrition and Dietetic Technician,Registered
I work with high achievers who want to find a healthy balance between work, relationships and physical health.
About Me
Being a high achiever and being involved in many projects made me feel full filled, productive and brought me energy until I took it too far, affecting my wellbeing, relationships and health.
I was shocked how lost, disappointed and stuck I felt. There were so many reasons I had to keep going, and pause, all at the same time, especially because this had always been my dream-job!
Today, I am certified values coach with over 480 hours of coaching experience. I am also a nutritionist, a certified personal trainer and health coach, parent and partner. Lastly, I am fluent in both English and Dutch. (High achiever, right? :-))
I have specialized in coaching people who are high-achievers and have come to the point, that they want to pause and refocus. They might feel tired, unhappy and they know in their gut something has to change. In my sessions you get to reflect and understand deeply, so you can re-focus and move forward with a plan.
Taking pause, reflect and dream big before taking action is my thing.
We might look at your work-life balance to adjust where needed, or find that better suiting job, increasing your wellbeing in all areas of your life.
This will be hard and intentional work; however, it will also provide you with the tools to create that life you were meant to live without giving too much of yourself.
If desired, we can include nutrition and physical activity that carry and support you.
Take a breath, what is your gut is telling you? Are you ready to dive in and figure this out? Are you ready to be courageous? Let's do it together!
Reviews
4 reviews (5.0)
What a great coaching experience! Margreet has an amazing presence, and was able to take me from being unclear and overwhelmed in my head to getting clear on my goals and intentionally creating a path to reach them. One goal after another complete, I'm very happy and grateful!

Brian
Margreet is a wonderful soul with a heart to serve. She has helped me when I was in the pit of despair and needed direction. She asked really good questions and helped me find my way. Its so great to be able to lean into her skills as a life coach. She has a gentle nature and is someone I hold in high esteem. I definitely would refer her to anyone needing help.

Holly Castro
Margreet is a rare breed when it comes to coaches. She deeply cares about finding solutions that will actually work. Margreet takes an incredibly hands-on approach and works hard to get to know you, so she can figure out how to best help YOU with coaching that feels personalized and individualized. She listens more than she talks and she carefully observes what does and doesn't work for you so she can help craft what you need most. I've worked with many coaches and therapists and experts, etc., and to be honest, I haven't found anyone who has really worked for me. Now, I'll be the first to admit that I can be a pain in the a** to work with. I have a rich library of knowledge, and I rarely come across something I haven't already heard or learned about. I also have brain differences (both ADHD and Autism) that affect the way that I go about life, and that isn't always easy to work with. It takes a strong coach to handle me, and it takes a great coach to earn my respect. Margreet is both. She's amazing and I'd highly recommend her to anyone, especially someone who is skeptical, has yet to find the right fit, or are on the verge of giving up.

Jessica V.
Margreet has a unique way to bring out deep-seated notions in her clients in order to help them to address the root cause of the question they are struggling with. She helped me navigate the thin line between being candid while also being respectful in my feedback during a work offsite. We talked about my concerns and my fears which brought out other emotions I was going through and the exercise made me feel empowered to speak my mind. When I actually did it, it felt great; it was very well-received and it made a huge difference to me and my colleagues. Thank you, Margreet, for being such a thoughtful and skilled coach!

Vatsala S