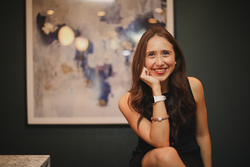 Maria Smithson

Los Angeles, California
Business Coach, Money and Finance Coach, Life Coach
Neuropsychology Pre-Doctoral from Roosevelt University
The $30K Program™ helps women grow their income by $30K within 12 months.
About Me
Women earn 17.7% less than men.
That's why The $30K Program™ specializes in helping people who identify as women.
Here's my "why":

In my first job as a recruiter I earned
$60K
Then $90K
Then $140K total comp
Within a little over 12 months of starting the last position, I was promoted from a Sr. Recruiter to Sr. Talent Manager and negotiated a 19.15% comp increase.
I'm not saying this to gloat but to show you what is possible.
This program includes everything I WISH I would have known in my first job. I'll show you how to create value while working SMARTER and not HARDER. You don't get paid for the hours you put in, you get paid for the value you create, and I'll show you how to do just that.
If you're interested in coaching, please schedule a call:
https://calendly.com/dontaeh

Here are the program specifics.

✅ Bi-weekly coaching for twelve months with a The $30K Program™ coach.
✅ Weekly group coaching call tailored specifically for you.
✅ Unlimited text/email support from our coaches in between sessions.
✅ As long as you work through the program, you'll earn an additional 30K within 12 months.
✅ Learn how to scale the value you create without scaling your time.

As you earn more money, the person you are fundamentally changes. You break free from the artificial limits you've placed on yourself. Your fears bubble up to the surface and you have the opportunity to face them head-on and GAIN AWARENESS that most of the fears you have are simply imagined. That's where the mindset piece of the program comes in.

Some graduates of The $30K Program™ have said the confidence gained, artificial limits overcome, and courage developed is worth the price of the program. And that's simply the bi-product!

THE $30K PROGRAM™ GUARANTEE.
You either make $30k with our process, or we give you your money back.

Make the choice your future self will thank you for.
Schedule your call today.
https://calendly.com/dontaeh
Reviews
29 reviews (5.0)
I cant thank Maria's team enough! I was making $85K when I joined and asked if they could make an exception to the six-figure income requirement. They did! And...within two months, I landed a Sr. Recruiter position that fits like a glove. I also increased my salary from $85-125K + 25K for additional benefits (including stock options from a Series D startup). I am beyond THRILLED. Even though I got the new role within two months of starting the program, Maria and her team will continue offering coaching & support as I begin the new role. Im excited to continue working with her team for the next four months! Her team has shown me what Im truly capable of. If youre on the fence, get off the fence & join! It wont just be your bank account that thanks you. Make the decision your future self will thank you for. Schedule a call to learn more!

Chloe W.
The other day, I talked with Maria about negotiation, getting a job, and getting promotions. Negotiation is an essential part of our everyday lives. We participate in negotiations in everything from job interviews to deciding where to go to dinner with our friends. The most important part of the negotiation is to understand what the other person wants and how they feel about a situation. You have to read their body language to understand how they feel so you can know how to approach the negotiation from a standpoint they may be willing to concede to. Also, you must be prepared to give up some of what you came for. This advice is super useful and very interesting. Another important part of our conversation was her job-seeking advice. When looking for a job, you have to know what you are looking for in the position before you begin the interview process. An important thing to know is the amenities the job offers, the average salary for your position, and the work environment. After you decide to apply for a position, do not ask for a specific salary, ask for a range you would be comfortable with. This prevents you from being lowballed. Also, it is illegal for an interviewer to ask for your current salary, so do not provide it if they ask, deflect the question instead. These tips are super useful and will be extremely helpful for interviewing. Finally, Maria gave useful tips on how to ask for a pay raise. Asking for an increase in salary is an extremely stressful endeavor, so having a strategy is extremely important. Firstly, you should either plan a meeting with your bosses or wait for your yearly review. During the meeting, ask your bosses what skills you can improve on and what you need to do to move up in the company or get about a 10% pay raise. This information is super useful and I cant wait to put it into practice!

Matthew Surmaczewicz
Im glad Maria told me that if you have truly good negotiation skills it will help you outside of work and just in everyday life such as being in a marriage. However, should you know where you want to be in your workplace, you will find that those negotiation skills will go much farther and be able to take you to those places. Finding a job where you can move up in the workplace is critical and all starts in one place. The interview process is one of the most common yet intimidating things about any given place of work. It seems as though it is trying to get you to say things that you do not want to say. One of these things that is said very often is what is your current salary this question is made for figuring out what they want to pay you. However, your valuable knowledge given to me from this talk was that they cannot legally ask this question. If you are able to use the STAR method of taking an interview and advance your soft skills, all of that will be useful for having a good interview. Another thing I learned is any good conversation or negotiation starts with thinking about how the other person can benefit from either the conversation of what you have to offer. A prime example of how to take advantage of this fact is by using the ben franklin effect. One is much more likely to give you their services should you provide them with services in return. As long as you make them feel as though they are in control you are more likely to have the advantage in the debate. In summary, life is a negotiation and there are many ways to win the negotiation by simple practice.

Alex Reyes
Marias demeanor is concise and informative. The most informative part of speaking with her was when she talked about how to negotiate starting pay. I never knew about Glassdoor and how it lists the average salaries for a position in the area. I also enjoyed talking with her about body language. I never realized how big of an impact body language has. Overall, there was no time wasted when speaking with Maria. She has a way of grabbing your attention that makes it enjoyable to speak with her!

Garrett Resch
Maria has a way of grabbing attention like few people Ive met. Persuasion and negotiation is a subject I have been hearing about more often, and it is something I need to work on. I had never heard the tactics like the Benjamin Franklin Effect before and anything I found familiar was put into terms and scenarios that made it simpler and more understandable. Another thing that stood out to me was her personality and enthusiasm. She is so passionate about negotiation/career growth makes talking with her exciting and more fun. Shes given me a lot of useful information that I can apply in my everyday life as well as in my future career.

Max Petty
Maria was a very knowledgeable speaker who taught me a lot of different things about negotiation and interview tactics that I was unfamiliar with. She mentions how life is a negotiation and can add immense value to your life when used correctly. I learned many lessons about job recruitment and negotiation that I was unaware of. It was made known to me that one cannot legally ask for your current salary. She mentioned ways to not answer that question and how to ask about specific benefits with the company you are interested in. General qualities that a recruiter looks for are soft skills, technical skills, that they can challenge themselves and have good communication skills. Some red flags that recruiters look for are if an applicant talks bad about their current employer and other current or past coworkers. Maria taught us specific questions to ask during your review with your company such as What are specific skills youd like to see me grow in? and What do I need to achieve in the next year to raise my salary by 10%?. An important key she mentioned is to work smarter, not necessarily harder. Lastly, Maria talked a lot about negotiation and different tactics to get what you and the other person want. She mentions that you must approach your negotiation with confidence. Something I had never heard of was the Benjamin Franklin Effect. This consists of doing something kind for someone else and possibly getting something in return for your generosity. In a negotiation, you should make sure that is a mutually beneficial agreement. You want to make the other person feel a sense of control. Lastly, something that stuck out to me was when she mentioned the worst thing they can say is no'." This ultimately proves to me that there is nothing to lose when you negotiate and can benefit you and the other person if it is successful!

Natalie Kurland
One thing I really enjoyed about Maria was all of her personal stories. I really liked listening to the ways she applied what she was teaching to her own life. I thought it was really interesting that she was able to get free massages just from doing something that she seemed to actually enjoy. She not only did not have to pay for her massages, but the other person in this negotiation benefited from her assistance. She also told the story about asking have you ever made an exception? This story was really cool because it gave us a good example of how to be confident and ask for what you would like while still being friendly and kind. Another thing I found really helpful was the insight she gave about hiring people. She explained many factors that she hopes to see on a resume and also common red flags. One thing she looked for in a potential job candidate was that in their previous work environment they were constantly improving or changing their specific job description. She does not want to see someone who does the same thing over and over for 5 years or someone who is doing the bare minimum just to get by. Instead, she wants someone who can constantly grow and adapt to their environment, and someone who pushes to do better work. She also explained that clear communication, STAR interview framework, and technical skills are all very important when interviewing. She also strongly advised to never tell your current wage until the employer has given a range. If you must, giving a range is better than telling your current wage flat out. Lastly, I really enjoyed listening to the Benjamin Franklin Theory. She explained how Benjamin Franklin would give books to really special people in his life. It was then noticed that the people he gifted books to were much more likely to do him a favor later in life. She encouraged us to treat everyone with kindness and to do our best to be good person kind of like the rule of karma. She also said that trust is the basis of all relationships, so it is very important to build that with people. Five Stars:

Kaeleigh L
One thing Maria said that stood out to me is that life was a big negotiation. I found this interesting because I have not thought about it that way before, but when I thought more about it I realized how true it was. It got me thinking about all of the mini negotiations I have and some that I could have had. She mentioned how she got discounts off of things like massages and gym memberships just because she was not afraid to ask. She also taught us that the best way for us to get better at negotiation was to get experience and not be afraid of failure. Maria also gave us some tips to use during job interviews like to make the recruiter feel like they are in control. I remember a question was how do we ask the questions that we want to be answered while making sure the recruiter still feels like they are in control. Maria answered that we should probably wait till the end to ask our questions because they have questions they have to get through and a certain period of time. We were also told that there is a thin line between confidence and arrogance and as we get the experience we will be able to see where that line is more clearly. She further explained that you do not want to be too confident but you also do not want to be too shy or humble and that in the middle is the sweet spot for interviews and negotiations.

Eddie Pekrul
One of the biggest things that stood out to me was when she said that when applying for a job we should look at the benefits they give along with pay. A follow-up question to that was what are some of the benefits you find best in your personal experience? She answered that a matching 401k and unlimited PTO were the ones that she looked for the most when she was applying for jobs. That is something that I think will stick with me for a long-time. She also taught us about some tips that you can use to climb higher on the ladder where you work and how to increase your pay. One of the tips that stood out to me the most are after 6 months or a year ask your boss what you can improve on to increase your pay by 10%. She explained how this will tell you what your boss wants and will get them thinking about promoting you.

Jimmy P.
Maria is truly great at connecting with people. One of the things she mentioned that I thought was interesting is how she got massages for free because she agreed to help him out with his social media and growing his customer base. He grew his client base from 10 to 15 customers a month, to 15 to 20 customers a month. This is just one of the many ways she has used negotiating to her advantage. As a life coach, she is always about helping you and finding what fulfills you in life. The thing I found most important was something simple. Maria said to think long and hard about what's most important to you and your well-being. Then to just write it down on a piece of paper. Studies show this increases your chances of achieving that goal by nearly 40 percent. This is the first step you must do in order to achieve your life goal. Next, she advised us to use this very important question, Have you ever made an exception? The worst the person can say is no. And you're already at a no. This has helped her a lot. First, when she got to Chicago, and was looking for places to live. She didnt know which part of Chicago she wanted to live in, so she was looking for a month-to-month lease. She went on Craigslist of all places and found a very good place. At first, the owner was hesitant to do month-to-month, he only wanted a 6 month or a year lease because it was just easier to do. She then asked him that very important question about making exceptions. He would eventually come around and they both agreed on the lease. He finally got a good renter, and Maria a great place to live.

John Reynoldson
I've learned the following from Maria: Before applying for a job, make a list of what you're looking for from that job. Research where you are going to apply and use Glassdoor.com to find honest reviews of the different facets of the companies. During the interview, you are not required to state your current salary, in fact, avoid doing so at all costs. Reframe their questions into another question that responds to their message. Research all of the companies offered benefits before the interview and within the interview ask the recruiter to share the benefits with you. Talk about the benefits before bringing up the salary range. To determine what you should be looking for salary-wise, start with Google and research your specific job title. The Muse is a widely reputable source of accurate salary information. Also, research your dream companies and find what your specific jobs salary is at each particular company. When trying to obtain a raise remember that you have to provide a value exchange. Always try to get a yearly review of your career path and goals. This helps both you and your boss evaluate where you want to go within your career at that company. There are three specific questions she recommended we ask: are there specific skills you'd like to see me grow; what do you see as the next step in my career path; and what metrics will I need to achieve to raise my salary by 10%. Getting a raise does not always mean working more merely working smarter by accomplishing higher leverage activities. Higher leverage activities include mentoring new employees, running a large group training program, and other activities affecting a wider range of employees. Negotiating regularly in life it helps to be aware of the opportunities; this gives you the freedom to experience more out of life. When going into a negotiation, gain rapport with your opponent, make sure they are comfortable and feel a sense of control over the situation. Your goal is to understand what the problem is and find a win-win solution. To do this always ask for the why behind their decisions and rephrase their own words into a question. You should have a list prepared of what you are willing to give up/offer to gain their cooperation. Whenever you are asking for something be okay with receiving a no; never go into a negotiation depending on a positive outcome. Overcoming rejection is a huge part of negotiating successfully. The first step is to stop and assess/name the emotion(s) you are feeling. Next, do a mental check of your physical state. After analysis let yourself truly feel your emotions so that they will dissipate and get your body into a comfortable state. Emotional clarity is key to staying aware of the shifts during a negotiation.

Katrina Barragree
One of the main topics that Miss Smithson talked to our class about was negotiation. She stated that life is a negotiation and using negotiation in your day-to-day life will help you give to others and impact others. Furthermore, negotiation is mainly tied to jobs and careers, specifically interviewing and asking for raises. She suggested researching a prospective career before the interview so you know what you want and to appear confident and show potential. Miss Smithson mentioned that talking bad about companies or other coworkers or blames others easily are red flags and people arent as likely to receive the position that they want. Next, she suggested to meet with your boss after about 6 months at your new job and to ask them these questions: Are there specific skills you would like to see me grow in?, What are the next steps in my career?, and What metrics will I need to accomplish to raise my salary by 10%?. These questions may seem scary and daunting to ask, but they will ultimately benefit you in the long run. Miss Smithson also suggested participating in high-level activities and challenging yourself in the workplace so that your boss will see that you care about the company.

Grace G
Personally, I loved speaking with Ms. Smithson because of how deeply she answered questions. She took the time to think and give detailed responses to every question. She was also knowledgeable on the subject of negotiation. She was extremely warm, yet had a sense of authority when speaking, and I hope to emulate that one day. My favorite point was when she mentioned that saying your current salary is not required by law when applying for a job, and it is better most of the time to not tell them what you are currently making.

Mason Kubec
I really enjoyed speaking with Maria about negotiation. I liked the point she brought up about handling rejection. She said that it is something we have to deal with, but emotions only last up to 90 seconds. We have to be able to bounce back from that low and come back swinging ready to bring up the next point. Miss. Smithsons knowledge on this topic is extremely high. She was very well prepared and knew the correct way to answer all the questions that came her way. I also enjoyed hearing about the Benjamin Franklin tactic. I think it funny how we do little things for people and then remind them of that later, usually to get some reciprocity. I really enjoyed hearing and interacting with her; she helped me learn a lot more on a topic I have never put much thought into, but will hopefully use in the future.

Raegan C
Some of the things I learned from listening to Maria Smithson were not what I expected, but quite intriguing. I cant think of all of them off the top of my head but here are a few. First, research salaries for your job title in your desired city. Second, dont tell your recruiter your desired salary until you ask them what the salary range is after they mention it. What I learned from this is that you need to be patient, if you ask too soon for something you might not get anything at all. Finally, standards are what a company will do for the customer. What this means is that they will price match, which is when you purchase something that doesnt meet the standards that were advertised, so the company will compensate for it. Listening to Maria talk, it was obvious that she knows what shes talking about. She comes off as calm and collected, on point, confident, and every point she made was on parr. On the first call, she came out with a bang! She immediately had my attention, and I felt my drowsiness fade away. To conclude, I think it is important to listen to the advice Maria has to give because without listening to her talk, I would not know half of the information that I know now. For example, the Benjamin Franklin Effect. Let's say I give something small to a coworker, such as taking them out for coffee, then in the future, if I need a favor from them, I most likely would receive one. Finally, it is important to apply yourself, if you want your dream job, you have to really put yourself out there and actually put the time and effort into finding it.

Joseph Hubbell
I enjoyed talking with Maria Smithson about negotiation. I could tell she's very passionate about her job and helping others. She talked about how you can improve your career negotiation skills and how negotiation is dealt with on the daily. I particularly liked how she spoke about trust and its importance for negotiation. One of the things that fascinated me was when Maria mentioned that Ben Franklin would send a bunch of people books with a nice note written inside. I thought it was super interesting how such a small action like this can potentially help you in the future. It was clear her message was to be generous because Ben Franklin later would ask favors from the people he sent books to and they felt more inclined to do the favor. I believe I can start doing this in my life to prepare me for the future. It is a very easy thing to do and it can only build your relationships with people. I thought it was really interesting hearing about her career journey. I found it unusual yet fascinating that she went to Thailand because it seems a little out of the ordinary. She seems like an incredibly smart person. From what I heard she made her own job by going to a few informational interviews. I would like to hear more advice from her on how to improve my daily life.

Luis Bautistu
Maria Smithson is a great coach! Ive had coaches before, and Maria is what people need. Specifically, I contacted Maria because I need help with marketing a product. More on that in a bit. First, Id like to explain why she is a great coach. First of all, she is simply fun to listen to. She is cheerful and mentally sharp, and it is obvious that she has her clients best interest at heart. You can tell when people care about you. How does she demonstrate this? She is a great listener. She is warm, but she also got right down to business. Right away, she helped me clarify what my product is, who the potential audience would be, and then she got right down to asking many, many excellent questions. What worked well for marketing your last product? What was the second most effective thing you did? Who would be your biggest audience? Your product has obvious synergy with this other common product. How can we link them in the publics mind? We spent a good hour on these questions. In that time, I picked up seven powerful ideas. Some were new; others were things I already knewbut Maria drew them out of me! I might not have otherwise thought of them for months. It was awesome! We concluded by nailing down what my first action steps need to be. These steps will take some workbut they will also be fun! They involve reconnecting with old friends. What could be better than that? With her marketing background, sharp mind, provocative questions, and multifaceted approach, Maria deeply helped me. And for that, I am truly grateful.

Tim Wuebker
Maria's wonderful disposition really helped in our coaching session, and I would recommend her to anyone who needs a sounding board to work through life/career issues. She was positive, attentive, and posited unique perspectives that had no occurred to me. If you are on the fence about scheduling a session, do it! You will not regret it.

Maxwell Busby
I got a chance to have a virtual session with Maria, and it will most definitely be worth your time. She is a very very good listener and she objectively looks at your concerns and offers excellent advice and tips on how you can reach your goals. She offers good personal advice for well being and also gives me thoughtful comments and feedback on my business and goals. Look forward to speaking with her again.

Dhruv Subramanian
My session with Maria was fantastic! She was a good listener, enthusiastic, and offered insightful advice on navigating a challenging crossroads in my career path, and examining career options that were the best fit for me personally and professionally. She seemed genuinely concerned with reaching the best outcome possible, and even had relevant links and articles at the ready to help in my decision-making! I felt much more confident in my plans moving forward after our visit, and it definitely took a chisel to the decision paralysis I had been experiencing as of late. I would certainly recommend her for any career or life coaching youre looking for.

Kyle Whitaker
In 2021, I have taken a wise decision to have an interaction with Ms. Maria, who is the Founder of DreamYou Life and Career Coaching. Maria keenly listened all of my experiences, goals and aspirations and shared few of my problems that are hindering my progress. She suggested an effective solution for each and every problem in addition to that she shared her personal experiences how that helped her to transform things better in her life. I am highly energized, motivated and driven after our wonderful meeting with Maria. I have been slowly implementing solutions in to my daily routine to transform things around me. She is a very knowledgeable person, a positive influencer and an amazing coach. I would strongly recommend Maria's Life & Career coaching program to my colleagues, friends and internet family for a professional advice or help. Thank You.

Karthik
I just got off the phone with Maria from DreamYOU and I feel Enlightened, purposeful, and driven. We discussed how to change myself into a better person and we accomplished that with flying colors. This is more groundbreaking than 90% of all the traditional therapy sessions I've ever had. I am going to recommend this to friends and family because it's a really great and life changing experience being offered here

David Christy
Maria has allowed help me with answering some life and business questions that have never crossed my mind. She is great to talk to she takes any issues you have and personally becomes invested to make your problem her's. She looks at every problem from so many angles and able to bring up solutions to problems you never knew could pop up. Maria is great I wouldn't go anywhere else for career or life advise. Reach out and get the professional help she can provide and get things on track. My business is now in a better spot after implementing the advise she provided.

Chevon Dortch
Had a very positive experience. Maria works hard to get to the root of the issue quickly and give you actionable steps to resolve said issues. She is well- read, consciences and driven. You would be in good hands with her.

Kate Smithson
Maria is the BEST! Her enthusiastic and uplifting spirit is unmatched. She wants to see you shine, and with her help you are sure to!

Madeline S.
Maria is so energetic and positive. She does a great job encouraging you to reach your goals and supports you along the way.

Anthony
Maria was extremely informative and helpful. She helped me set up a solid plan to conquer my future goals and develop habits that would help me reach them.

John
Maria was a joy to work with, her positive attitude and friendly demeanor are infectious! Though I felt I didn't have many questions, she helped give me direction and provided avenues to explore in my job hunt. She is a total LinkedIn guru and is incredibly helpful with finding and providing useful, applicable information and insights in finding my next career option. I'm incredibly optimistic and excited to apply the insights she gave me and follow up with her soon!

Todd
Maria is professional, credible and very experienced . After purchasing the DreamYou Career coaching package , I had a meeting setup with Maria where we went over my experiences, career goals and objectives. After our meeting Maria was able to digest this information and was able to tailor a strategy which led me through a series of interviews and eventually led to multiple offers that were inline with my career goals. It's worth noting that my background is very technical and it was very clear from the start that Maria is well vested in this line of work and was able to guide me through my interviews and was very responsive to my feedback.

Ali B.