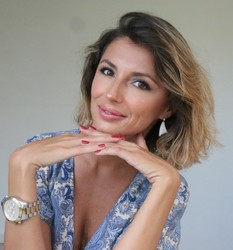 Life Coach, Performance Coach, Relationship Coach
Are you struggling to put yourself and your goals as a priority? I coach busy, stressed but ultimately ambitious professionals, reach their goals, reduce overwhelm and find clarity and fulfillment.
About Me
Do you measure your happiness by the things you do to make others happy, and you've done it for so long that you forgot to do things for yourself?
Does putting yourself first make you feel selfish or guilty?
This used to be me.
 
I used to define myself by what I was able to do for others. I didn't even realize how wrong that was. I was doing it for so long, that I forgot to do things for myself.
I've changed my environment countless times, from living in five different countries to changing careers, in hope of finding myself and my purpose.
What I have discovered is what you need to change is actually within you:
- The attitude towards yourself.
- Your beliefs that are holding you back .
- Your values that are no longer serving you. 
I've questioned, soul searched and analysed my life and other people's lives to a great extent. This has been an educative and eye opening process which has allowed me to help people go through similar circumstances faster and with ease.
Comfort zone is not a place of growth, what is more, whatever you're not changing, you're choosing.
I've left my comfort zone over and over again, but, I've done it all on my own. This is not something I'd recommend. Having a Personal Development Coach, who listens, understands, has the right tools and asks the right questions – makes all the difference.
Change will come to you faster. You'll get more clarity and awareness. You'll learn to respond to life, and not just react to circumstances.
I am there to encourage, motivate and hold you accountable on your goals.
If asking for help makes you feel like a burden to others I will provide a safe space for you to discover and be your authentic self. Life will always have obstacles, it is your choice to decide if they are stumbling blocks or stepping stones.
You have all the answers, let me help by asking the right questions.
You're welcome to book your free 45min discovery session with me!
Reviews
9 reviews (5.0)
Maria is one of my Bali friend and a coach that has helped me realise my potential and passion. About 4 months ago, I was so lost when I came to her. During this Covid-19 year, a lot of struggling and pain that hard to go through for everyone. For me, financial and relationship was my main issues. During her coach, I was intrigued by her energy and confidence, it was very contagious and motivated me to feel the same. Maria not only helps to build a better self-development, she's also guiding me to see things in life in a better and more peaceful perspective. Her best word was, "One step at a time." Four months after my last coach with her, now I have started my small business and my relationship with my partner has been going stronger. The best change I could feel was that my emotional improved better and healthier. From my experience, I highly recommend Maria and her coaching course to anyone who needs a serious life improvement. :)

Tya Syahara
I had few coaching session with Maria. I was always amazed at the simplicity and elegance with which Maria could get to the heart of the matter. Her enthusiastic coaching style is encouraging, motivating, and uplifting. She showed me she really cares allowing space for my thoughts which gave me courage and confidence. Thank you Maria for believing in me.

Alessandra Rossini
Maria takes a holistic approach to her work, starting with a thorough consultation and finding out what exactly your concerns are and what you want to achieve. She has an innate ability to make you feel at ease and I immediately felt that I was in a safe and secure place. I am blessed to know and to have worked with Maria and enjoy the benefits of her devoted and dedicated and mindful approach.

Myra
I worked with Maria for 8 months through peer coaching program. She's an open-minded coach, very much people-oriented. Maria is gifted in creating an intimate and safe environment, very helpful and supportive in creating actions and hold you accountable for. Always has my recommendations!

Abdul.
Maria has such incredible energy and is so caring. I have worked with many coaches but I haven't connected with any of them in the way I have connected with Maria. I was having a lot of difficulty dealing with some family dynamics and Maria was able to help me shift my perspective and tap into the compassion that I was lacking in the situation. I was also able to gain clarity in our sessions about what it is I am looking for in a romantic relationship when I am ready for one. I would definitely work with Maria again in the future and highly recommend her to anyone looking for life-coaching!

Emma
Maria is more than just a coach. She is a brilliant charming professional  who makes every interaction a safe and welcoming space, free of judgment and full of understanding and support. Maria possesses an incredible ability to recognize the little obstacles that I am stuck at and smoothly leads me too see them. She communicates simply yet effectively. With Her help I found out how to uplift my career and sort out and pursue personal goals. And the biggest step of all, was me learning how to create healthy boundaries. I am so so thankful for that, for it help me to release some heavy daily stress. I've been working on myself in many ways, before I met Maria, however everything I have done before can't compare to the results I got from working with Her! Five star and keep up the good work!

Ivana Jovanovic
After working with Marija I realised that I had nothing to complain and nobody was stopping me from anything. It was quite a realisation for me, and created a big wave of changes and also a sense of freedom. Changes were not easy to do, Marija supported me without pushing me, I don't know how she did it but it was amazing! I have started new studies that may lead to a new career, and maybe not, but I now have options, not dead-ends. I am still working on my relationship with my close ones, my partner, what I want from friendships, the sessions, the material she provides have helped me to shift many blockages. I cannot recommend Marija enough!

Dina, Management Senior Consultant, Greece
I love that Marija is super direct. She's not afraid to ask the obvious but sometimes hard questions that really made me think. Working with her I felt supported and heard. She's direct and has a no bs approach but she also has such a big heart and the fact that she cares really does come through in her coaching :) I'd go into a session feeling rather stressed and come out feeling SO much clarity through her powerful questioning and her compassion. I always looked forward to these sessions! -Ananda Whittier, Trinidad and Tobago, CEO & Coach, ManifestwithAnanda.com

Ananda Whittier
Prior to meeting Marija, my ego used to get me in unhappy situations - I wasnt able to build happy relationships and would get sucked in into toxic ones. Within 2 months since I met Marija, I have achieved more personal growth, than in 10 years before. I learned to walk away from people that are not right for me and to take my ego out of equation. I feel more at peace with myself and am attracting the right people in life. And as I found happiness in my personal life, I have noticed material improvement in my motivation, work output and business achievements. One particular feature that sets Marija from the rest of professionals in the field is her ability to find specific tools that work for you, rather than the broad popular psychology advice found in books. She is also an expert communicator: she gave me all the info to decide myself whats best, as opposed to acting like a doctor and giving prescription. This approach works great with me. She is also committed to maintaining results by checking on progress and sending small reminders and messages of encouragement.

Stefan