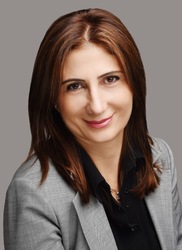 Marina Wanny

Dubai, Dubai
Executive Coach, Team Coach, Relationship Coach
Cipd, ORSC, NLP, PQ, Disc, BPS
I coach individuals and teams/ relationships by asessing their strengths, identifying their ultimate goal and work on their mental fitness to enjoy peak performance, wellbeing and relationships
About Me
Everyone has an inner wisdom that gets hidden by false beliefs .
I help individuals and teams live up to their potential by tapping into their strengths and supporting positive change.
This will have a positive impact on 3 areas :
1- peak performance
2- healthy (personal and professional) relationships
3- well-being and peace of mind
Such a rewarding life mission for me to witness the transformation of my clients .
Reviews
3 reviews (5.0)
I joined the pod coached by Marina absolutely by chance, initially with no clear objective or intention. As early as the first group meet, I felt a synergy between the 4 members. Marina outlined the structure of the course and its long term benefits right from the start and how we can use the learning in everyday life experiences. The coaching with the practice activities is clear and well presented . As we advanced in time , the concept of saboteurs and sage became clear and I realized that with the guidelines, the PQ reps and examples given, I could use the acquired benefits to chase negativity and deal better with real life "problems". The pod meetings were the most exciting part, with new strong bonds created, a coach who has been present to hearing and guiding us to deal with our issues (a small note about Marina's poised and calm voice and tone at all times which made her input so pleasant to follow) and above all the sound knowledge of an environment of trust and confidentiality. To summarise, this course has given me the tools and a new outlook to face an issue I was dealing with but I am also sure to use them in the future in various situations. The learning is ongoing and i am happy to see myself grow with new "wisdom" and love.

Tasneem
I believe nothing happens to us by accident, and meeting you at the majlis was a blessing. As you know I was skeptic about the coaching but my goodness you were instrumental in changing my mindset and easing me into it. I started the coaching with a heavy heart, and as we concluded the six weeks I'm in a much better place. The last meeting there was an epiphany moment which explained my life's struggles. I'm still a work in progress, I feel the coaching work has put me on the right track. You are an amazing coach and it's my pleasure to have you in my life. Thank you. God bless my dear.

Heidi
Rebirth..reconnecting with my real self, genuinely embracing my flows and humbly celebrating my strengths, this is what it feels like to me joining these sessions. Much love and appreciation for you.

Hala