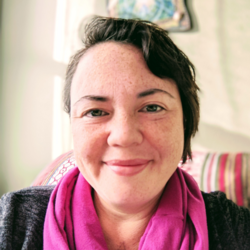 Mariza Noyama-Zee

Silverton, Oregon
Relationship Coach, Spirituality Coach, Life Coach
Facilitator Training through the Blue Fire Project, Gottman Couples Therapy Certified
Are you ready for something radically different? A form of work that breaks the mold and liberates? I help add new dimensions to your self-growth journey by connecting you directly with your guides.
About Me
Are you committed to self-evolution, but overwhelmed by the many different paths and modalities available today?
Are you in therapy, but feeling exhausted, because you just seem to be spinning your wheels and not getting anywhere?
Are you a highly sensitive person who is curious about the talents you have, not just the challenges you face, from being so empathic to the world around you?
If so, I might be a great fit for helping you to navigate towards a breakthrough in your personal relationship with yourself. Understanding this inner world is the foundation what supports your relationships, your vocation, and in the way you move through life.
I have been facilitating transformational processes for individuals, couples, and groups since 2007 and my work all stems from my direct experience with my own healing journey and deep connection to and understanding of energy.
At the age of 10, I received my first awakening experience when I spontaneously began to see and was able to communicate with spirits. Guided meditation into my own inner realm has been deeply beneficial in helping me to feel safe and able to bravely learn from beings of greater intelligence who exist beyond form.
At the age of 26, I was delighted to finally meet my teacher, who not only helped me through my first transformational initiation, but also trained me as a facilitator, shamanic practitioner, and coach. I have been her apprentice for the past 14 years and continue to integrate what I learn into the way I guide others.
I use my extensive experience with meditation and my intuitive connection to an individual's light council as a way to help them navigate towards lasting change and helpful breakthroughs.
My work can turbo-charge your therapeutic process with your other practitioners or I can guide you through a process of transformation with a custom designed blueprint process.
Reach out to me today to see if what I have to offer can turn a new page in your healing journey!
Reviews
3 reviews (5.0)
Mariza has earned my enthusiastic endorsement of both her discerning couple's coaching and her gift for engaging intuitively with individuals. With 40 years experience as a practitioner and teacher of Aikido as well as a long-time student of various embodiment wisdom traditions, I was skeptical of doing deep transformative work on Zoom with someone I'd never met in person. Now, 6 months into working with Mariza, I know this is not only possible, it is a great opportunity for taking effective action during the limitations of the Covid pandemic. As someone who loves the synergy of form and flow, I appreciate Mariza's strong structural offerings and her ease with following what is coming to life in her clients. She has my highest recommendation!

Michelle Keip
Riza has been a vital part of my support system. She has immensely helped me process things in a safe space while providing love, guidance and amazing insight. She shows up wherever you might be at the time. She offers insights from perspectives I didn't know existed. Riza has helped expand my spiritual, psychological and physical consciousness. I can't recommend her enough.

Gabriel
Riza is absolutely incredible! Her guidance is invaluable! Her gifts and skills are so unique! I HIGHLY recommend her services! You will NOT be disappointed!

Sarah D.