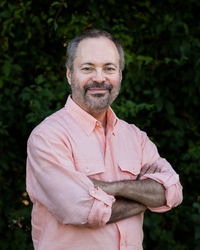 Mark Federman

Toronto, Ontario
Leadership Coach, Career Coach, Executive Coach
PhD
I coach: Leaders on building commitment via team members' core strengths & values; Those experiencing workplace or career challenges & transitions; Everyone on bringing their best self to work & life.
About Me
"Contemporary leadership is about creating a conducive environment of shared experiences from which an alternate future becomes possible." — Mark Federman
Are you that type of leader in your team or organization? What about in your own career & life? An alternate future is certainly possible for your organization, your team, your career, & your life—I help you get there.
I had a very successful career in the IT industry, culminating in a senior leadership role. A month before my 40th birthday, I had a heart attack and nearly lost everything. Literally. Over the ensuing years, I came to understand what one might call the secret to life—we all get to choose the life we want for ourselves. Often, that choice of life requires some very hard, and not all that obvious, choices to be made.
I went back to school and earned both a master's degree & a doctorate at OISE at University of Toronto. I studied the roles we play & intrinsic motivation for the M.A. I created a new, fundamental theory of organization – Valence Theory – to account for organizational dynamics, behaviour, & contemporary leadership in our complex world for the Ph.D. I designed a Master of Contemporary Leadership degree, created an experiential intensive for non-coaches to employ sophisticated coaching skills & techniques to become better managers, sales people, marketing professionals, HR specialists, and yes, even leaders. I embraced the principles, methods, & ideas of Appreciative Inquiry, Complexity Theory, Positive Psychology, and Valence Theory to create my practice of Reengagement Realized.
I have helped many organizations and individuals to (re)discover their own best & aspirational self, to create circumstances through which an alternate future for their organization, their leadership, their career, & their life truly becomes possible. I can do the same for you & your organization. Please contact me for a free, initial consultation with no obligation. You'll be inspired, I guarantee it!
Reviews
4 reviews (5.0)
Mark is incredibly insightful and a keen listener; he challenged my thinking and beliefs. Through visualization, he expertly guided me through different stages of my life. That allowed me to identify and crush mental barriers; and find comfort in my natural strengths and how to use them to generate more of what I want in my life--self-acceptance and direction.

M.J, Federal government employee, Greater D.C. area
"You have definitely been a very unique teacher and guide to me. I relate to your philosophy and appreciate that you do live up to it. I try to live by the approach of kindness towards self and others and, in doing so, I think you and I have a lot in common in that regard. I will continue to strive to do my best at my career to get to the state where I can truly effect change in the lives of people, in the same way that I have had happened to me in my life. That is my goal above all others."

H.S., Mentee & coaching client, Psychological Associate (Supervised Practice), Toronto, ON
"Mark is an illuminating speaker, provocative presenter and incisive coach. His ability to make sense of organizational behaviour from an individual point of view to a larger dynamic corporate entity is remarkable. His thoughts on the workplace and people within it are relevant, timely, humanistic and creative. He allows one to reimagine a workplace environment where workers thrive and ultimately drive success at a time when 20th century business models no longer make sense."

J. P. (formerly) Director, Media Production Company, Toronto, ON
"Mark knows how to get to the crux of the matter — whether through group facilitation or professional coaching — through excellent listening, probing questions, and an ability to think on his feet. He is positive and appreciative at every stage. His tools are solid, so he can alter his course when he senses an opportunity. Great intelligence."

H.W., Assistant Executive Director, Not-for-profit community agency in Toronto, ON