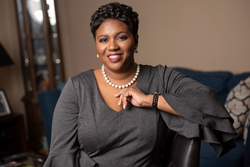 Marla Albertie

Jacksonville, Florida
Life Coach, Career Coach, Executive Coach
Certified Professional, Career, and Life Coach, ICF and ATD Member
Are you going through transition in your life and/or career? Are you feeling stuck in a "rut?" My passion is to guide you through the "rut" so you can have the life and career you always dreamed of.
About Me
Does this describe you?
Are you bored sitting at your desk day in and day out? Are you ready for a life change but scared to step into the unknown? Do you want to do something more fulfilling or challenging with your life but your emotions are keeping you at bay? Are you newly divorced and feeling lost? Are you the stay at home parent who is ready to enter or reenter the workforce? Are you simply ready for a career and/or life change? These are just a few examples of someone who wants to transition. If one of these describes you then continue on the next section to learn how to K.I.M.
How can Marla help you get out of the rut and Keep It Moving (K.I.M.) in your life or career?
Have you ever had an "AHA" moment? Well that's what Marla's goal is for her clients. As a client you may discover why you are bored with your career or is there something else holding you back. Marla believes all of her clients have gold inside of them and through strategic, emphatic, and unscripted questioning Marla aids her clients to K.I.M. (Keep It Moving). You may discover it is not the finances holding you back but your spending or you as a stay at home parent you have more skills than you thought. Marla believes the answers are in each of her clients and all it takes is some digging to find those answers.
Who is Marla?
Marla Albertie, is a Certified Life, Career, and Professional Coach and the founder of Truth Speaks Group (TSG) LLC. Marla is also the co-founder of the motivational phrase K.I.M. (Keep It Moving), which is what she uses to aid her clients through coaching. Marla holds a master's degree in adult education and has been in the training, coaching, and development field for over 15 years. Marla is a graduate of World Coach Institute and the American Union of NLP. She speaks and conducts her workshops in various industries from corporate to non-profit. She loves reading, traveling (cruising), and spending time with family and friends
Reviews
12 reviews (5.0)
I had the pleasure of working with Mrs. Williams of Truth Speaks Coaching. As I talked with Mrs. Williams and processed the things I was going through, I had several Aha moments. It was a joy to have someone that allowed you to talk, never gave unsolicited advise, but was willing to share suggestions if you were willing to listen. Thanks Truth Speaks Coaching. Keep up the great work!

M. Davis, Florida
Marla is a professional, caring and engaging life coach. She asks just the right questions to guide you on your own journey without any judgement or personal bias. I came to the conclusion about where I need to be with her help and with the not- to- difficult homework assignments. I would recommend Marla to anyone looking to discover their inner strengths and desires both personally and professionally.

J. G. Florida
Thanks to the exceptional life coaching with Marla, I was able to focus my goals into very succinct steps and work towards what I really wanted- a new career! Thank you Marla for being with me during this journey and your support and encouragement.

Anonymous, Florida
I came to you because I felt that you would be honest and upfront with me and help me in the best way possible. I think you have a great ability to read people. I think you know how to push people just the right amount to get them to realize their potential. You can say the hard stuff and make people really analyze the situation. I benefitted from the coaching sessions and conversations we had. Even when I didn't want to give in at the time, once I thought on your suggestions, I realized it was the best option to move forward with.

K. G. Florida
Marla is truly gifted as a coach, and has helped catapult me into my next level! If you are looking for someone to partner with you in a thought-provoking and creative process that inspires you to maximize your personal and professional potential, you have found your coach!

Marie C
As a teacher, I recently found myself experiencing growing pains and wanting to venture out. I started thinking about all of the ways I could help others and I felt as if I had a very broad way of looking at career choices. I decided that it was time to find someone with great expertise in this area, and that is when I had the pleasure of finding Marla Williams at TruthSpeaksCoaching LLC. She has offered a completely eye-opening experience that has not only made me a more confident person, but has allowed me to grow and learn new ways of approaching things in my work, personal, and everyday life. Marla's expert coaching is always positive and uplifting and has provided me with a plan that I am able to execute to obtain the results I want. Marla is very personable and loves what she does. I highly recommend her as a life and career coach as she is very resourceful and has a great passion for helping her clients.

E.T.
Marla is a phenomenal life coach and career coach with the insight and experience to help you advance in your career and in your everyday life. Marla has inspired me to do better and to be better in everything I do.

C.W., Florida
I received resume service and career coaching from Marla. I am very pleased with how knowledgeable she is and how she guides you through self discovery of your desires and passion, while provoking out-of-the-box thinking. Marla's "think big" attitude is contagious and has helped me not only reach for the stars, but grab them! Because of prayer and confidence I gained through the coaching sessions, I was able to obtain a job immediately after being laid off from my previous role. Thank you, Marla!

K. Henry, Content Manager, Florida
Marla Williams is a phenomenal life coach! She knows how to get you to think outside of the box about yourself/goals. You won't go wrong with setting up a few life coach sessions with Marla Williams.

A. Sims, Florida
Marla is a terrific business coach! I recently started my own business and needed some guidance on how to market myself and handle social media. I felt that there was an interruption in these areas of business simply because I lacked knowledge. I'm so grateful that I reached out to her about my career. She provided quick and practical solutions that actually worked. Marla is an AWESOME encourager as well! She made me feel confident that I can do this and have what it takes to build a successful business. I put her advice into practice and have received more clients because of it! I would recommend Marla's services for anyone who needs help with his/her career! As soon as you're finished reading this...call her! :)

F. J., Florida
Marla Williams is an exceptional life coach she really knows how to engage with her clients and is able to mine the gold out of them. She is personable, patient and is a great communicator. I recommend her without reservation to anyone who wants to thrive in their career or just become a better version of themselves

J.R.
Thank you so much for the coaching sessions. I appreciated the positive feed back and the encouragement for growth. My favorite part of our sessions was the words of affirmation- I have a few words I look at on the daily since it's on my phone, constantly being reminded that I am brave, a visionary person, brilliant, worth it, confident and special!

C. Estime, Florida