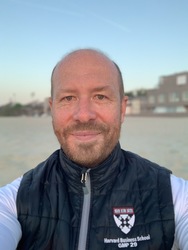 Martin Krafft

Montreal, Quebec
Business Coach, Leadership Coach, Executive Coach
BComm, MS, LL.M.(econ.); Harvard Business School GMP
Professionals who feel stretched thin between the personal and professional aspects of their lives partner with me in coaching to balance purpose, achievement, and happiness to live their best life.
Details

Montreal, Quebec H4G 1H4
+15144489745
Send Message
Visit Website
Hourly Rate: $10 to $150 Canadian Dollars
Gender: Male
About Me
"Always in the making, never made"
I'm an accomplished Senior Executive with a 2 decade track record of building cohesive, winning teams across different cultures on 3 continents. A caring and daring leader with a unique pedigree of hands-on experience, operational strengths, and driven by purpose.
But more importantly, I am committed to always hold the door open for others. Actually and proverbially. What inspires me most on my coaching journey, is to partner with coachees to jointly make a difference in their world and the world at large.
My clients often arrive at coaching, because they realize that what made them successful in the past won't get them to their best, desired future. The key is, that if we keep doing what we always have been doing, it will bring us the exact same results, we have always gotten. And this is, in a fast changing world not the future many of us envision for themselves.
This is where partnering in coaching with me through reflective enquiry in the safe space of a coaching conversation helps my clients unleash their true potential.
In order to enhance my coaching practice, I'm currently enrolled in the Professional Goal-Centric Certified Coach program at Concordia University, Montréal, which combines a strong grounding in coaching with ongoing experience-based supervision. The unique features of this well established and reputed program provide root knowledge and experience in the critical areas of coaching theory and practice.
As part of my practicum and accreditation process, I'm offering coaching sessions at very affordable rates. The focus of my practice is to coach the person, not the problem, as I strongly believe that this will help my coachees to check-in with their perceptions and behaviours in order to live a life of achievement and fulfillment.
My own goal is not to be better than anyone else. My goal is to be better tomorrow than I was yesterday - to support you on your journey to reach your goal.
Reviews
17 reviews (4.88)
Excellent, high-level coaching suitable for international business profiles dealing with complex issues, potentials or risks.

Simon Marseille
Martin is an incredibly empathetic, compassionate and charismatic coach. He never judges, never provide me straight answers or quick solutions but throwing me back provocative questions to think through what I need to work on. I may only have had a few sessions with him but I enjoyed each one tremendously and looking forward to work with him closer eventually when Im ready.

GK
My Coaching experience with Martin has been very pleasant; Martin knew how to explore the answers to my main questions with the right words, helping me to release and develop my own premises in a natural and spontaneous way. I am very happy because I feel that I was able to improve aspects of my professional life that for a long time caused me discomfort.

Cesar Estremadoyro
My journey started 6 weeks back with Martin and it has been a phenomenal journey. You know that every Friday, you can talk to someone , who will not judge you rather help you discover yourself. I have been doing so many wrong things in the past but sessions with him have always been an eye opener. Most important part is that he does not instruct or tell you anything to do. During your time with him , you only tell him the problem and also the solution , it is like we know the answers but a coach helps us discover them to the best of our abilities. Looking forward to many more such sessions.

Praneet
Martin's ability to create such a positive and professional environment is a skill afforded to those with considerably more years experience than he – a testament to his personality and passion for coaching. He's able to coach his client to a conclusion that seems so unobtainable, yet is perfectly within grasp. It's been a pleasure to work with Martin – this hasn't been a one-off.

Daniel Thompson
My journey started 6 weeks back with Martin and it has been a phenomenal journey. You know that every Friday, you can talk to someone , who will not judge you rather help you discover yourself. I have been doing so many wrong things in the past but sessions with him have always been an eye opener. Most important part is that he does not instruct or tell you anything to do. During your time with him , you only tell him the problem and also the solution , it is like we know the answers but a coach helps us discover them to the best of our abilities. Looking forward to many more such sessions.

Praneet
Martin was fantastic in helping me identify and build on my core strengths in a new and creative way. Together, we were able to nail down the challenges and obstacles I encounter and to co-create my plan to overcome them. Most importantly, all this in a very open, positive and fun way. I highly recommend coaching with Martin to anyone!

Maria D., Canada
Martin's professional approach immediately puts you at ease. His laser-like focus helps to guide you towards attaining your goals. Highly recommended!

Cathy G
Martin Krafft is dedicated and professional in his coaching approach.

Vincent
I've had the best coaching experience with Martin. He is a keen listener and very wise in his approach. I'm truly grateful to have crossed paths with him specially when I was going through a tough time in my career and my family. He was able to help me process tragic events and create a path for myself that was goal oriented. He has a unique way to taking what's spoken and mirror it back in such a way, it opens new perspectives. I truly appreciate him and the work he is doing in helping others in need. I am sure your experience with Martin will be equally the same.

Aditi Gupta
With Martins supportive coaching style, I was able to gain clarity. Im in a better place to manage my self talk related to group communication. His encouragement and support made a difference. He is a whole hearted human being that thrives to make a difference in the lives of others. I would highly recommend him for anyone looking to make changes in their life for greater overall satisfaction.

Michelle
Martin is indescribable. An incredible professional who takes you on a journey of transformation and evolution! The best experience ever. Thank you so much!!!

Marisa Raposo
RFS, Kuwait: Martin has an amazing comfortable presence, great active listening skills, his calmness, friendly smile, and excellent techniques helps reducing any tension and identifying the root cause of some complex topics of discussion. I'm very grateful for the opportunity for being coached by a brilliant coach like Martin.

RFS
Martin is an extremely well-rounded and experienced executive and performs coaching with both professionalism and passion. He was tremendously helpful providing me creative solutions for the areas that I seek improvement. Highly recommended!

Burak Boyaci
A great experience. Martin draws out unique way of shedding light on a topic. Highly recommend!

KimberD
Listens, understands thanks to experience, sees what is relevant, and shares back in great ways. Great value adding two-way sessions!

Fredrik
Martin is an insightful advisor that was instrumental in helping me contextualize my professional vision and focus my near-term goals.

Paul G - USA