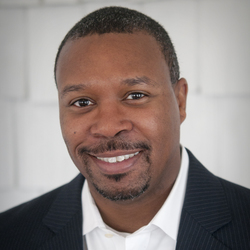 Marvin Chambers

Columbia, Maryland
Leadership Coach, Life Coach, Executive Coach
Forbes Coaches Council -- https://youtu.be/49hVg7h9Euc ; https://youtu.be/tZWDiem1kTA (Please copy & paste links into browser)
Highly intelligent & successful yet humble leader seeking to take your leadership game to the next level. You often pour into others & put your needs last. Imposter syndrome is real for you.
About Me
Marvin is a seasoned Executive/Leadership & Life coach, Talent Strategist, Human Resources Executive, and Author with 25+ years of experience working with leaders and talent at all levels in world-class organizations including The Coca-Cola Company, W.R. Grace & Co, EY, AT&T and NCR Corporation.
His divine purpose is to coach, teach, mentor, and empower leaders to be the best versions of themselves. Marvin's aim is to encourage, stretch, equip, and empower them to be amazing leaders that make a profound impact on their families, places of work and communities. They often find something is getting in the way --- it may be confidence (imposter syndrome), lack of practical tools, limited exposure, inadequate accountability or a feeble strategy and playbook that allows them to maximize their performance and focus, build their credibility and competence, and illuminate their character.
What makes Marvin stand apart from other leadership coaches who exist in the same arena?
1. Marvin sees himself as more than a coach. He becomes the leader's ALLY --standing by their side even in the darkest places and helping navigate and and steer through times of significant organization change and personal and professional challenges.
2. His core professional belief is simple: TRUST. He works with a heightened sense of the importance of trust ensuring that every person in the process wins.
3. Marvin makes it safe to be vulnerable and reveal your positive core beliefs, passions, values, and interests as well as fears and failures. He understands our greatest assignments and true genius is often revealed not only in best moments but in times of failure and disappointment.
4. As a leadership & life coach, Marvin is highly relational and lives for the grunt i.e.., the question, the observation, or insight where the leader physically experiences what is required for success and is compelled to go for it.
Reviews
4 reviews (5.0)
Marvin is an outstanding coach. My work with him was extremely valuable to me and my team. He is challenging and insightful yet kind and understanding. He brings to the table a wealth of experiences and has the ability to help you get to the heart of the matter and get results.

David Agresti, Sr. Director, Maple Lawn, MD
Having personally benefited from Marvin's skills as a mentor and coach during a recent period of transition and change, I can attest to his talents. Utilizing his exceptional listening skills and deep questioning, he pushed the boundaries of my thinking and helped me to see the broader framework of the challenges I was facing. He then offered insights that facilitated several breakthroughs. His experience and background enables him to take complex issues and distill them to a point of clarity in order to establish a path forward. His indomitable spirit and positive outlook demonstrated that Marvin also lives what he teaches. I routinely left my conversations with Marvin feeling encouraged and capable of taking on the next challenge. His willingness to act as a mentor and coach was invaluable and for that I will always be grateful.

Kutu Baker, Change Consultant, Chicago, Illinois
Marvin Chambers is an incredibly gifted coach, trainer and leader. With tremendous experience and wisdom he challenges you to dig deep, to face your strengths and your weaknesses and to use them to help you become the best leader you can possibly be. His listening skills, honesty, and passion combined with his love for seeing people and organizations reach their highest capacity is truly special. He is helping me to not only understand how leadership works but how it works as it relates to me and my organization and that's an incredible feat. If you are truly looking for results, I would highly recommend Mr. Chambers for coaching, consulting, and training to any rising and/or experienced leader and organization because he is certainly a difference maker.

Reginald Pickett, Pastor, Bowie, Md
Marvin is an extraordinary executive coach. I had the pleasure of partnering with him for support as I transitioned to a new company to take on a highly visible, transformative role. Marvin's approach to the partnership is what sets him apart. He has a great way of asking the right question… the hard question that challenges you to reach deep and find your own solutions in order to be great. Marvin promotes action, accountability, and works with you to define a quality plan, restore confidence, and ensure success. Marvin's magic is that he is open and direct. He is open about his past experiences which allow him to provide an unique perspective to help you avoid landmines and distractions.

Tinique Peery, Vice President, Newark, NJ