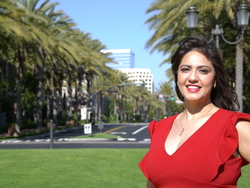 Mary Sidhom

Irvine, California
Performance Coach, Career Coach, Executive Coach
BCS, MBA, PMP, ACC
I help clients to get clarity, build their confidence and live with passion. Helping them build emotional resilience to overcome stress; transform struggle to an opportunity.
About Me
My name is Mary Sidhom I have over 17 years of experience in the field of performance coaching. I help people to get clarity in their thinking in order to ignite their passion and gain more confidence in achieving their goals.

One of my most effectives tools I use is working on my clients emotional resilience so they can over their stress and be more confident. Second thing is I work on mindset, how they define their challenges and then we transform the struggle to an opportunity and work on a action plan to get to results.
I also guide my clients to get inspired by building their creative frame of mind this is simply done by working on their communication skills to help them influence themselves first and then others.
I have helped Individuals and leaders to become their best in the fields of Financial Services, Telecommunication, IT, Engineering, non-profit organizations and Government sectors.
Looking forward to serving you to help you grow and achieve your goals.
Reviews
3 reviews (5.0)
As my Executive Coach, Mary has been very valuable to me and my personal and professional growth and development. When I'm in the office, it's easy to get caught up in my growing To Do List, but Mary affords me the opportunity to step away from the day-to-day busyness of my job and look at my organization and my role through a different lens. Working with Mary is helping me to identify my personal and professional strengths, motivators, and triggers in order to refocus my efforts to better serve myself, my team, and my organization in the long run. Mary challenges and encourages me to step outside of my comfort zone and look for tools and resources in unusual places in order to help me reach my goals. I am truly grateful for this opportunity and look forward to continuing to work with my trusted coach.

Kathy Corpuz - Director at Marketing for Boys & Girls Club of Central OC
Mary is an inspiring, authentic executive coach, with a strong ability to help her clients show their confidence and rise to their potential. Mary has a gift for helping people uncover their true selves to let the fullness of their talents shine

Dave Coffaro Principal - Strategic Advisory Consulting Group
In my time with Mary at ECofOC I have felt truly supported. I often just want her to give me the answer of what to do next, but she has helped me to learn and grow and really ask myself where I am heading and where I would like to be. Her coaching has pushed and challenged me, but I feel so supported in my overall development. I am happy to have her caring for me as my coach. I believe the tools I have learned will help me for many years to come.

Mikaela Buchana - Director of Business Operations for Giving Children's Hope