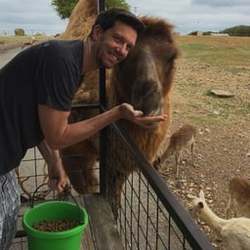 Matt Stephans

Austin, Texas
Life Coach, Executive Coach, Relationship Coach
BS Mathematics, The University of Texas at Austin
Our clients are intelligent, logical people. We don't deal in spirituality or quantum mechanics. We talk about how to be empowered in your life and take action in your personal life and business.
Details

Austin, Texas 78745

512-200-4263

Send Message
Visit Website
Hourly Rate: $180 to $300 US Dollars
Gender: Male
About Me
Do you want to be powerful and determined to reach a personal or professional goal, find your peace in a chaotic world, or have your marriage feel the way it did on your honeymoon again? I empower you with tools and techniques to create a life for yourself that you can't wait to keep living.
We all have a "machine" that's only goal is to help us survive. It uses our beliefs to maintain a status quo that helps us continue to survive. It's the same system that keeps us safe from danger. The problem is that machine was built over your entire life experience with limiting beliefs you might accept as the truth. While nothing I say is "the truth," we become our limiting beliefs if we do not continually recognize them, acknowledge them, then put them aside and choose who we want to be in those moments. Taking responsibility for this and choosing who you want to become is what I empower you to do as a coach.
My clients who have done this coaching with me are making their marriages feel like high school puppy love again, growing their businesses to new heights they didn't imagine, having successful careers their peers envy, accomplishing long-term fitness and lifestyle goals, and spending more time with the people they love doing the things they love.
Let's talk about what your Exceptional Life looks like and what you can do to live it. Coaching isn't therapy and I don't believe anything is wrong with you, but if there are things you want that you haven't been able to achieve, then I can coach you to take the actions you need to for achieving those things.
Every first call with me is free, so don't wait another minute to begin living the life of your dreams. I look forward to meeting you.
Reviews
When I first met Matt, I felt like I was on life's hamster wheel. I was working my tail off every day and feeling overwhelmed despite doing what I thought and said I wanted to be doing with running a business and spending more time with my friends. The problem for me was that it felt like I wasn't going anywhere in particular. Like life was living me, but I wasn't living life. From working with Matt, we identified what I wanted for my life in both my business and personal relationships and we talked each week about distinctions like Communication, Acknowledgement, Gratitude, Responsibility, and others to give me a new way to look at my life and be empowered in it, not just get from one day to the next. Now, I have a thriving business, I'm closer than ever to my family and friends, and I say how my life goes. I feel in control, powerful and wanted, and fulfilled, and it can only get better from here. Thank you, Matt!

Tyler D