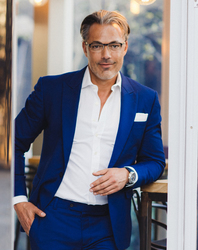 Matt White

Johannesburg, Gauteng
Team Coach, Leadership Coach, Business Coach
Psychoneuroimmunology, Systemic Team Coaching, META Coaching
I partner, consult and coach high performing individuals and teams to shift their authority, impact and power so they can create dynamic value and balance for the communities they serve.
About Me
As an experienced Executive Director of management and leadership development consultancies specialising in people-brand-business practices, I synthesise strategy, organisational effectiveness and culture, brand, change, leadership and stakeholder engagement.
Developing effective leadership and aligning teams across industries is a crucial component to the success of future organisations and ultimately my work's focus.
I enable leaders and teams to optimise their performance, subsequently delivering significant stakeholder value.
Originally from the Limpopo province, I now reside in Johannesburg, South Africa, from where I impact international businesses.
With an entrepreneurial spirit, I support leaders to successfully set-up, operate, and improve business toward sustainable exponential growth and partner with people who choose to achieve success in V.U.C.A. times and disruptive business environments globally.
The deep business understanding and empathy I bring to difficulties support individuals and teams to deliver significant business and people value. As a result, partnerships show up authentically, influence with insight, motivate with compassion, collaborate for advantage, and delegate to achieve results.
My work with teams focusses on bringing increased collaboration, diminishing complexity, enhance people networks, influence stakeholder engagement, and impact business results.
The systemic model I use for sustainable results comprises the integration of Business, Brand, and People synthesis through Change, Culture, Science, Technology, and Biology.
The tools of this model include neuroscience, physiology (mind-muscle-wellbeing integration), positive psychology (cognitive-behavioural science), organisational and people systems, business (AGILE/LEAN), and brand practices ensuring change is current and congruent.
The immersion of more than 4,000 hours of coaching experience, academic study, and extensive training solidifies my work.
Reviews
2 reviews (5.0)
Dear Matt, I would like to thank you for what I can only describe as a life changing journey which is still on going. All too often when a letter of referral is written, the writer fills the expected spaces with words and concepts which serve only to compliment rather than truly inform and explain why this letter is so important. When we met for the first time and I had what I would later describe as our "interview" coffee, I found myself coming away with a plethora of thoughts. I am usually the one who is doing the interviewing and for the first time in many years I was being intellectually challenged and asked to look within myself to ask "why"!! To your new client, I urge you to open your mind and to trust in the journey you are about to take. Many years ago, I participated in a course with John Keho. He is a well-known author and motivational speaker. I had some predetermined ideas of how the process with Matt would roll out. I was initially apprehensive. I did not have a point of reference or someone I could ask for their own impression of Matt. I took a leap of faith and quickly realised that I was going to be dealing with the most important personal discussions I had ever had with myself. In some way I trust that my letter will assist you in taking the right decision for yourself. In terms of my own experience working with Matt I found that being forced to step out of my comfort zone was challenging and refreshing. It is human nature to engage wherever possible in your comfort zone. I found that I was taking a look at my own life, its experiences and the good and bad luggage from a purely "external" perspective. The ability to do so is often lost on us and I found that I was too close to the fire and had forgotten to take the time to Fuzz. This is my own term for allowing the mind to detach completely and free itself up. This enables clear and creative thought to be at its most productive without any of our day to day constraints and expectations being able to control the outcome. To put it into my own words, what I believe to be some of the ongoing benefits is very difficult. I believe that you are an individual with your own life path and journey in front of you. These benefits will be unique to you as an individual. However I can guarantee that you will discover them on a daily basis. For myself, I have matured emotionally. I understand my potential clearly and engage with people, both in a business and friendship environment in a completely different manner. The results, which have all been positive, are astounding. I catch myself wondering what I ever did before and most importantly - I understand why I failed in so many instances to achieve my goals. A referral letter is by its definition a recommendation, but I want to add the following words of encouragement to you the perspective new client. My value system has matured immensely, my ability to communicate, to think with clarity of thought and to hold those dearest to me closer than ever. These are but a few of my growth points. Take the step and do it with full commitment and openness, in so doing you will never look back again. Matt, your journey is forever evolving. It is not needed to tell you where to improve or change your clients experience. I have gotten to know you over the past few months and trust that you will continue to deliver a dynamic experience and product for all your clients. That in itself will develop and grow as it should. I trust that the information provided will be of assistance and will be happy to provide further information, if required. Yours faithfully, Kyle McConnach Managing Director CMS Technologies

Kyle McConnach
I experienced him to be skilful in his approach towards his clients, teammates and partners. In all the consultative sessions, I found Matt to be respectful competent, reliable, precise, focussed, diligent, and gracious. During the consultative interaction with Matt, the business tools and leadership Matt provided, enabled us to re-engineer our sport. I can with confidence, recommend Matt.

Andries Maree