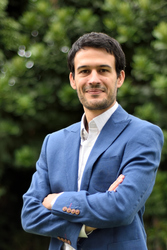 Executive Coach, Performance Coach, Business Coach
MBA, NLP Practitioner and Accredited Leadership Coach.
I coach executives who are looking for ways to improve their performance. I help my clients find better ways to be more effective and act as a sounding board for their concerns and business decisions.
About Me
"I believe that every person, every team has the talent to be world-class. My personal goal is to help individuals and teams achieve professional or operational excellence and outperform. This might be through uncovering hidden talents, getting people unstuck or, by helping them lay the foundations to get the results they desire.
I believe in tough love, authenticity and sincerity with a dose of humour. I approach every engagement with thoughtful analysis, practical creativity and a bagful of questions to cut to the heart of your challenges."
I am an entrepreneur, performance coach and business strategist. For over a decade, many people have enjoyed the candour and eye-opening insights of my coaching, mentoring and guidance.
Successful leaders and peak performers seek me out whether at the top of their game, to sustain their performance, find creative ways of taking themselves to the next level, or in moments of distress, to overcome an obstacle, tackle a complex challenge or strategise their return to the top. I facilitate success by unlocking and enabling inner talents and transforming them into lasting strengths.
Companies reach out to me to solve complex problems, work with teams and develop strategies that guarantee results. My thoughtful analysis and creative yet practical strategies have seen me become a trusted advisor for many CEOs, CXOs and Boards on a range of subjects, from culture to corporate strategy.
I have worn many hats in his career - teacher, developer, organisation designer, manager, leader and strategist. Over the past two decades, I have led and managed cross-functional, cross-regional teams with great success in areas of human resources, marketing and communications. My knowledge and innate understanding of people and relationships have allowed me to deliver results for MNCs, SMEs and Startups alike.
MBA, NLP Practitioner and Accredited Leadership Coach.
Reviews
Matthew is a great coach, he delivers way more than he charges. Highly recommended.

Caleb