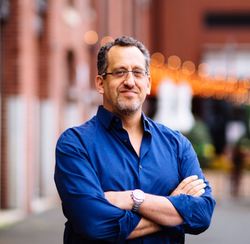 Max Klau

Natick, Massachusetts
Life Coach, Leadership Coach, Spirituality Coach
EdD, Harvard Graduate School of Education
Are you a frustrated idealist yearning to live a life of deeper purpose and greater impact? I can guide you to ignite your inner flame, empowering you to live your mission of service to others.
About Me
Do you hear a quiet voice in your soul calling you to live a more purposeful life? Have you achieved some level of conventional stability and success, yet find yourself yearning for more meaning and positive impact?
If so, I can help you...because I was once you. I know what it's like to be in a situation where things appear on the surface to be going fairly well, but on the inside I felt a burning need to be doing more than just making ends meet. Not living in alignment with your own deepest sense of purpose and mission causes spiritual pain, and I know how frustrating it feels to not know what that purpose is or how to find it.
That's where my coaching comes in. Over the course of decades of working with tens of thousands of mission-driven idealists, I have developed a "Flame and Journey" approach to coaching. Through the work that we do together, you'll emerge feeling more deeply connected to your "inner flame" of authentic purpose, and more focused and effective at finding realistic yet powerful pathways forward that allow you to manifest that mission in the world.
I bring a wealth of expertise and experience to this process. I have a Doctorate in Education from the Harvard Graduate School of Education with a focus on leadership development, and am a certified Professional Integral Coach (I am currently working on my Masters level certification). I spent 10 years at City Year, an AmeriCorps organization focused on addressing America's high school drop-out crisis, and now work at the New Politics Leadership Academy, bringing more servant leaders into elected office. I'm also a published author, and have taught and lectured internationally on how to lead with purpose.
I have coached everyone from idealistic young people just getting started to Congressional candidates seeking to step into their purpose in the most courageous ways possible. I look forward to helping you to ignite your inner flame, allowing you to shine as a bright light in dark times.
Reviews
6 reviews (5.0)
"I chose to work with Max after I ended a significant chapter in my professional career and was in the midst of figuring out my next steps. I was drawn to his approach around identifying your shadow mission as it captured something I experienced but hadn't put into words. I knew that with his deep work in organizational change, learning and personal transformation and his commitment to racial justice issues, he'd bring a valuable perspective to my own goals in these areas. By helping me explore the story I'd been telling myself and the one I wanted to move toward, Max helped me clarify and articulate values, a mission, and ways of being in this next chapter. I feel really fortunate to have gotten to work with someone so thoughtful and giving, and look forward to our paths crossing again soon."

Laura H., Non-Profit Professional and Consultant
"My coaching process with Max was a revelation and a glorious journey at the same time. Doing deep work is never comfortable but his empathetic approach makes it so much easier to stay in the process and get immense growth value. The foundation of the integral coaching is already quite phenomenal and Max adds his unique brand of active listening and his life's work in leadership."

-Sanjana, Tech Executive
"I worked with Max as I went through a professional and personal transition, and found the experience to be both grounding and inspiring. I completed the program with a greater sense of self, a renewed professional dedication to public service, and a heightened clarity around my core values. I highly recommend Max's services!"

-Monica L., Social Entrepreneur
"I had the opportunity to participate in one on one coaching with Max as part of my personal development and I can honestly say that it was one of the best personal development experiences of a relatively long career. Max is a highly competent, professional, organized and very perceptive coach that was able to challenge me in the right ways at the right times to really go deep into my approach to work and my personal life to get the best out of me. I couldn't recommend Max enough to get you to think about what you're doing in a different way and really reconnect with your purpose and leadership skills."

-Daniel H., Urban Economic Development Professional
"Max was my coach last year… and I am still tapping into the lessons I gained from our time together. Life changing is right! The experience was unlike any development program I've ever been a part of. It's hard work and nothing is simply handed to you but the deep digging you're forced to do will leave you in a place you'd never though you'd be. Max is so tuned into YOU that it feels like you're the only one he is supporting and coaching."

-Allishia B., Non-Profit Professional
World Class Coach. Max gets 10/10 from us down under in Australia!

Jimmy Muprhy