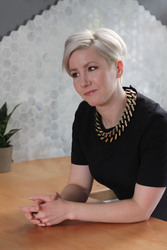 Megan Wambolt

Ottawa, Ontario
Life Coach, Career Coach, Entrepreneurship Coach
MBA, Robbins-Madanes Training Centre Certified, National Coaching Certification Program, Certificate of Entrepreneurship, Lean Six Sigma Certification
What's next? I work with ambitious people that expect a lot from work (entrepreneurs, would-be entrepreneurs, etc). I help go-getters that are stuck with an invisible force/block in their way.
About Me
You know what you need to do but it's just not happening. Something is standing in your way and as your coach on the sidelines, I can see what you can't. It can be simple and unexpected things that really launch you once discovered.
"Just do it" is incomplete inspiration advice. It can help but it can also make you feel guilty when you just can't seem to just do it.
Nuances. There were nuances in what you think, say and do that make the difference from carrying success in one part of life to another area. Or in taking an area, like work and business, to the next level.
Fit is essential. I have business experience (corporate and small business), as well as coaching (training and experience) BUT both come up short without fit. I believe strongly in fit so a FREE first conversation is key to make sure we're a fit.
I love helping people whether it's as your coach or a simple conversation to keep your momentum going. Coming to Noomii is a great step on your journey and hiring a coach will keep your momentum going with step after step after step...
Check out my website for more on my BACKGROUND, SERVICES and APPROACH then book a 30 mins chat. Just let me know what's top of mind, a few times and your timezone. I was living in Vancouver for the past two years and recently moved to Eastern Canada so I have clients from coast to coast. We can make any timezone work :)
Reviews
2 reviews (5.0)
Megan has helped me to reflect and positively reframe my experiences to stay driven and directed. The weekly sessions were very valuable as they kept me accountable and focused. She is passionate about helping people grow and I would strongly recommend her as a business and lifestyle coach.

Cassandra T
Working with Meg has been transformational. She has helped me develop great tools that have impacted my work life as well as my personal life. I saw immediate results from my weekly assignments and check ins. I look forward to my meetings every week, she has shown me how to meet my potential and how to surpass it. It is very hard not to LOVE working with Meg!

Ciannait Clegg