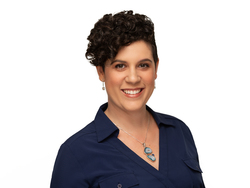 Melissa Alvarez Mangual

Chicago, Illinois
Leadership Coach, Business Coach, Executive Coach
BA, MA, EdD in Organizational Leadership Studies, Cornell University certificate in Executive and Change Leadership, Intercultural Foundations Certificate
Executives, leaders, & aspiring leaders, I partner with you to get through transitions, in being more inclusive & equitable, aligning passion with values, & daring greatly to reach your goals.
About Me
Established by Founder & Managing Principal, Melissa Álvarez Mangual, Ed.D., Thriven Partners, LLC is dedicated to using strategies, processes, and approaches to cultivate breakthrough thinking and action that are research-based and context appropriate.
Melissa has been driving and leading learning and organizational development efforts that place inclusion and equity in the center for 20 years. Most of her work has been as an internal coach, consultant, trainer, learning designer and manager, leading people, programs and departments in non-profit cause-driven organizations and educational institutions. She has worked in organizations like The Posse Foundation, Inc., The Pennsylvania State University, Habitat for Humanity International, and The Nature Conservancy. She has been recognized for her innate ability to establish meaningful and mutually beneficial relationships quickly, advancing programs, establishing successful new initiatives, and driving others to achieve personal and organizational success.
Melissa has a Doctor of Education in Organizational Leadership Studies from Northeastern University in Boston, MA; a Master of Arts degree in Interdisciplinary Studies from DePaul University, Chicago; and a Bachelor of Arts degree in International Affairs from Florida State University. She has served as a Fellow for the Intercultural Communication Institute and earned the Intercultural Foundations Certificate. Melissa completed certificates in Executive and Change Leadership through Cornell University. She is a Flow Certified Business Coach, having studied with the ICF Accredited, Flow Coaching Institute. She is certified to administer the EQ-i 2.0 and EQ 360 assessments. Melissa is currently working on completing the Executive Certification in Diversity Coaching through a partnership between the Howard University School of Business and the award-winning CoachDiversity Institute.
Reviews
5 reviews (2 verified) (4.8)
Melissa is a very skilled coach. She is especially good at listening to you and recalling exactly what you said. She masterfully reminds you of what you've said in subsequent coaching calls. This is extremely helpful because it shows you your thought patterns which is the first step to breaking a repetitive cycle and fostering creativity. Further, her coaching style enables you to get out of your own way and focus on the essential. If youre looking to improve your business, career, and life work with Melissa!

Jacquelyn
It was my first time ever trying a career coach. I felt it was a positive experience She provided me with helpful feedback concerning my job interview preparation.

Patricia
I highly recommend Dr. Melissa! She is an engaged, authentic, intuitive, passionate, and connected coach. She has an extensive and diverse background in business, the non-profit sector, and everything in between. She uses her expertise to ask empowering questions and support her clients to reflect deeply, leading to action that align with their highest self. Dr. Melissa quickly understands complex situations, and her ability to connect and communicate is top-notch. She has the ability to connect and empathize, but that doesnt get in the way of her decisively focusing on the root of the matter, whats important, and moving toward transformation with measurable outcomes. Ive been lucky to work with Dr. Melissa to experience her coaching first-hand. I am better as a result of this one-of-a-kind coaching engagement!

Kimmi A
Melissa is excellent at meeting you where you're at. She's thorough and listens well in order to gauge your needs and put them in perspective. I now have a much clearer idea of the direction I need to go thanks to her.

Tasha Neumeister
Melissa is an an insightful and inspiring coach. She is a great listener who follows up with insightful questions. She doesn't shy away from challenging me and my assumptions, and in the process helps me clarify my needs and goals. She pushes me to create action plans and to stick to those in order to advance myself both personally and professionally. I highly recommend Melissa as a coach!

Iliana Rocha