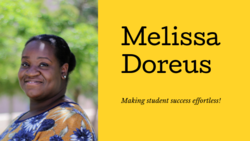 Melissa Doreus

Bradenton, Florida
Career Coach, Life Coach, ADD ADHD Coach
BS, MS
I coach college students who are struggling academically or socially in college. I help them grow their co-academic skills ( ex.-time management) and confidence needed to increase their grades.
About Me
Hello, My name is Melissa and I am a Student Success Coach for college students and their families. Many people ask what a student success coach does and I would love to tell you! As a student success coach, my priority is to get to know your student, their needs, and their goals. Once I understand what their needs and goals are, I can assist in developing a strategy to reach them. Sometimes I assist students and their families by providing more information on how college works (credits, GPAs, financial aid), and sometimes I am teaching the student how to build their co-academic skills (time-management, how to read a college textbook effectively, how to talk to faculty, choosing a major, choosing a career). Regardless of the strategy, I always provide social and emotional support to the student and their family. All of this essentially leads to increased academic performance and student confidence.
I have worked at a variety of colleges and Universities across the United States because I love the work that I do. It is a privilege to assist so many students in changing their lives through education. I have experience in working with a variety of students including but not limited to- first-generation, students with disabilities, transfer students, first time in college, non-traditional aged students, pre-med, nursing, and students on academic probation.
I have earned a master's degree in College Student Affairs with a concentration in conflict resolution and analysis. Essentially, I have studied colleges and how they work. I have been trained by Gallup to provide strengths-based coaching and assessment for college students. In addition, I ensure to attend conferences regarding student success regularly to ensure that I am providing my clients with the most up to date information on how to navigate college successfully.
I look forward to working with you and speaking with you soon!
Reviews
Melissa doesn't have any reviews yet.