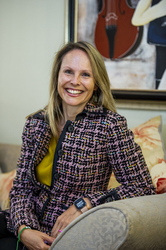 Melissa Williams-Platt

Gauteng
Executive Coach, Life Coach, Team Coach
BA, PCC Certified, Post Graduate Diploma in Palliative Medicine, Grief Coaching, Short Course in Trauma, Certified Five Lens Enneagram Practitioner
Are you stressed, burnt-out, grieving, searching for purpose & meaning at home & at work? Do you want to thrive despite the chaos of life & negative stresses that surround you? Let's journey together.
Details

Gauteng

+27(0)825859595

Send Message
Visit Website
Hourly Rate: $180 to $600 US Dollars
Gender: Female
About Me
Life is tough. And it sure is even harder to do life alone! How incredible to walk with someone by your side, as you discover your own unique abilities to thrive & succeed. As your coach, if you "fall down" (which you will - we are all human), I will be there to ensure you get up despite the bruises ready to try again & give it your all. Life is messy, but you definitely do not have to face it alone, certainly not with me in your corner.
As a professional PCC level Coach, which means I have hundreds of hours of coaching experience, I have worked predominantly in healthcare supporting doctors, nurses, surgeons & allied professionals as they face burnout, compassion fatigue, grief & moral injury. (I studied Palliative Medicine (passing Cum Laude) & grief coaching - to better understand the journey of both the health professional & the chronic patient having spent over 15 months in an ICU with my own son. So I have both the lived & learned experience. Healthcare is under increasing pressure worldwide & health professionals are suffering too not having the skills to navigate the psycho-social aspect of their professions on top of their daily clinical demands. If you are a health-professional needing to rediscover the joy, purpose & meaning of your profession or if you are a patient or caregiver? Contact me.
Secondly, given my many years of experience working at senior management level in business I also work successfully with C-Suite Execs, Managers & Teams at all levels having worked with & led teams of my own.
Other passions of mine include seeing:
- Leaders thrive & lead by example.
- Young execs grow & be promoted.
- Teams flourish and succeed
- Entrepeneurs rediscover their mojo.
- Young adults embrace meaning & purpose in their lives.
- Supporting the grieving.
My Coaching style is an integral approach which means I coach with your whole self in mind- "mind, body & soul" using exercises, reflections, practices & tools such as the Five Lens & Enneagram
Reviews
2 reviews (5.0)
I am a neonatologist working in a state hospital. I have had the privilege of working with Melissa as my life coach. In my demanding role as a neonatologist, the challenges can often be emotionally and mentally taxing. Melissa has a deep understanding of the unique pressure and responsibilities that come with my profession and her ability to empathize with my experience and tailor her coaching and approach to my specific needs was truly remarkable. What sets Melissa apart is her holistic approach to coaching. Melissa's ability to recognize the challenges I face extend beyond the confines of the hospital and impact various aspects of my life. With her support, I have been able to develop strategies that not only enhance my professional performance but also contribute to my personal growth and relationships. If you are looking to embark on a transformative journey that leads to personal and professional fulfillment, Melissa is an exceptional partner who will guide you toward lasting positive change.

Loshnee Nair
I am a neonatologist working in a busy government hospital. I had the opportunity to have pro bono professional coaching. Melissa taught me skills to manage my stressful work environment, improve my work-life integration and improve my self confidence.

Dr D. Lawrence