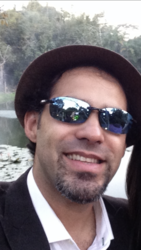 Melque Costa

Magog, Quebec
Spirituality Coach, Life Coach, Business Coach
BS, MBA, Life Coach Certification, Project Management Professional (PMP), Associate Pranic Healing Certification
I coach who search tools and technics to become a virtuous person, unveil codes that will help lead self reflection and organizing the energy to reach new levels of expansion, potential and fulfilme
Details

Magog, Quebec J1X 5Z7
+1 514 830 9210
Send Message
Hourly Rate: $80 to $150 Canadian Dollars
About Me
Sounds Familiar those question?
- Has the feeling that life could be flowing differently?
- Feel stuck?
- Or struggling with various initiatives without results?
- Don't know what to do or where to look at? Call me.
I coach who search tools and technics to become a virtuous person by analyzing your thoughts, words and actions, unveil mathematical codes that will help you to lead self reflection and who you really are and organizing the energy, so that you will reach new levels of expansion of your consciousness, full purpose potential and fulfilment.
I know many ways to show you what you need to see to make movements very fast and precise.
Our Coaching Through Energy is conceived from Active Listening, the Power of Questioning and a Direct Communication, filled with a creative vision, sensitive and intuitive perspective.
Being confident and have inner peace are the challenges when we are not empowered. Let's exercise to allow you to find out the limiting perceptions and inner blocks that hold you back. Let's bring back the well being and build a path of success for your life.
I have been acting as a Life Coach for the past 5 years, after having worked in multidisciplinary mega-project management teams for 15 years and 7 years in the Fire Department. These and other experiences have given me the whole structure that I have synthesized in my intellectual and holistic approach that has helped people in decision making and in managing their personal lives and careers into proper actions.
Reviews
Melque is being a great support on my personal and professional life. Before I started the spiritual coaching process with Melque I was feeling lost. I had the feeling I knew what my purpose was, but did not quite understand exactly what was my purpose and, most important, how to achieve it. I was not aware of what were my goals in life and spending time, energy and focus in the wrong things. Melque applied such a great dynamics in the coaching process that made it clear what is my purpose helping me to understand what are the things that make me happy, what are my main skills and what are my values. With this information, after working with Melque for about 6 months, it was easy to understand what is the path I need to follow. Melque helped me to focus on the most important areas of my life and stop wasting energy in things that are not relevant, but I just couldnt realize this.

Gabriel Alves, Engineer, Rio de Janeiro