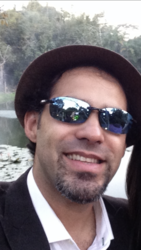 Melque Costa

Magog, Quebec
Spirituality Coach, Life Coach, Business Coach
BS, Life Coach Certification, Project Management Professional (PMP), Associate Pranic Healing Certification
I coach who search tools and technics to become a virtuous person, unveil codes that will help lead self reflection and organizing the energy to reach new levels of expansion, potential and fulfilment
About Me
Sounds Familiar those question?
- Has the feeling that life could be flowing differently?
- Feel stuck?
- Or struggling with various initiatives without results?
- Don't know what to do or where to look at? Call me.
I coach who search tools and technics to become a virtuous person by analyzing your thoughts, words and actions, unveil mathematical codes that will help you to lead self reflection and who you really are and organizing the energy, so that you will reach new levels of expansion of your consciousness, full purpose potential and fulfilment.
I know many ways to show you what you need to see to act very fast and precisely.
Our Coaching Through Energy is conceived with Active Listening, the Power of Questioning and a Direct Communication, filled with a creative vision, sensitive and intuitive perspective.
Being confident and have inner peace are challenges when we are not empowered. We exercise to allow you to find out the limiting perceptions and inner blocks that hold you back. Let's bring back the well being and build a path of success for your life.
My coaching program: I have a list of alternative projects that we can run to reach your goals. From what I see from my client in our 1st session, I will present a project proposal to start. The projects last from 1 to 5 sessions. Usually the whole program takes from 3 to 5 projects, in other words from 8 to 12 sessions. I do continuing process that usually is in a monthly basis. I'd like to remember that the program is flexible because each person is unique and might require exclusive projects.
I have been acting as a Coach for the past 5 years, after having worked in multidisciplinary mega-project management teams for 15 years and 7 years in the Fire Department. These and other experiences have given me the whole structure that I have synthesized in my intellectual and holistic approach that has helped people in decision making and in managing their personal lives and careers into proper actions.
Reviews
6 reviews (5.0)
Before I started coaching with Melque, I couldn't find satisfaction in my personal, family and professional life. I felt like following the "standard script of life". Deep down I was looking to make changes but I felt stuck in a process of suffering without being able to move in a direction that was based on my choices. In the first months of service with Melque I already realized the direction in which the changes were pointing out, and the first step was to get to know myself better, to accept myself as I am. The coaching allowed me to build a personal ritual of reflecting on the thoughts I bring in and how much these thoughts were sometimes motivating me, sometimes being the barrier. The coaching process started a year ago and continues up to today, I empowered myself with my decision-making skills, leading me to finally complete a cycle in the professional area that I no longer wanted to work. I managed to change careers - from audiovisual producer to consultant, in a smooth and very enriching transition process, as I developed the course Eu quero produzir (I want to produce) to teach people how to carry out their projects, how to produce. I discovered myself in this place of teaching. In other words, I sought to share as much of the knowledge that I acquired in eleven years working with cinema in Brazil. This producer's background, I learned to re-directed all of it to fulfill my dreams and personal projects. I currently migrated from Brazil to Portugal, I live in the countryside in a village located in Alentejo, a completely new experience. Chinese medicine studies, natural, philosophy, culture and holistic therapy. I do volunteering and teach women who I meet about body regeneration, using herbs, essential oils and vegetables through aromatherapy, acupuncture with seeds and meditation. Today I feel happy with all what is happening, all based in my decisions now, and also as I see myself as person capable of sharing knowledge with other people who, like me, are looking for more satisfaction in living. Stefania Regis, Consultant/Healer, Alentejo - Portugal

Stefania Regis Nogueira
I had before me a great challenge in life and a great desire to be able to, finally, this time, do it differently. A number of factors often discouraged or limited me: I tended to repeat patterns and stick to predefined rules. I planned many things, performed impeccable planning, yet failed to execute. I used to set a high standard and to impose a huge charge on me; in parallel, I had a great expectation and anxiety for results and a lot of difficulty in gradually persevering until reaching them, which led me to not even begin. I felt reflections of this in my habits: I was often sleeping and eating badly and at random times. I struggled with great mood swings, head and body aches. I felt weakened and far from my potentials and, despite being an extremely organized person, I had difficulty managing my own routine... The work done by Melque was truly transformative, as it was nothing at all superficial. With attentive listening, demonstrating a great capacity to accumulate knowledge and to articulate it in precise ways, he brought me the necessary resources to awaken my physical, mental and spiritual healing and transformation process. In a simple allusion to medicine, it is as if Melque shared the view of oriental medicine, which seeks to keep us healthy instead of merely treating our illnesses. And when they do appear, the cause is sought in a broader sense - including considering metaphysical and spiritual factors. In a single program, I had from grounded guidance on behavioral patterns, through the treatment of imbalances in spiritual anatomy through energetic therapies and the invitation to connect with the natural cycles of the Universe, all with interesting parallels drawn with mathematical reasoning that help us until we get a clear and objective vision of our purposes and our powers to live them to the full. After some of our sessions, some differences were already noticeable: the feeling I had was that, after entering into this attunement, things started to move almost on their own, regardless of my action. And I did not have much trouble inserting myself in it, feeling the satisfaction of seeing things actually starting to happen. A new cycle was beginning. Headaches and body pains gradually dissipated as I became conscientious of their metaphysical causes. The difficulty in moving the energy to carry out the tasks became the determination to maintain this new rhythm and, little by little, to take control over it, positively applying my skills and the energetic vibrations of the universe that are associated with our existence. Anxiety was converted into the certainty that this progress would require effort to be maintained, but satisfaction was now focused on this continuous effort, and no longer on the expectation of results, which came naturally. In this way I try to synthesize this rich experience.

Alexandre Machado, Designer - Lisbon, Portugal
Before starting the spiritual coaching and know about pranic healing, I always felt that I had no clear purpose. The lack of purpose was reflected in relationships, in my professional career, in my self-confidence and in my life in general. I was lost and this situation generated constant frustrations. In 2016, at the age of 26, I had my first contact with spiritual coaching, my attitude towards situations, the quality of my relationships and my vibration (emotions and thoughts) in general have clearly improved. I learn about meditation, and it played an incredible role in this whole process. having started to practice meditation opened paths and allowed me to deepen my self-knowledge, which was until that moment untapped. Knowing yourself is the way to know everything around you and this had impacted my performance in my personal life, at work and in my business. Patience, focus, empathy, resilience are qualities that are highly valued in the corporate environment and those have been uplifted in me by the practice of meditation and the exercises we did together for self-knowledge and understand my characteristics and my personality. Therefore, the accompaniment of Melque was fundamental to make me have confidence in the path I needed to follow on the physical and spiritual plane. I am grateful for all the teachings and I thank Melque very much for his dedication, patience and confidence at working.

Arthur Paiva, Engineer/Entrepreneur/Teacher, Rio de Janeiro
Before I started working with Melque, I knew him as Pranic Healer. I confess that I was in agony. My days were very heavy, in the sense that it seemed that there was no meaning in life. After some coaching sessions that we held, I could feel a great improvement in my attitudes and in the priorities that I needed to do and also in my vibratory and energetic field, these improvements were evident. The work made me overcome procrastination and focus on what matters in my life. Melque helped me to live in the here and now, in the presence and taught me how to meditate. The impacts on my professional life were incredible and on my relationships. Much gratitude for all the teachings. I see my life unfolding in an authentic, clear and objective way.

Vasco Valentino
Before starting spiritual coaching with Melque, I felt lost and had been looking for alternatives to deepen my self-knowledge, to reconnect with my essence, my life purpose and also to learn ways of communicating / expressing myself more clearly, because I had a hard time expressing myself and saying what I felt to other people. In the first session we decided that we were going to carry out the project to identify my purpose. I was quite surprised by the result !!! We identify my values, my unique abilities and my passions. It was the unveiling of my inner repertoire, I reconnected myself with dreams and activities that I loved and postponed. One of those dreams was to paint pictures and work with art and with children. Between sessions I started to paint and draw mandalas in an intuitive and natural way. After working with Melque, I started working on the pending issues and developing with them. For example, I started painting and drawing mandalas frequently and found an alternative to paid work in the artistic world, it was magical. Today, I am working with intuitive and personalized vibrational mandalas, with the healing that needs to be worked on in the energy field of my clients with incredible results. I started to trust my intuition more and to sing more. I found a form of healing in the corner, both for me and for my clients - making musical channels after some energy therapy sessions (mostly with women). I started to conduct meditations on forgiveness and gratitude, and with my mediumistic skills. I will be empowered with energy therapies (Pranic Healing), helping people to reconnect more and more with their superior soul. Furthermore, something that came naturally were creative insights for working with children. Conclusion, I found myself in a beautiful and very deep way! I am very grateful to Melque, for so much dedication in his work and for helping me to identify my life purpose and open these portals. Today I work with my passions!

Catarina Collier - 32 yo, Artist/Entrepreneur/Pranic Healer, Recife (Brazil)
Melque is being a great support on my personal and professional life. Before I started the spiritual coaching process with Melque I was feeling lost. I had the feeling I knew what my purpose was, but did not quite understand exactly what was my purpose and, most important, how to achieve it. I was not aware of what were my goals in life and spending time, energy and focus in the wrong things. Melque applied such a great dynamics in the coaching process that made it clear what is my purpose helping me to understand what are the things that make me happy, what are my main skills and what are my values. With this information, after working with Melque for about 6 months, it was easy to understand what is the path I need to follow. Melque helped me to focus on the most important areas of my life and stop wasting energy in things that are not relevant, but I just couldnt realize this.

Gabriel Alves, Engineer, Rio de Janeiro