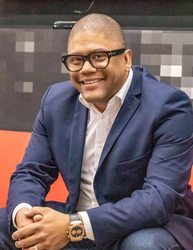 Dr Michael Burks Jr

Dallas, Texas
Executive Coach, Business Coach, Life Coach
Certified Executive Coach, Certified Life Coach, DISC Certified
Feeling stuck, frustrated, uncertain, or just plain don't know where to start? I work with people like you to identify gaps in their life or business to get results quickly, so you can enjoy your life
About Me
In my career, I've learned that people have specific challenges that keep them from the success of their looking for.
My clients are usually those who
- Feeling stuck and frustrated with where they are.
- Can't organize their thoughts to plan the next move.
- Don't have a clear strategy for getting exactly where they want to go.
- Looking to take their life or business to the next level but don't know where to start.
I work with people like you to identify gaps in their life or business, then I provide world-class tools, models, and personalized strategies to help get past limiting mindsets and behaviors, in order to get true results quickly, so you can enjoy your time, life and income.
When you hire me, you are guaranteed to get:
- A DISC Assessment & personalized personal development eBook.
- World-class tools and models used by top professionals worldwide.
- 1 on 1 session's that convert to executable plans that yield scalable results
As a professional coach and consultant, I have spent countless hours investing in myself and my craft so that I can get the best results from myself. You can rest assured that I will invest my time and energy so that you can get the same.
Reviews
4 reviews (5.0)
A mentor, a coach, a much more. Michael Burks has taught me so much throughout these years as I upgraded my knowledge of running a business. He has coached me in areas where I lacked and assisted me in tackling proper personal and business management. When working with Burks, you wont get anything short of Quality! One of my best investments as a young businessman!

Marcus Voltaire
Michael Burks has added value not only to our company but me on an individual level as well. Michael Burks professionalism is superb and he aims to deliver his expertise. To have him as a Professional Business Coach it has been an honor. I look forward to working with him in the future.

Varonika Wilson
Michael is an awesome business coach! He helped me to identify key areas of opportunities to help build my business! Michael is also a speaker and takes his craft very seriously! His coaching methods are simple yet proven to work! I appreciate Michael and all of his dedication to assisting me with my goals!

Rosiland Alford
Michael has a real knack for getting to the essence of who you are - not only as a professional but also as a human. Michael is an inspiring coach who helps you see new possibilities based on your strengths, and his ideas make a quick impact. He gave me the confidence to step out of my comfort zone and pursue my dreams. I would highly recommend working with Michael if you're looking to start a business, take your career to the next level, or find your true calling

Brian Beavers