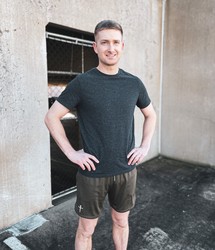 Michael McDonald

Quantico, Virginia
Health and Fitness Coach, Family Coach, Christian Coach
Certified Health and Wellness Coach, former Marine Corps Fitness and Water Survival Instructor
I help busy, working parents with more than 1 child to reclaim their health with minimal time & equipment so they can improve their lives and enjoy parenthood.
About Me
Are you a new parent who feels overwhelmed by your new role? Maybe you have been around the block a few times as a parent but still feel like you are living day to day. Let's face it - parenting is tough business. It is so easy to focus on your duties in life and parenting that you neglect taking care of yourself, and this leads to burnout!
So whether you want to learn to manage your time better, improve your nutritional habits, slim down or build more muscle, I am here to help so you can improve your life and truly enjoy parenthood.
I am a husband, father of three (including twins), and Marine officer turned health and wellness coach for parents. I grew up the oldest of five children, so leading and helping others is part of my DNA. One of my younger brothers was diagnosed with juvenile diabetes at three years old. This dramatically changed our lives, devastating my parents financially and emotionally.
Now as a parent of three kids myself, I took the lessons learned from my childhood and my time in the military leading Marines to develop life-changing strategies to help parents fortify against burnout. I do this through leading parents to re-establish firm foundations in health and wellness. Together, we will incorporate effective strategies to regain their energy and confidence.
During my time in the Marines, I helped hundreds of Marines to improve their health and wellness, resulting in better habits for success. Now, I take this same passion for helping others and direct it to those who are most vulnerable and needed in society: parents.
Families serve as the building block of this nation. Although I am not Catholic, I love what Pope John Paul II said, "As the family goes, so goes the nation and so goes the whole world in which we live."
So join me in rebuilding your foundations so you and your family can enjoy that precious time of parenthood and love the place you call home!
Reviews
Michael is a true professional when it comes to health and nutrition. As a former US Military, he knows how to keep his clients accountable in their progress. He assisted me in my weight loss program with nutrition facts to find the right dietary supplements and add the right vitamins and minerals to my body, made a realistic fitness plan and guided me to set the right goals. We made my daily schedules, implemented exercise and stretching programs and developed food menus to keep a low carb diet. We also made weekly exercise and stretching schedules, and he gave me pointers on how to find all the right supplements and food, as I live in Asia. Michael is a very nice and humble coach that really understand your problem and issues and guide you through your challenges as comfortable as possible to get to your goals. I would really recommend him as both a personal improvement coach and a health coach and planner.

Tom (Thailand)