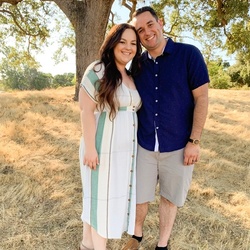 Michael and Jillian Leonard

Roseville, California
Business Coach, Career Coach, Life Coach
BA, MA, Psychology, Business, Marketing
People who are feeling stuck and alone in life. People who want to excel in life, career, or business but not sure how to get there. We customize a plan tailored to you, your needs, and your goals.
About Me
Are you feeling stuck? Do you feel alone or lost in your life? Are you feeling trapped in your job? Do you dream of starting your own business? Do you own a business but have plateaued?
If you said yes to any of these questions, you're in the right place. We are Michael and Jillian Leonard and we absolutely understand how it feels to be in these kinds of situations. We're here to tell you there is hope for change. You CAN start to feel confident and loving your life. You CAN be in a career you are passionate about. You CAN be running a well operated business. We know you can, and we can help you get there! Here is what you can expect from our coaching programs:
Life Coaching
• Positive self-talk and thought life
• Emotional stability
• Ease from stress, anxiety, depression, & unworthiness
• Healing from the past & steps to move forward
• High confidence & self-esteem
• Improvement in your relationships
• Fulfillment and gratitude for your life
• Hope and excitement for your future
Career Coaching:
• Define your purpose
• Understand your gifts & genius zone
• Defining your ideal career
• Time management, Habit Tracking, & Morning Routines to set you up for success
• Interview prep & plan of action
Business Coaching:
• Paperwork, licensing, & legal documentation
• Full audit of your business
• Website development and SEO
• Social media, engagement, & organic growth
• Turn your social media audience into paying customers
• Product development & inventory management
• Finances and budgeting
• Ads & email list building
• Systems for time management & efficiency
• Leadership & Team Building
Our coaching philosophy is anyone can achieve anything with the right systems. With backgrounds in psychology, business, & counseling, we custom tailor a coaching plan to fit you, your needs, and your goals. We break down the goals you have into small, daily steps to make success attainable. No one size fits all coaching here! Our goal is to give you the best chance at success!
Reviews
3 reviews (5.0)
Michael and Jillian are two of the most encouraging, helpful and cohesive duo I have ever worked with. They really help simplify the important steps that you need to take in your life//in yourself to help you reach your full potential. Michael & Jillian really take the chance to get to know you, so I find it super easy and comfortable to talk to them about struggles I have been having in life and business so they can help me & show me ways to better myself for tomorrow. the most important thing is they SHOW & TELL you exactly what you need in the most simple way based off of my current situation and where I want to be going. I am forever grateful for them coaching me

Linds Fink
The coaching Im receiving from Jillian and Michael is unlike anything Ive received thus far. They are a power couple who have made it their mission to help other entrepreneurs grow and sustain successful businesses. They are genuine in the advice and coaching they give, and so generous in their efforts to help their clients understand what it takes to be successful. They will help you to break down the actionable steps it will take to go from where you are to where you want to be, with a plan tailored to YOU! I am now managing my time more effectively, and doing tasks that actually grow my business. Ive made more profits in my business over the last month than I have in the previous 6 months before meeting Jillian and Michael! Theyre coaching has been the gift a lifetime! Im so thankful God placed them in my path!

Brittany Dees
Michael and Jillian have been one of the biggest blessings in my life and business ever. I started coaching with them with high hopes of learning how to navigate my business better, and have been totally blown away with their coaching! They help me with my business goals, my personal growth, and truly make me feel seen, understood, and cared for. They always go over and beyond what is expected. I recommend them to everyone I work with. I can't even imagine where my business would be right now without them!

Nicole Gero