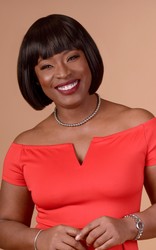 Michelamon'e Henderson MED

Mcdonough, Georgia
Relationship Coach, Life Coach, Business Coach
FOX NEWS Top 20 Entrepreneurs 2021,Certified Life and Relationship Coach, Certified Matchmaker, Marriage and Family Therapist Candidate
Does your relationship seem unfixable? If you want to stop arguing and bring the love back, my Revealing the Keys to Relating™ program can help you create the relationship you've always wanted.
Details

Mcdonough, Georgia 30253
(833) 773-2554
Send Message
Visit Website
Hourly Rate: $90 to $200 US Dollars
Gender: Female
About Me
When your relationship is stuck, you don't know how to communicate with your partner without arguing all the time, you feel like the respect is absent, the intimacy is all but gone and trust is no where to be found. It is difficult to see past your present situation and have hope for a better future. This is when you need someone that has experience going through what you are going through, education and training to understand what is needed to help you and strategies and programs that work to help you bring back the love, intimacy, trust and respect. That person should be able to assess where you currently are and guide you to where you desire your relationship to go. They should be well equipped enough to create a safe environment that you would be able to speak what is on your mind and heart without judgement to be heard and understood. The programs and services that they provide should be engaging, educational and fun to offer results that are transformational in nature. They should be very professional and highly recommended by previous clients. They should be able to guide you from that stuck place to success in your relationship.
This person that you are looking for is me, Coach Michelamonè. I can offer and provide everything that I suggested that you find if you want the healthy, long lasting, communicative and loving relationship that you deserve and desire. But don't take my word for it, click the button and make an appointment for a NO-Obligation complimentary consultation so you can find out for yourself.
Being a Certified Life and Relationship coach with over 25 years in serving singles and couples to help them resolve their communication, intimacy and trust issues, I have shown them that grace, communication and understanding are essential keys in creating and maintaining healthy relationships. My client's have been able to implement what they have learned effortlessly and moved on to have healthy and valuable relationships.
Reviews
9 reviews (5.0)
Michelamone holds me accountable. She gives me real life scenarios to help me understand the points that she's making. I appreciate how she pushes me to be my best self. She's very honest with me and doesn't sugarcoat things when I'm whining. If it weren't for her, I'd still be out here loving foul. She helps me to see things from a different perspective. Change my thinking and the language that I use bc we speak that stuff into the universe and depending on if it's good or bad makes a difference. I don't know where I would be without her.

Danielle Bush
There are no words to express my gratitude to Michelamonet. She has been a blessing to me. I started my sessions with her in a difficult time and she helped me get thru it. I trusted her and she is compassionate but firm. I even had to contact her a few times unscheduled in moments of "crisis" and she was there for me. Highly recommend her services.

DH
My Coaching experience was phenomenal! I learned to focus on my emotional health, & build on my personal life goals. I would highly recommend Michelamone as a Life Coach.

Gena Holts
I enjoyed taking Coach Michelamonè business class. She shared so much useful information. I was able to make some great adjustments to my existing business. As a class, we did a lot of hands on activities including an elevator pitch, which I think most people don't effective use. The tips she provided helped to to communicate more effectively to my clients and work on strategies to optimize customer service. I would recommend her to anyone looking to enhance their communication and strategy for their business.

Ashley McLean
the Her Business Playbook course was extremely beneficial to my growth as a business woman and entrepreneur. When you take this course, you will be highly motivated to complete the task set before you. I was able to follow the steps taught by Michelamone to expand my business. Because of the course, I was also able to partner with my mentor in building my online school (prophetic directing.com). The actual workbook designed for business owners and those aspiring to go into business was easy to follow. My workbook helped me to organize my thoughts and ideas. I'd recommend this course to all business owners and those who will be starting a business. You will gain insight and learn what's needed for your business to be legitimized. From your business id number to your proper tax forms, this course is perfect for you. Lashanda H., Atlanta, Ga.

Lashanda H.
I enjoyed everything about Ms. Henderson class. She is an excellent speaker and she took the time to present to us an excellent presentation of how to start a business. She gave us good, sound and precise information to build our ideas on a solid foundation. The class was full of energy, fun and the atmosphere she set for the students, kept us wanting to learn and look forward to the next class. She's an awesome instructor.

Peter Laslie
Coach Michelamone was a God Send she is an active listener and not judge mental. She immediately helped me break down my barriers and also to stop assuming that others thought exactly like myself. Shes also very big on SELF LOVE and confidence which is something she exudes and helped to bring out of me. She also helped me to break through things that have been holding me back from my past relationships and I am now able to communicate well with others without being angry and irritated. I really dont know Ive functioned as long as I have without her expertise. Shes taught me so much about myself I and how to press on daily I feel like I can conquer the world! Thank you Coach Michelamone

Sierra Navada Moss
I attended a Business workshop class here in Chicago under the coaching and instruction of Michelamon'e Henderson .The class was very informative , encouraging , and beneficial to what I was seeking concerning starting my own Business. Michelamon'e was very professional ,inspiring ,kind ,courteous, patient and provided many tools that was very helpful. I am very Greatful to have had this experience under the coaching of Ms. Michelamon'e Henderson.

Mz Betty Lanier
When I met Coach Michelamone I was shy, lost, and damaged from my past. I assumed that my past hurts living with me on a daily basis and negatively impacting my relationships and my life was how it was supposed to be. That was until I found myself not knowing who I was and what I wanted out of my own life. I had no trouble helping everyone achieve their goal but I could not do it for myself. I did not know how to help myself. I felt everyone else around me had it all together and that I would forever be stuck in the same place. I met Coach Michelamone, she immediately started to guide me. During my time with her she taught me self love, happiness, and most of all taught me that I was worth it. She taught me that I have to speak life and love to myself everyday and that I have the power to be anything! I was taught that my past does not defy who I am, I was able to shed my past and open my heart and mind to a new version of myself that I loved to live with daily. Coach Michelamone challenged me to see the endless amounts of potential that live in me that I held dormant for so many years. She helped me to live and not just exist. Coach Michelamone my changed life and helped me find WHO I AM!

Geia Harris