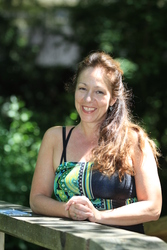 Michele Doucet

North Vancouver, British Columbia
Life Coach, Career Coach, Health and Fitness Coach
CPC, Bachelor Music Therapy, Accredited Music Therapist, Fellow Association of Music and Imagery
I love coaching people who are creative, sensitive and need help during a transitional period. They will gain purpose and clarity towards their overall health and life goals by working with me.
Details

North Vancouver, British Columbia V7V 1B9
Hourly Rate: $100 to $120 Canadian Dollars
Gender: Female
About Me
Welcome to Bloomin Humans Coaching and Music Therapy.
My love of nature and dream of living on the West Coast of British Columbia drew me to Victoria and Vancouver where I began facilitating workshops at Techniques Employment Services after receiving my coaching credentials. I continued working with people in their time of transition.
As I taught these programs and coached people towards their true
aspirations and purpose in life, I too was enjoying my own progress in
what was giving me more joy. I began piano lessons, guitar lessons and
started singing more. I returned to school and obtained my Music
Therapy Degree. My personal and professional life were merging
together in a more creative and natural process. I enjoyed working as
a Music Assistant at a local hospital and leading Creativity workshops
while having my private practice as a Life Coach. Health and
well-being continued to take priority in my life.
I have learned that helping people lead more fulfilled lives helps me breath a little deeper and rest a little easier. This is my purpose. I am gentle with myself while also challange myself to grow and evolve. I offer this to my clients and believe we do our most important work while being supported,
encouraged and having a little fun along the way! Values that reflect my style of coaching are: authenticity, connection, wisdom and depth, joy, creativity, trust and openess. Join me!
I utilize my background in Music Therapy to help integrate your process and my unique 27 question template to help you uncover your answers. You will have this as a gift to yourself for the rest of your life to help guide you when you need it.
Although it may not seem like it right now, you really do have all the answers inside yourself. I would be delighted to help guide you to them.
Reviews
4 reviews (5.0)
I first met with Michele for life coaching at the beginning of last summer. At this time I was entering my second year of feeling uncertain about what sorts of decisions I should be making to live a fulfilling life. Prior to this stage, I was fairly certain of the direction in which my life should be headed and the choices I had to make to stay on course. Increasingly, however, I found myself focused on breaking into a career but the seeming lack of job opportunities and my anxiety about meeting with people and talking to them about my interests (what were my interests, anyway?) made this a particularly frustrating focus to have. I had tried things like career counselling, but found that process to not be very illuminating. So when Michele, whom I had facilitated a couple of groups with, mentioned that she was a life coach I thought, "I've got nothing to lose—maybe I should try that out! "Now, am I ever glad that I had the opportunity to meet with Michele. She gave me tools to take a different perspective on my life, encouraging me to refocus on my core values and to let these guide what my life course should be. Crucial to this task was her creation of a space where I felt comfortable to share my feelings and beliefs so that I could be accountable to these. Michele made it easy to be honest, genuine and in the moment; she proved herself to be wise, skilled and wonderfully supportive; and I left our sessions feeling heard and re-centred. Ultimately, I find that the personal values-based approach that Michele advocated I take continues to be a useful lens for examining my life and formulating my goals. Whether you find yourself in a rut or just want to check-in with a warm, kind and skilled coach, I cannot think of anyone better to spend an hour talking about your process and praxis.

Liz Cave -Researcher
Michele Doucet is a wonderful coach and an amazing person. Her warm, caring and goal focused approach has helped me stay the course towards a healthier and happier life.

Debbie Davis -Elementary School Counsellor and soon to be Grandma
I first met Michele in a Laughter yoga training ten years ago and realized I had made a connection with a special person who 'steps out' to meet her world. We have since met on many occasions to share other facets of living and work. She seeks to have a fulfilled life of contributing to others and yet is constantly personally evolving herself. She is a gentle listener, not judging, but truly interested in what is being said. I always enjoy being with Michele her warmth and humour vibrate within each meeting. Thanks, Michele for being in my life

Jan MacQuarrie –Retired Nurse and Consultant
There is a quote from Albert Einstein that I had struggled to understand until I experienced Michele... ' A human being is part of a whole, called by us the "Universe," A part limited in time and space. He experiences himself , his thoughts And feelings as something separated from the rest-- a kind of optical Illusion of his consciousness. This delusion is a kind of prison for us Restricting us to our personal desires and to affection for a few persons Nearest us. Our task must be to free ourselves from this prison by widening Our Circle of compassion to embrace all living creatures and the whole of Nature in its beauty. --Ideas and Opinions , Albert Einstein 1954 So Michele meeting you, experiencing who you are helped me think less about myself and more of those around me. You helped me start to see the prison I was in and how to rise above it. -Thank You.

George Ritchie Director, Strand Securities Corp.
The Smart Way To Find A Coach

1 Describe Your Goals

2 Get Matched

3 Free Consultations
Find My Ideal Coach Now